Summary

Elsight, with its top-notch technology solutions, is solving the holistic problem of securing data transmission in real-time over multiple IP links.
The Company is redefining real-time data connectivity using its unique cutting-edge bonding algorithms enabling reliable, secured, real-time, bi-directional data transmission with high bandwidth, anytime and anywhere over existing cellular infrastructure.
The Company has put its foot on the accelerator and is bolstering its position in the market by demonstrating expertise over on-the-move communications, and endowing an array of unique products and solutions to Telehealth, first responders, EMS units, Military and Police, Banks & ATM's, in addition to markets such as Unmanned platforms and Fleet management.
In the contemporary world, digital technology is embedding its footprints in nearly all parts of human life and predominantly in the area of communication and information management. Data transmissions are increasingly becoming an important activity, be it for every individual, business, or Government.
Furthermore, the paradigm shift towards digitalisation is creating a need to access a massive amount of data, information and videos which needs to be transmitted securely in high quality, with high bandwidth, and in real-time.
The Challenges
Secure and reliable transmission of data can be a challenge in a dynamic field environment. Furthermore, in the current times, an individual desires to view updates happening in the field, creating a need for a protected communication channel using high bandwidth with uninterrupted connectivity. However, many challenges are associated with the desired efficiency of a communication channel.
High Bandwidth - Maintenance of high bandwidth connection to underpin real-time connectivity with a standard mobile device is challenging, particularly in limited existing network infrastructure.
Secured transmission - Malicious interception of data flow on existing infrastructure is a brewing threat which can imperil the security of the transmission over usual mobile devices.
Reliability & Real-time transmission - A reliable and uninterrupted connectivity is not available everywhere, which can further blemish the smooth transfer of data, audio and video.
In this backdrop, let us look at one of the top-notch technology solutions provider, who is reinventing real-time data connectivity and addressing the issue of a secured and timely transmission of data, Elsight Limited
Elsight Limited (ASX: ELS) develops cutting-edge technological solutions in the field of cellular network bonding that are redefining multichannel real-time data transmission (along with cellular or IP infrastructure). Furthermore, ELS is empowering secure and robust transmission of data as well as video in high quality, with high bandwidth, and in real-time via several communication channels simultaneously.
Also Read; Casting an eye over the breakthrough Connectivity Platform of Elsight – Halo
On that backdrop, let us deep dive on Elsight's novel data transmission technology
Elsight's cutting-edge technology, reinventing real-time data connectivity
Elsight's unique bonding technology sends data package over multiple communication channels.
The Company's cutting-edge bonding algorithm splits the video and data into packets, thus maximum security against attacks. Further, The Company systematically detects and automatically adapts them to available networks and bandwidth before transmission while maintaining a stable communication pipe. ELS's innovative data link algorithm encodes each data packet separately and transmits the encrypted data to the destination via available communication channels, where the data packets are reassembled.
Additionally, Elsight's technology enables the real-time transmission of data and video from anywhere to anywhere, (including in reception-challenged areas) with ultra-low latency, encryption and high quality.
Notably, ELS's algorithm is independent of the type communication channel used and is compatible with every single type of IP communication, encompassing cellular modems, satellites, WiFi, and immobile lines.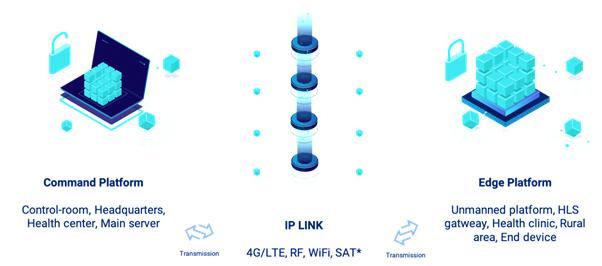 Data Source: Elsight website
Did you read; Scan through Elsight's Remarkable June Quarter Performance
Elsight's Connectivity Technology's Unique Value Proposition
Let us quickly gaze through the unique value proposition that is offered by Elsight's connectivity technology, making it an ideal fit for numerous industrial verticals.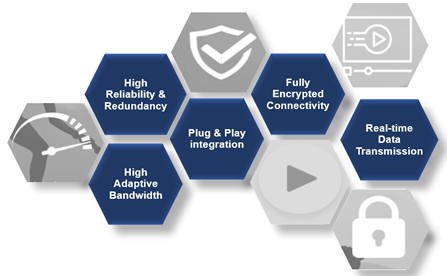 Data Source: Elsight website
High Bandwidth – Elsight's bonding technology expands the available bandwidth by multiplexing multiple cellular links together into one network tunnel which is capable of transmitting enormous quantity of videos, audio, and data effortlessly.
Fully Encrypted Security – ELS's technology secures the transmission of data, video, and audio, by splitting, encrypting, and sending it through multiple cellular links concurrently.
Reliability & Redundancy – The Company protects against system failure by relying on multiple cellular pathways and immediately transmitting the data over another available cellular or other IP pathways.
Real-time Transmission- Elsight's technology reduces the latency to a minimum by utilising available cellular network infrastructure and bandwidth, enabling real-time transmission of data, audio and video.
Plug & Play Integration- The Company's hybrid hardware and software solution can be easily integrated and used on-demand as a standalone connectivity solution.
The Company has boosted its position with vast experience over the years and is further establishing itself into a market leader by exhibiting proficiency over on-the-move communications, and furnishing of an extensive range of unique products and solutions to numerous end-users in several market segments globally such as EMS units, military and police, banks & ATM's, first responders, Unmanned platforms, Telehealth and Fleet management.
Stock performance
On 18 August 2020, ELS is trading at A$0.660 at 12:43 PM AEST. Market capitalisation stood at A$72.77 million, with ~107.02 million shares outstanding.