Summary

Cobalt, a critical commodity, faces severe supply constraints mostly due to geopolitical issues, fewer primary cobalt mines and illegal mining practices in DRC, the biggest cobalt producer.
Cobalt Blue Holdings presents a strong opportunity for the development of a long life, low-cost ethical cobalt mining operation at its flagship Broken Hill Cobalt Project in New South Wales.
The project remains on schedule with a sampling partner program targeted to commence at the pilot plant from Q1 of 2021 to confirm the industry acceptance prior to completion of the feasibility study.
Cobalt, a strategic metal, is experiencing strong demand for new generation batteries, particularly lithium-ion batteries. A World Bank Group report released in May 2020 has forecast a 460% surge in demand for cobalt by 2050 against 2018 levels.
Stable and Ethical Cobalt Supply: The Need of the Hour
COVID-19 pandemic has been perceived as an accidental catalyst, speeding up the EV transition and trending energy storage markets. Almost 70% of global supply of cobalt, a critical commodity used in almost all high-energy density battery technologies, comes from the Democratic Republic of Congo (DRC), a civil war-stricken African nation, as per the January 2020 United States Geological Survey, Mineral Commodity Summaries.
Good Read: Cobalt Blue Foresees Strong Cobalt Market with Government EV Incentive Push
Furthermore, cobalt supply from DRC has often been criticised for child labour and unsafe mining practices with artisanal mining supply contributing towards 25-30% of the total production. Most advanced technology firms including Google, Apple, Tesla, Dell and Microsoft have already been named in lawsuits for child labour accidents at Congolese mining operations.
Primary Cobalt Supply Restricted to Only 1 Major Mining Operation, Globally
With only one operating primary cobalt mine being Managem's Bou Azzer operations, majority of cobalt is extracted as a by-product of copper and nickel, owing to which there is a direct dependence on the price fluctuations of other commodities. Battery manufacturers and EV manufacturers seek a long-term sustainable supply of ethical cobalt for the burgeoning battery market.
Cobalt Blue Holdings Limited (ASX:COB), a New South Wales based pure play cobalt company, owns 100% of the Broken Hill Cobalt Project (BHCP). The project, located in the matured mining environment of Broken Hill, is the largest cobalt sulphide deposit in Australia holding the potential to emerge among the top 10 global cobalt operations upon development.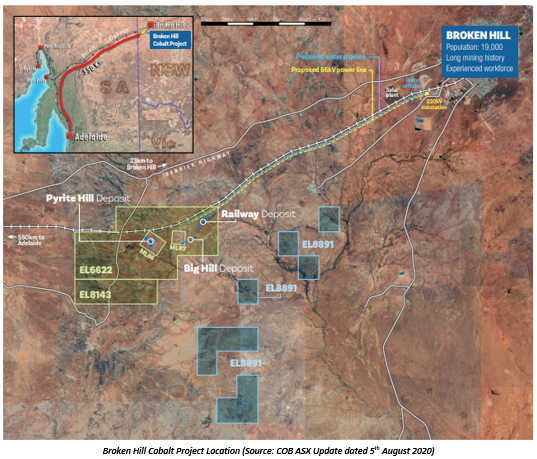 Broken Hill Cobalt Project, The Largest Greenfield Primary Cobalt Project ex-Africa
The project has access to excellent mining infrastructure with historical mining activities pre-dating to as early as 1880s. The Broken Hill area encompasses mining centres producing silver, zinc and lead in the Tier 1 mining environment of New South Wales.
Once developed, the Broken Hill Cobalt Project will have a processing capacity of up to 6.3 million tonnes of ore producing over 3,500-3,600 tonnes of cobalt products along with up to 300,000 tonnes of elemental sulphur every year.
Cobalt Blue recently delivered substantial project enhancements to the 2018 prefeasibility study, highlighting -
Increased Ore Reserve: The probable ore reserves have been upgraded by 55% to 71.8 Mt at a cobalt grade of 710 ppm containing over 51,000 tonnes of cobalt against 38,000 tonnes previously.
Extensive Life of Mine (LoM): The targeted life of mine for the BHCP stands now at 17 years against 13 years previously.
Low Operating Costs: The C1 average LoM cash cost is anticipated to stand at US$9.34/lb of cobalt sulphate product, placing BHCP in the lowest quartile on the cash cost curve, globally, enhancing the project economics.
Low Capital Intensity: The all-in pre-production capital has been estimated at $560 million, which is almost 70-75% lower than the capital for similar greenfield cobalt projects.
Robust Project Economics: The low operating and capital costs along with large production potential have enhanced the project economics to hold a pre-tax net asset value of $770 million with a short payback period of only 4.5 years.
Moreover, Cobalt Blue has developed a proprietary pyrite ore processing technology, which has proved its worth by producing cobalt sulphate products with a cobalt grade of 20.8% amenable to lithium-ion battery market specifications. The Company is presently in the process of procuring equipment to commence a sample partner program at the onsite pilot plant from Q1 of 2021.
Cobalt Blue anticipates forming sampling partnerships with over 10 top tier conglomerates, including battery manufacturers and cobalt trading firms to ensure that the intermediate hydroxide and final cobalt sulphate products meet the battery quality specifications of present and future.
COB stock closed at $0.098 a share on 3 September 2020, with a market capitalisation of $19.58 million.
Good Read: Scan Through Cobalt Blue's June 2020 Quarterly Report With Noteworthy Accomplishments
(All currencies in AUD unless or otherwise stated)