Summary

Stocks of online food retailer, Goodfood Market Corp (TSX: FOOD), surged by 189 per cent year-to-date (YTD).
Aritzia's (TSX: ATZ) e-commerce revenue increased by 150 per cent during the first quarter of 2020.
Dollarama's (TSX: DOL) stocks have gained almost 17 per cent this year.
Canadian retail companies are adapting flexibility and innovative plans to battle the pandemic-led plunge in demand. As customers prefer to stay indoors, the retailers are reaching out to them digitally and offering contactless doorstep deliveries. With Thanksgiving just round the corner, and people preferring to stay indoors, this is could be an apt time for the retailers to make a comeback. We look into retail companies such as Dollarama Inc (TSX: DOL), Aritzia Inc (TSX: ATZ), and Goodfood Market Corp (TSX: FOOD) and see how these stocks are faring amid COVID-19 outbreak.
Goodfood Market Corp (TSX: FOOD)
Sector: Consumer Cyclical
Industry: Personal Services
FOOD Stock Price: C$ 9.01
Goodfood Market Corp is a Montreal-based online food retailer company. It delivers fresh ingredients that makes it easier for the consumers to cook quick meals at home. The company makes a personalized package of ingredients and delivers it to the customer's doorstep with clear instructions. Its main model is to make cooking smoother. So, the subscribers can have fun while cooking along with family.
The online retailer recently announced the launch of Goodfood WOW, same-day grocery delivery service in the Greater Montreal Area. This new service is scheduled to expand to other major Canadian cities over the next fiscal year. Goodfood WOW adapts flexible and smooth online grocery experience, allowing members to order personalized combination of food kits, groceries, pre-cooked meals, and other items as frequently as needed during the week. Consumers can opt for same-day delivery for all orders over C$35. The package is being offered for C$ 9.99 per month.
The TSX30 2020 ranking lists Goodfood in the 30 top performing TSX stocks based on its share price appreciation over the last three years. The company's current market cap is C$ 585.43 million. The retail stock saw an astonishing rise of 189 per cent in its year-to-date performance.
The online retailer has 280,000 active customers as of August 31, 2020, up 40 per cent Year-over-Year (YoY). The company is trying to get more customers onboard by providing three free meals and free contactless delivery.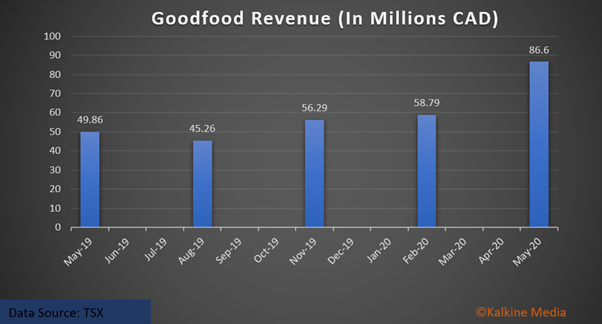 Dollarama Inc. (TSX: DOL)
Sector: Consumer-Defensive
Industry: Retail-Defensive
DOL Stock Price: C$ 52.96
Dollarama Inc is a Montreal-based company mainly engaged in operating discount retail stores. The company provides a diverse range of everyday consumer products and seasonal articles at low price points. General merchandise and consumer products together account for most the company's product offerings. The company serves customers throughout Canada, generally located in metropolitan areas, midsize cities, and small towns. All the retail shops are owned and managed by the company.
Dollarama also has a 50.1 per cent interest in Dollarcity, a fast-growing Latin American retailer. Dollarcity provides a broad assortment of grocery, general goods, and seasonal items at maximum price points of US$3 across 200+ stores in Colombia, El Salvador, and Guatemala.
The company's current market capitalization stands at C$ 16.07 billion. In the second quarter of 2020, its sales surged by 7.1 percent to C$ 1,013.6 million. The company opened 13 new stores in Q2 2020, as compared to 14 new store openings in Q2 2019. Dollarama provided its shareholder with a quarterly dividend of C$ 0.044. Its current dividend yield is 0.341 per cent, as per details on the TSX. The company's shares gained almost 17 per cent in year-to-date performance.
The company continues to carefully resume its operations in the context of the ongoing COVID-19 pandemic. Dollarama has introduced protective initiatives for its customers for both online and in-store shopping.
Sector: Consumer-Cyclical
Industry: Retail- Cyclical
ATZ Share Price: C$ 19.42
Aritizia Inc is a Vancouver-based designing and fashion boutique. It designs apparel and sells women's exclusive fashion products under the Aritzia banner. The variety of apparels offered by the firm include blouses, t-shirts, pants, dresses, sweaters, jackets and coats, skirts, shorts, and jumpsuits. The company operates in Canada and the United States, but majority of revenue is generated from domestic markets.
The pandemic steered shopping towards e-commerce across the retail landscape. Aritzia has also embraced digital channels, making investments in infrastructure in this area. The company in its financial report said that in-store shopping is likely to continue despite the uncertainty.
As per company's financial results, its e-commerce revenue increased by 150 per cent in the first quarter 2020. The company has reopened 89 of 96 fashion boutiques as of July 9, 2020. Its current market cap is C$ 1.58 billion.
Aritzia's stocks are currently trading flat year-to-date but has gained nearly seven per cent in one month. This week, the company's share price has surged by 7.67 per cent.
The company will release its second quarter financial results on October 14, 2020.