Summary

Bowen Coking Coal has executed binding agreements with Peabody (Burton Coal) Pty Ltd to acquire the 33 Mt Broadmeadow East Coking Coal Project and seeks to finalise the transaction as soon as possible.
A total resource of 43 Mt has been estimated at Hillalong North Coking Coal Project, and the resource area remains open in East and South-West directions.
BCB completed additional environmental assessments during the quarter as part of the requisite Environmental Authorisation process to allow mining to commence at the Isaac River Coking Coal Project.
Mr Matt Latimore was appointed as a Non-Executive Director to the Board of BCB during the quarter.
BCB has several key activities planned to be carried out at its projects during the upcoming quarter.
Coking coal exploration and development company with advanced exploration assets, Bowen Coking Coal Limited (ASX:BCB) has reported significant progress across its project portfolio during the quarter ended 30 June 2020.
Interesting Read: Bowen Coking Coal Limited's Stance in Changing Scenario for Global Coal Market
Execution of binding agreements to acquire Broadmeadow East Project
One of the major milestones covered during the quarter was the execution of binding agreements with 100% owned subsidiary of US-based Peabody Energy Corporation, Peabody (Burton Coal) Pty Ltd, for the acquisition of the Broadmeadow East Coking Coal Project, which contains a 33 Mt resource.
The project is located within undeveloped Mining Lease 70257, and the transaction includes access rights to the New Lenton Joint Venture Coal Handling and Preparation Plant ("CHPP") as well as the associated Train Load Out Facility ("TLO"). These infrastructure assets are connected by a haul road passing immediately adjacent to ML 70257.
A minimum of 1Mtpa throughput capacity at the CHPP and TLO has been secured by BCB, with the ability to potentially expand this capacity to a total of 2Mtpa, subject to agreement.
Summary of the Resource Estimate for Broadmeadow East (Source: ASX Announcement)
Analysis of the washability data has commenced, and results have indicated that despite lower primary yields, coal can be washed at lower density levels to create higher-quality coking coal at ~8.7% ash with CSN as high as seven while producing a secondary high energy thermal coal.
Kalkine Image (Data Source: ASX Announcement)
Complete details at: Bowen Coking Coal Fresh Acquisition in Central Bowen Basin, Receives Commitments for $2.25 million Capital Raising
Planned Activities at Broadmeadow East Coking Coal Project
BCB looks forward to engaging with Peabody (Burton Coal) Pty Ltd to conclude the transaction at the earliest and subsequently focus efforts on getting the project shovel ready as soon as possible. Due to the availability of existing regional infrastructure, the project has a relatively low capital intensity and short development timeframe.
BCB also plans to apply for an Environmental Authority amendment when the project is de-amalgamated, although ML 70257 is expected to come with certain Environmental Authorisations.
Moving further, after completing environmental impact assessments, BCB then expects to apply for a site-specific Environmental Authority.
Also, in order to sustain an optimal configuration to maximise financial value, BCB will undertake coal washability optimisation in terms of quality, yield and final product specifications.
Mineral Resource Growth at Hillalong Coking Coal Project
Located in the northern Bowen Basin, the Hillalong Coking Coal Project completed the $2.5m Phase 1 exploration program, later to which, Sumitomo Corporation progressed with the Hillalong Joint Venture. This resulted in Sumitomo solidifying a 10% interest in the Project under the following terms: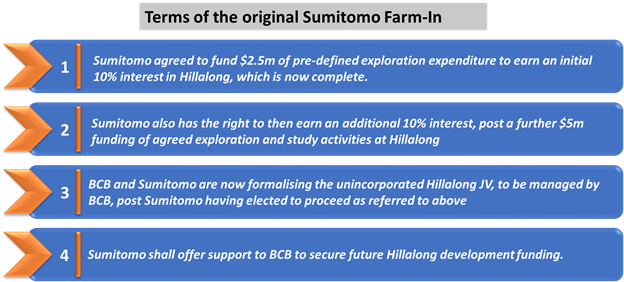 Kalkine Image (Data Source: BCB ASX Announcement)
A total resource of 43 Mt in accordance with the JORC Code has been estimated, of which 19.5 Mt is shallower than 150 m deep. Significantly, the resource area remains open in East and South-West directions, offering opportunities to grow on this maiden resource estimate.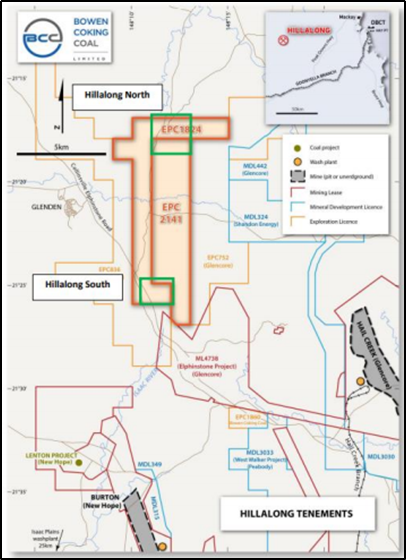 Location of Hillalong North and Hillalong South (Source: ASX Announcement)
Further Details at: Bowen Coking Coal Limited's Maiden Resource Estimate of 43Mt @ Hillalong North Highlights Extremely Positive Coking Properties
Environmental Assessments Completed at Isaac River Coking Coal Project
Though site-specific Environmental Authority Application for the Isaac River Project was supposed to be lodged during this quarter, it suffered some unexpected delays due to delayed land access during the wet season.
Notwithstanding the delays, BCB concluded further environmental assessments to ensure adequate coverage of the post wet season conditions, during this time.
The Environmental Authorisation application is now expected to be lodged during the upcoming September quarter.
In addition, a study regarding the regional geology proximate to the Carborough Project was undertaken in June 2020 quarter, and BCB has lodged a tender to the Department of Natural Resources, Mines for an exploration area adjacent to the Project.
BCB expects the result of the tender process later in the upcoming quarter.
More at : Bowen Coking Coal Discloses Final Raw Coal Quality Results From Isaac River Project
BCB Appoints Matt Latimore as Non-Executive Director
In a 360-degree development approach, BCB also saw a valuable addition to its Board during the quarter, BCB appointed Mr Matt Latimore as a Non-Executive Director.
The significant addition to BCB's Board was made subsequent to the completion of all formal agreements to give effect to the proposed Marketing Joint Venture and Finance Facility with M Resources and receipt of shareholder approval at an Extraordinary General Meeting.
M Resources is a related entity of Mr Latimore (a substantial holder of BCB with 15.93%) and has agreed to offer BCB with up to $15 million finance facility, that is anticipated to be utilised in financing the development of the Isaac River Coking Coal Project, or any other coking coal projects of BCB.
Related: Bowen Coking Coal Appoints Mr Matt Latimore as Non?Execute Director
Funding and Cash Position
On the funding front, BCB raised a total of $2.25 million (before costs) pursuant to an offer made to unrelated sophisticated and professional investors, of 45,000,000 ordinary fully paid shares at an issue price of $0.05 per share.
Proceeds from the capital raising are planned to be utilised for funding the acquisition and transaction cost of the Broadmeadow East project, related environmental and mining studies, costs of the Placement and to support working capital requirements.
Kalkine Image (Data Source: ASX Announcement)
BCB held $2.4m cash at bank as at 30 June 2020, including $0.5 million from the July placement.
On 5 August 2020, BCB is trading at $0.052 (AEST: 12:56pm), with a market capitalisation of $44.98 million.
All financials used above are in AUD, unless specified.