Summary

Aspire Mining in the wake of COVID-19 gathering restrictions in Mongolia advanced its activities typically channelled towards realising cost, operative, ecological and social benefits.
The Company undertook the preparation of a detailed operating plan, budget and financial model for evaluation and Board, financing, and development decisions.
Concerning truck types utilised for mining and truck-trailer combinations for coal delivery to rail terminal, significant potential operating cost savings have been identified by Aspire Mining.
Mongolia dodging-off the impediments of COVID-19 seems to nurture robust potentials for Aspire Mining Limited (ASX: AKM), focused on the evaluation, exploration, and development of metallurgical coal assets in the country.
The Company's exploration endeavours are marked by significant efforts at its wholly owned, world-class Ovoot Coking Coal Project along with the focus on Nuurstei Coking Coal Project, where Aspire holds 90% stakes, both located in northern Mongolia.
Basking in the growth potentials of Mongolia-based coal projects backed by the resumption in infrastructural activities in China, Aspire Mining has advanced its operations despite the challenges of COVID-19 restrictions. The focus has been primarily upon reaping several economic, environment and community-centric advantages along with reducing the logistics-related threats.
ALSO READ: Aspire Mining Shining with Booming Prospects for Ovoot Project as Chinese June PMI Soars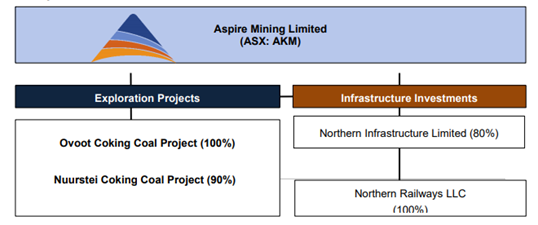 Source: AKM ASX Update
With this backdrop, let us look at the key events around Aspire Mining endeavours that remained in the limelight during April, May, and June 2020.
Noteworthy Strategic Endeavours at Ovoot Coking Coal Project
Advancing with Multidimensional Focus
Aspire Mining during the quarter undertook further work internally for evaluating phased development plan scenarios. It was intended to reduce the upfront capital costs and logistics chain risks for getting into commercial production at the earliest possible date once it has been granted access to Ovoot Project.
The Company investigated the baseline assumption concerning mining equipment and transportation equipment for potential improvement following the completion of the plan and budget based on first principles. It has recognised opportunities for further detailed evaluation, incorporating proven and reliable low-cost mine trucking solutions from Tier 1 manufacturers. Additionally, it also assessed the deployment of truck-trailer combinations on the road utilising increased gross combination mass for facilitating significant benefits related to economy, environment, and community.
Kalkine Image (Data Source: AKM ASX Update)
Notably, the Ovoot Early Development Plan (OEDP) Pre-Feasibility Study prepared earlier in 2019 by FMS LLC is aimed at production plan evolution and produce up to ~4 Mtpa on the basis of trucking a washed coking coal product to an existing railhead in the city of Erdenet
While Aspire awaits necessary approvals for proceeding, it is utilising the time for optimising its operating plans and costings, centred at the economic improvements concerning the valuable Ovoot Project.
Road Development
During the March Quarter, Khuvsgul airmag government studying The Mogoin Gol (Ovoot) to Erdenet road alignment included it in the airmag's 2030 Road Development Plan. The Company after the approval and along with its environmental and engineering consultants has continued engagement with the soums that lie along the road path.
TO KNOW MORE READ: Aspire Mining Sailing Smoothly to Foster Robust Infrastructure for Coal Haulage
It is pursued with the focus to gain final Ministry approval for aligning and completing the definitive engineering study.
Prepared for Advancements
To progress Ovoot Project, Aspire spent $0.214 million during the June Quarter. Meanwhile, it eyes the project license area access for completion of predevelopment activities that involves infill, hydrological as well as geotechnical drilling geared towards the starter pit area.
COVID-19 control measures have, however, led to the deferral of local community engagement meetings affecting Definitive Environmental Impact Assessment (DEIA) completion, leading to delayed access to the site area for commencing ground activities.
Definitive Environmental Impact Assessment (DEIA)
Aspire Mining is pursuing productive engagement with the local Tsetserleg soum Government and communities where Ovoot Project is situated for gaining the necessary approvals for furthering OEDP Definitive Feasibility Study progress.
Aspire Mining has yet to receive critical approval for the DEIA from the Ministry of Environment that would include varying aspects such as flora and fauna surveys, local stakeholder information sharing and engagement ethnological surveys and social impact assessments. It has formulated a DEIA preliminary draft, which has been disseminated amongst the relevant stakeholders in June 2020.
The public meetings necessary to be held before submitting DEIA to the Ministry of Environment is currently awaited by the Company owing to the extension of a ban on gatherings through to 31 July 2020 in Government's response to COVID-19 threat.
Robust Operating scenario in Mongolia
Aspire Mining's quarterly activities were characterised by an adequate response by the Government of Mongolia (GoM), leading to just 288 cases recorded to 26 July 2020. Furthermore, no attributable deaths and absence of Community transmission are nurturing an effective operational landscape for its project-related activities in Mongolia. Notably, Mongolia's vast coal resource base and its proximity to China which is the largest coal exporter provides a competitive advantage to Aspire's project.
ALSO READ: Aspire Mining Placed Well with Exploration-focused Mongolia Political Party Makes a Comeback
Meanwhile, ruling Mongolian People's Party, under the leadership of Prime Minister Mr U.Khurelsukh retained Government with a significant majority in Mongolian Parliamentary elections were held on 24 June 2020. The coal exploration focus of the Government for economic impetus is expected to provide a positive prospect for the Company's coal projects.
The Aspire Group at 30 June 2020, had $40.7 million in cash at bank and term deposits with no borrowings.
Notably, AKM stock closed the day's trade at $0.086 on 30 July 2020. AKM shares have generated the price-return of ~19% in last three months
(Note- All currency is in AUD unless stated otherwise)