Summary

Robust infrastructure access and flat-lying geometry of Speewah Specialty Metals Project are aiding in the achievement of noteworthy developments.
King River Resources has recently announced a Share Purchase Plan, to provide additional funding for its project-related exploration and development activities.
KRR has achieved the production of greater than 4N HPA along with many aspects of the Prefeasibility Study on its 100% owned Speewah Specialty Metals project.
Manifesting the upbeat prospects through its strategically placed approach, Australian specialty metals explorer King River Resources Limited (ASX: KRR) indeed seems to hold a unique configuration of resources and strategies, which is catalysing its advancing journey in the terrain of Western Australia. The Company piggybacking on access to already existing infrastructure and strategic cooperation recently accomplished notable milestones and continues the exploration endeavours with its persistent efforts.
The achievement of production of greater than 4N (99.99% Al2O3) High Purity Alumina (HPA) along with the completion of significant metallurgical tests, as part of the Prefeasibility Study (PFS) on its wholly owned Speewah Specialty Metals (SSM) Project, has prompted the Company towards substantial prospects.
King River Resources, for further smoothening its project development & exploration activities, recently announced a Share Purchase Plan (SPP) for its existing shareholders, enabling each to purchase additional shares worth up to $30,000. The SPP offer limited to 20% of issued capital also includes one free attaching option for every two shares issued. With the issue price of $0.033 for each share, the options under the SPP offer have an exercise price of $0.06 expiring 31 July 2022.
With this backdrop, let us look at what is fostering KRR's Speewah Specialty Metals (SSM) project towards the realisation of critical exploration and development objectives.
Resources
King River Resources is advancing on the back of Speewah Project holding Australia's largest deposit of specialty metals. A member of ERM Group of Companies, CSA Global Pty Ltd, in 2019, updated the mineral resource estimates for the project, which comprises three deposits, Central, Buckman and Red Hill.
Speewah project global mineral resource estimate (0.23% V2O5 cut-off grade) include a total of 4,712 million tonnes at 0.3% V2O5, 3.3% TiO2 and 14.7% Fe from the three deposits. Meanwhile, the Central mineral resource estimate (0.23% V2O5 cut-off grade) includes 1,240 million tonnes at 0.31% V2O5, 3.3% TiO2, 14.6% Fe, 12.5% Al2O3 and 4.7% MgO.
Furthermore, alumina-rich plagioclase feldspar zonation has been shown by mineral characterisation studies on the magnetite gabbro. Results from drilling on the junction vanadium deposit, which lies on the granted Mining Lease (M80/267), offer an additional alternative for developing and timing the SSM project.
ALSO READ: King River Resources Shining with Opportunities Around All Corners
The project is supported by robust infrastructure, enhancing the scope for its development.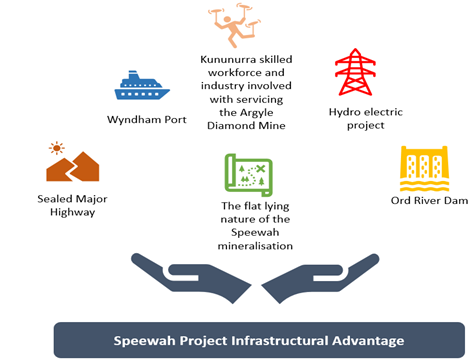 Strategies
Backed by secured positioning of the project with locational advantage, mineral resource estimates and productive infrastructure, King River Resources seems to adopt a strategic, well-defined plan for realising substantial benefits.
KRR intends to ensure initial scaling of the SSM project to produce HPA with co-products such as V2O5, TiO2 and Fe oxide being produced at a further stage but not incorporated as a part of the prefeasibility study. It would reduce project size along with the scope for lowering capex and maximising the start-up economics.
ALSO READ: King River Resources Riding High with Noteworthy PFS Developments on Speewah Project
Strategic associations have been significantly helpful for the Company in realising the different HPA development objectives. The collaboration with metallurgical consultants, TSW Analytical Pty Ltd, allowed the Company to produce >4N (99.99% Al2O3) High Purity Alumina (HPA) through a new refining process. Meanwhile, CSA Global has completed a mining study besides the marketing and environmental reports.
Future Potential
King River is awaiting the completion of some hydrometallurgical testwork and studies, as the Company anticipates finalising the PFS. The key outcomes that need completion before the PFS release include:
Repetition of the previously reported 4N HPA product result for a larger sample production to provide for verification analysis
Requirement of independent umpire assays of the final >99.99% Al2O3 result
Using an X-Ray Diffraction (XRD) analysis, confirmation that HPA is 100% alpha-alumina
Infrastructure and plant design/costings are largely finished by Como Engineers waiting on review and validation of the final model.
Stock Performance - By the end of trading session on 10 July 2020, KRR stock settled at $0.032 per share. The stock has generated a return of 65% in the last six-month period.