Highlights:

The year 2022 has been a year full of volatility due to global cues and economic uncertainties
The S&P/ASX 200 index has moved about 1.6% upwards in the last one year as of 1 December 2022
Many companies have given exceptional results during these times of uncertainty
The year 2022 has been a hell of a ride for investors in terms of volatility. The S&P/ASX 200 index, which has majorly been on a rising trend from the lows of 4,500 levels seen from March 2020 to August 2021, has given several crests and troughs in the year.
The market tried its level best to break its all-time high of 7,630 (seen in August 2021) in January and April this year; however, both times the market gave up its strength and went to the levels of 6400s.
The recent uptrend starting from the latter part of September last year has made the market give a return of almost 1.6% in one year, as of 1 December 2022. This also includes the last one-month appreciation of more than 7% in the S&P/ASX 200 market index.
Many stocks have outperformed the market and given handsome returns during the year.
With this backdrop, let's have a look at six ASX shares that've grown more than twice in the last one year.
Whitehaven Coal Ltd (ASX:WHC): The company has highlighted its achievements of a record average coal price of AU$581/t for the September 2022 quarter. The company also delivered a strong operational performance from its Narrabri underground mine in the quarter.
The company holds a net cash position of AU$1.93 billion as of 30 September 2022, out of which AU$1.55 billion was generated in the September quarter only.
Whitehaven has updated its production guidance for FY23, highlighting: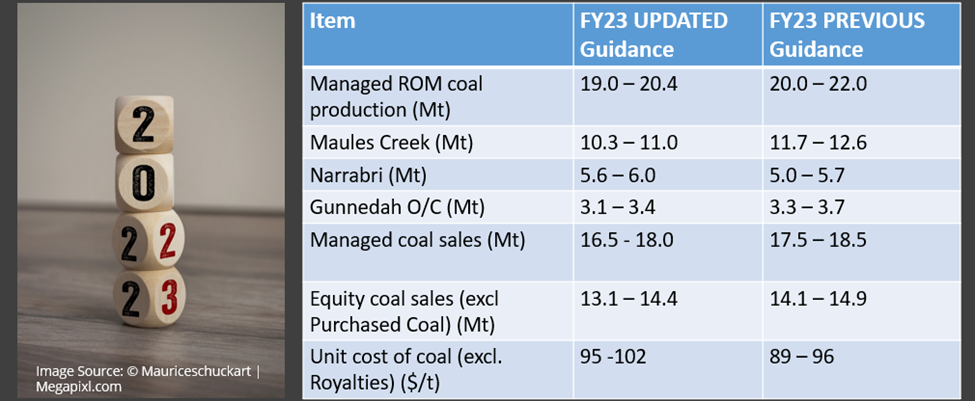 Data source: WHC update, 9 November 2022
Stanmore Resources Ltd (ATX:SMR): The company controls and operates the Isaac Plains Complex, South Walker Creek, and Poitrel metallurgical coal mines. It also holds several undeveloped projects in Queensland's prime Bowen Basin region.
Stanmore reported a record monthly ROM production of 814Kt at Poitrel and 406Kt at the Isaac Plains Complex in August.
It also acquired the remaining 20% interest in Stanmore SMC Pty Ltd (SMC) in October 2022, with the transaction totally funded by internal sources.
The company says it is on track to deliver as per the 2H 22 guidance despite continued unseasonal wet weather and other impacts.
New Hope Corporation Ltd (ASX:NHC): The company has received all primary approvals for the New Acland Mine and is gearing up to recommence operations.
For the September quarter, the company's EBITDA stood at AU$648.1 million, which was 167% higher than last year's comparative quarter.
The company has also executed a broader capital management strategy by announcing an AU$300 million on-market buyback of ordinary shares.
Core Lithium Ltd (ASX:CXO): The company boasts of building one of Australia's newest and most advanced lithium projects, the Finniss Project in the Northern Territory. The company believes the project is capable of providing high-grade and high-quality lithium suitable for lithium batteries.
The company opened the Finniss Lithium Mine on 10 October 2022. It has seen a lot of developments in 2022 concerning Grants' pit, as shown below
(Source: © 2022 Kalkine Media® | Data Source: CXO update, 24 November 2022)
Yancoal Australia Ltd (ASX:YAL): The dual-listed (ASX and HKEx) coal-focused company holds the third-highest attributable coal in Australia, after BHP and Glencore, as per its latest presentation. The company holds seven producing coal mines and operates two on management contracts, cumulating about 70 million tonnes of ROM coal and 55 million tonnes of saleable coal.
As per Yancoal, it achieved an average realised coal price of AU$364/t for the first nine months of 2022, which was 211% higher than the same period last year.
The year 2022 saw dividend payments worth AU$1.6 billion. Moreover, in the last one year, the company has made debt repayments worth US$2.3 billion.
Syrah Resources Ltd (ASX:SYR): Syrah holds the flagship Balama Graphite Operations in Mozambique and a downstream active anode material facility in the United States.
As per the company, recovery for the Balama plant stood at 80% for the September quarter and 85% in August 2022. Also, natural graphite production stood at 38kt.