Summary

CardieX Limited has experienced a stupendous price rally, backed by factors like pharma study contracts with major pharmaceutical companies.
CDX has also achieved considerable advancements in its product developments, creating opportunities for adding more revenue streams by FY2024.
CardieX had a strong closing cash balance of $2.06 million for FY20, with events announced during July making material improvements to the cash position, totalling in excess of $3.7 million.
Global health technology company, CardieX Limited (ASX:CDX) has experienced a stupendous price rally with a six-month investor return of more than 107% and three-month investor return of 145.45%, as on 20 August 2020. The increase can be attributed to various factors like pharma study contracts with Bayer Ag and other major pharmaceutical companies.
In addition, as a major achievement in its June quarter, CardieX's ATCOR technology got selected for use in the first international clinical trial to evaluate arterial stiffness impact in COVID-19 survivors. The trial has been commissioned by the ARTERY Society.
Do Read: 5 Small-cap Risers on ASX: CDX, AML, AGR, UNL, BPP
Let's glance through some current developments that may have increased investors' confidence in the Company.
CardieX Limited provides digital and device-based solutions to determine patient risk in hypertension and vascular disorders including cardiovascular disorders through three core business segments, medical technologies (AtCor Medical), wearable and "smart device" division (CardieX Labs has partnered with Blumio) and telehealth group (via investment in inHealth).
At present, its revenue stream includes technology licensing and professional service revenues from ATCOR. By FY2024, the Company highlighted adding two revenue streams, stemming from providing digital & SaaS based services and revenues from home/ clinician device.
New Amended Agreement with Bayer AG Leading to Increased Contract Value
On 20 August 2020, CardieX, through its subsidiary ATCOR, announced to have entered a new amended agreement with Bayer AG (ETR: BAYN), a global pharmaceutical company. The new amended contract is for the leasing of ATCOR's devices (ATCOR XCEL Systems) and availing an expanded data management services for Bayer's 'AVANTI' trial, increasing the total contract value from US$1.26 million to US$1.68 million.
Term of the contract has also been extended to June 2021 from October 2020, with additional AVANTI Amended Contract revenue to be accrued by the Company in the current FY2021. The AVANTI trial represents one of the two significant ongoing trials for which Bayer has entered into a contract with ATCOR. The other trial is the CONCORD trial.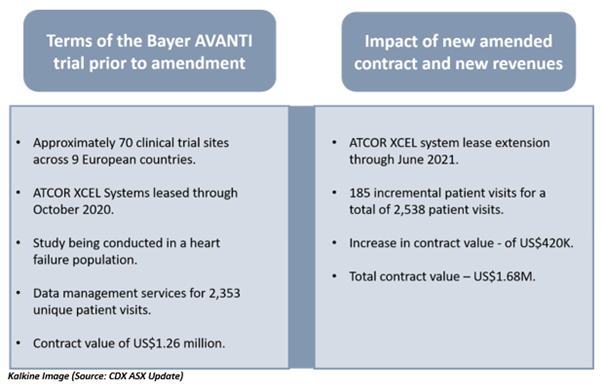 According to the announcement, XCEL device of ATCOR is the only FDA cleared device that measures central aortic waveform and provides reporting on associated clinical data in all adult subjects. Clinicians, research institutions, and pharmaceutical companies use XCEL to monitor critical hemodynamic data while treating patients and during drug trials in various clinical settings and for multiple disease states.
According to CEO & Managing Director, Craig Cooper, the new contract amendment demonstrates the Company's success regarding ongoing business development during the poor economic period and reinstates validation of the exclusive capabilities of its FDA-cleared SphygmoCor® technology that is being actively expanded into wearables, smart devices and other new markets.
CardieX's Wearable Sensor Technology Breakthrough, Allowing ATCOR to Pursue More JDAs
In a recent research breakthrough, ATCOR extracted waveforms from PPG sensor, thus enabling the use of its core SphygmoCor® technology in wearables.
The development will allow CardieX to proceed with next phase of its JDA with Google's Wear OS partner in China, Mobvoi. The Mobvoi partnership includes the integration of PPG sensor to Mobvoi smartwatches to derive exclusive consumer health functions.
The Company is currently aiming at expanding opportunities under the JDA to new markets and other applications, such as the provision of data and related technologies to Mobvoi under a "services & subscription model".
CardieX has also submitted US patent applications for its proprietary technology for PPG sensors as well as several trademark applications for the medical and clinical data sets that the Company has been able to extract so far.
A Vision Towards Enhanced BP Monitor Solution
As part of the process of advancing its BP monitor, CardieX programmed and shipped prototype chips to ODM partner, Andon, which will integrate the same into a reference design for a standard brachial BP monitor. In addition, the Company has developed research software that allows collection and preliminary processing of individual BP measurements via a PPG sensor. The Company is collaborating with the Macquarie University to conduct data collection within social distancing guidelines.
Partnerships and Commercialisation Progress
Recently, CardieX's development partner Blumio completed a pilot with Switzerland-based pharmaceuticals and diagnostics giant, Roche, and executed a development agreement with Germany-based semiconductor manufacturer, Infineon Technologies. CardieX has made progress on Sensor Development Kit for third-party wearable device makers.
Pharma Study Contracts Driving Massive Revenue Growth?
The Company recorded total receipts of $1.54 million for June 2020 with a total of $5.11 million for the fiscal year 2020. This growth in receipts was largely backed by winning pharma study contracts with Bayer and other major pharmaceutical companies.
Robust Cash Position
Increased revenue led to an improved operating cash flow with net operating outflows of $220k recorded for the June quarter. CardieX closed FY20 with a strong cash balance of $2.06 million, underpinned by a funding through the June quarter from debt facility and the US PPP funding.
Owing to following events during the month of July, the Company experienced material improvements to its cash position, totalling in excess of $3.7 million.
Received $715k from inHealth following a reorganisation of its convertible note investment.
Completion of a $2.5 million placement to new strategic investors at $0.03 per share with a 1 for 5 free attaching listed option (CDXO), resulting in the issue of ~83 million new shares and 16.6 million new listed options.
A confirmation on planned EGM to approve previously announced $500k additional investment by C2 Ventures Pty Ltd.
Good Read: Three Unique Investment Tips to Build Recession-Proof Portfolio in COVID-19 Crisis