Summary

NTM Gold and Dacian Gold have agreed for a merger through NTM Gold Scheme of Arrangement.
Dacian shall acquire 100% of the shares of NTM Gold, and the merged entity will trade as Dacian Gold Limited.
The arrangement will allow Dacian shareholders to hold 68.4% and NTM shareholders to have 31.6% shares of the newly merged entity.
NTM share price skyrocketed by ~42% subsequent to the announcement.
Gold focused exploration company NTM Gold Limited (ASX:NTM) and Australian gold miner, Dacian Gold Limited (ASX:DCN) have agreed to merge through an NTM Scheme of Arrangement, through entering into a binding Scheme Implementation Deed.
Summary of the Transaction
The two complementary West Australian gold companies shall come together to unlock the development potential of the Redcliffe Gold Project through regional consolidation by leveraging operational expertise and processing infrastructure of DCN.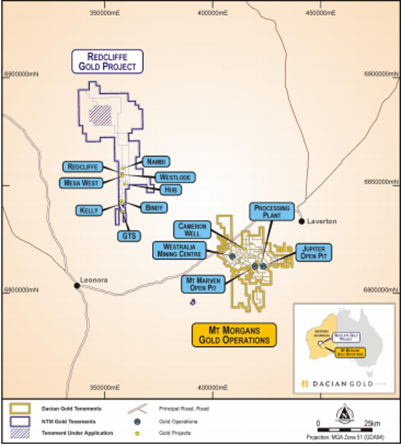 Strategic regional consolidation (Source: ASX Announcement 16 November 2020)
September Quarter Update: ASX:NTM Reports Robust September Quarter For Redcliffe Project, Drilling To Commence Soon
Under the terms of the Scheme,
Every NTM Shareholder shall get 1 Dacian share for every 2.7 NTM shares held at the Scheme record date at a per share price of $0.141.
Out of the total issued ordinary shares in the Merged Group, Dacian shareholders and NTM shareholders shall hold 68.4% and 31.6%, respectively
Outstanding NTM options shall be exchanged for new Dacian options at the 2.7 exchange ratio and on equivalent terms
NTM Board urged its shareholders to vote in favour of the Scheme, in liew of an absence of a superior proposal. However, the recommendation remains subject to the following:
Approval being obtained from NTM Shareholders and Court in connection with the Scheme.
An Independent Expert is pronouncing that the Scheme is in the best interest of NTM Shareholders.
No significant unfavourable change or stipulated event happening in connection to either DCN or NTM.
Interesting Read: ASX:NTM Gold Limited Stretches High-Grade Mineralisation at HUB DEPOSIT
Moreover, NTM disclosed that its two largest shareholders, Empire Resources Group (13.7%) and DGO Gold Limited (13.6%) as well as all NTM Directors indicating an accumulated voting interest of 32.9% are expected to vote for approval of the Scheme.
The Merged entity shall have 813 million ordinary shares outstanding once the Scheme is successfully implemented and shall continue to trade as under the ticker DCN:ASX Dacian Gold Limited.
Did you read: NTM Gold Limited's (ASX:NTM) Growth Through Exploration In An Outstanding Region
Similarly, NTM also believes that this is a compelling transaction for NTM that offers financial, processing as well as operational strength to unravel the value of the Redcliffe Gold Project. Moreover, the transaction provides a significant opportunity for the Company, given the proximity of asset of both the companies. The transaction is also anticipated to offer immediate exposure to gold production for NTM shareholders and at the same time enable them to benefit from upcoming exploration success at both Redcliffe as well as Mt Morgans.
How will the Merger benefit NTM shareholders?
NTM shareholders are at the verge of unlocking significant advantages through this proposed merger, including
Immediate and substantial growth in the prospective value of NTM's resources through access to DCN's processing facilities and near surface high grade mineralisation.
Instant transition from an explorer to gold producer while preserving significant exposure to continuing exploration success at the Redcliffe Gold Project.
Propel and de-risk the development strategy of the Redcliffe Gold Project by utilising established infrastructure and operational expertise of DCN.
Projected gains from improved scale and market standing as well as prospective inclusion in relevant gold and ASX indices in the future.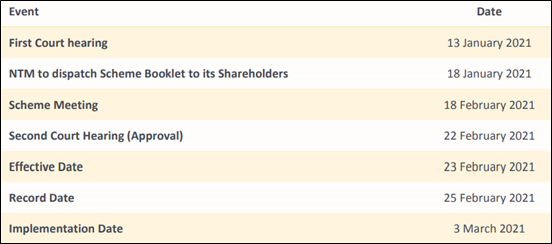 Indicative Timetable And Next Steps (Source: ASX Announcement 16 November 2020)
Related: NTM Gold: New Tenement Granted At Redcliffe Gold Project & JORC Derived
Highlights of the Merger and Strategic Rationale
Subsequent to the merger, the new entity shall have a highly prospective land holding of around 1,300km2 in the Leonara-Laverton District with a significant organic growth pipeline of advanced exploration targets and opportunities to grow Mineral Resource.
The transaction further allows operational diversity as well as flexibility with further optimisation prospects, including an opportunity to diversify production at Mt Morgans by way of a second mining centre creating operating flexibility and reducing risk.
Another opportunity includes the enhancement and extension of DCN's current mine plan, given the existence of high-grade mineralisation. Further, there is potential for significant mine life extensions and delineating the complete potential at Mt Morgans.
Additionally, DCN's recently constructed 2.5Mtpa processing facilities can be leveraged to offer material capital expenditure synergies for NTM Shareholders while rapidly integrating Redcliffe Gold Project into Mt Morgans Gold Operations.
Did you read: A Look At The Projects Of NTM Gold (ASX:NTM) And The Latest Developments At The Redcliffe Project
The estimated pro forma market capitalisation of the Merged Group shall be approximately $285 million, with cash and equivalents of $44 million and debt of $39 million as of 30 September 2020. Further, the merged entity is expected to strengthen cash flows that shall allow discovery and definition of prospective upcoming production sources.
Managing Director, Leigh Junk and Chairman, Ian Cochrane shall lead the Merged entity, while NTM Director Eduard Eshuys shall complement the Board as a non-executive Director. Moreover, the transition of NTM's exploration team to the Merged Group shall ensure a continued and comprehensive knowledge base on the Redcliffe Gold Project in maintained.
Bottomline
All in all, the Merger indicates a strategic transaction that provides high-value Mineral Resources within haulage distance to extend mine life. This is in line with DCN's corporate strategy based on a simplified operating plan of primarily open pit production and growth via organic exploration, development and regional consolidation.
Interesting Read: NTM Gold Limited Reports High-Grade Mineralisation at the Redcliffe Gold Project
NTM share price quoted at $0.125, up by 42.045% with a market capitalisation of $60.17 million.