Summary

Great Southern Mining's recent mapping and geochemical sampling have discovered large geochemical soil anomaly at Leichhardt Creek prospect.
A well-defined Au–Ag-Sb-As–Cu–Bi–Mo–Zn-Pb anomalism signatures are exhibited by the geochemical character of an Intrusive related gold system (IRGS).
GSN looks forward to undertaking additional soil sampling grid and mapping to delineate the full extent of the mineralised system.
Western Australian based Company aiming to become a leading gold exploration Company in Australia, Great Southern Mining Limited (ASX:GSN) has been undertaking exploration activities at its 100%-owned Edinburgh Park Projects in north Queensland.
Following an additional recent interpretation of soil geochemistry data obtained from the Leichhardt Creek Survey area, GSN has revealed a significant, large geochemical soil anomaly at it's Leichhardt Creek prospect.
Previous Update: Gold-Bearing Mineralisation Identified at Great Southern Mining's Cox's Find Gold Project, Stock Hits Record High
According to GSN the systematic soil geochemistry and mapping program is the first systematic gold-focused exploration program undertaken over the area and has been a great success for GSN in discovering the anomilisation signature of a large Intrusive Related Gold System within it. Moreover, it displays strong metal content.
GSN believes that it is a significant step toward potentially uncovering that Tier-1 deposit.
The results received from the geochemical survey work comprise of more than 652 soil samples and 11 rock chip samples lately completed over an area of 10 km2 north of Beaks Mountain.
Related: Great Southern Mining Surges 23% on the Back of Commencement of Drilling at Cox's Find Project
The first systematic gold-focused exploration program undertaken in this area was concluded on a 100m x 100m spaced grid over an area identified from the interpretation of hyperspectral data in combination with reconnaissance geological mapping and aerial geophysics.
Soil Survey at the Leichardt Creek Prospect (Source: Company's Report)
This soil survey was designed to test the
Metal association, primarily gold in association with the molybdenum and copper throughout the mineralized zone
Incorporated multiple breccia occurrences which occur along the margins of the sheeted vein zones, and some of which are associated with Au-Ag-Cu mineralisation
Interesting Read: Shot in the Arm for Great Southern Mining, Receives $3.15 Million Funding Commitments
Results Recognise Very Large Hydrothermal System
Recognition of a very large hydrothermal system with Intrusive Related Gold System (IRGS) affinity was the most significant result of the soil sampling program. Moreover, well-defined gold, silver, antimony, arsenic, copper, bismuth, molybdenum, zinc and lead anomalism in the soil sample geochemistry significantly enlighten the geochemical character of the Leichhardt system as an IRGS.
Various geochemical anomalism is shown in the picture below: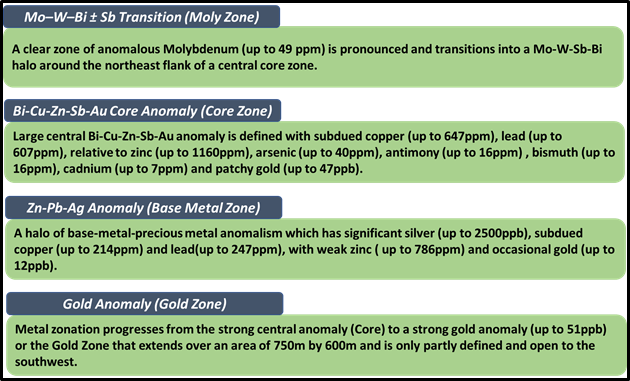 Did you read: Great Southern Mining Ready to Get the Boots on the Ground; Porphyry Targets Identified at Edinburgh Park
Interpretation of Geochemical Patterns
The interpretation of the geochemical patterns provides the following insights:
Strong Mo-W-Bi signature is interpreted to represent the higher temperature part of a felsic IRGS system
Gold is present throughout the core to distal zones,
The highest gold deposition is associated with base metal (Pb-Zn-Cu) zones – similar to the Kidston IRGS mine near by,
The lateral zonation observed from NE to SW is suspected to be complemented by vertical metal zonation patterns
Several smaller gold anomalies are located along the highly prospective structural contact between the granitoid intrusive complex and the diorite
Moreover, the eastern margin of the Core anomaly corresponds with the delineation of two hyperspectral targets; confirming the use of the hyperspectral data in differentiating alteration patterns associated with anomalous geochemistry, and its use as an exploration tool to define IRGS targets.
Several hyperspectral targets of similar nature have been identified that are located beyond the scope of this geochemical survey and require additional investigation. Also, while the presence of a large Intrusive related gold system is confirmed by the scale and magnitude of the geophysical and geochemical anomalies, the presence of gold in that system is confirmed by the soil geochemistry.
Related: Hyperspectral Survey Highlights Gold Targets at Edinburgh Park Project of Great Southern Mining
GSN on the Way Forward
GSN looks forward to undertaking additional mapping and soil geochemistry survey to the south in order to encompass the full extent of the mineralised system. They will also look at utilising geophysical methods to start defining this system in three dimensions to explore and interpret the system at depth to advance the prospect to an exploratory drilling stage.
In addition to this, they are currently undertaking mapping and soil geochemical surveys over several of the other prospects within the massive landholding of Edinburg park project area.
On 17 July 2020, GSN was noted at $0.145 with a market capitalisation of $59 million. In the last three months till 15 July 2020, GSN stock has generated 248.48% returns to its shareholders.