Summary

High volatility and growing uncertainties in the market along with increased global investor base have led to an increased trading activity across share markets.
Stockbroking companies have moved to technology-enabled platforms that help individual investors make trading easy and straightforward.
Marketech Focus is an ASX trading platform which is loaded with features and allows access through mobile as well as a desktop version with similar functions.
The increased activity in trading across the stock market might prove to be a significant upside for modern-day trading platforms like Marketech Focus.
The stock market was sailing smoothly just before the COVID-19 pandemic took the world economies by surprise and forced the policymakers to take unprecedented actions, such as closing borders, enforcing stay at home and other social distancing measures. However, since the March lows the market has rebounded smartly and many have taken to trading, which could be attributed to stay at home orders leaving people with ample time, and resulted in significant growth in the trading activity across the stock markets, especially the Australian Stock Exchange (ASX).
Being one of the leading financial market exchanges in the world and an integrated exchange offering, ASX operates markets for a broad range of asset classes, including equities, fixed income, commodities, and energy.
Increased Need for Technology Trading Platforms
In today's technology-driven environment, ASX also offers data and technology services to intermediaries, banks, information vendors as well as software developers to assist them in making informed decisions, provide services to their clients and establish a network amongst each other.
The increased connectedness through technology has resulted in a positive influence on the financial position of the stock markets and has produced several opportunities for technology companies to offer technology solutions.
Related: Technology Takeover and the Need for a Fast and Sound Trading Platform; A Lens Over Marketech
One reason that stock markets have strongly adopted technology is the need for reaching to a more globalised network of investors across borders. On the other hand, there is an ever-increasing need for convenient solutions and doing more in lesser time. Factors like these and several others have emerged as an upside for brokerage companies to develop technology-driven, fast, simple, easy to use and effective trading platforms.
Growing Trading Activity on ASX
Another more important factor is the increasing investor base that has boosted trading activity on stock markets. For the month of June 2020, the number of trades in Equities across ASX TradeMatch®, PureMatch® and VolumeMatch® were 37,470,478 a 15% jump as compared to 32,563,167 recorded during May 2020.
As per ASX, equity trading value was up by 8.9% during 1H20 ended 31 December 2019. Moreover, growth in trading and business activity has empowered ASX to deliver a consistent return to shareholders.
Cash market trading – ASX value on-market ($billion) (Source: ASX Market Announcement)
In addition to this, there was noted a greater cash market trading activity and higher demand for information and technical services.
For the month of June 2020, the average daily number of trades was 5% higher as compared to pcp and the average daily value traded on-market of $7.7 billion increased by 40% as compared to pcp.
Now that we have seen numbers pointing towards a growth in the trading volumes on ASX let us look at one of the brokerage company, Marketech Limited, which is focussing on its technology-enabled fast, simple, and easy to use ASX trading platform, "Marketech Focus".
Did you watch: Introducing Marketech Limited
Marketech has been engaged in designing market trading platforms for around two decades.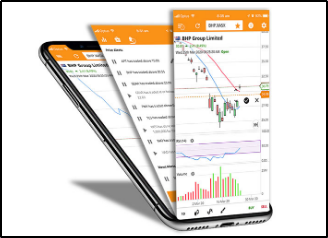 Marketech Focus (Source: Marketech Website)
Marketech Focus is a state-of-the-art trading platform for the retail ASX share investor which has been designed by coming together of the trading platform with the charting package and is built to be easy to use, trade and customise. More importantly, the platform is packed with high-level features.
Overcome the Limited Functionality Through Mobile as Well As Desktop Version
It generally happens that trading platforms today have an impressive desktop version but lack several functions in its mobile version and have limited functionality. However, Marketech overcomes these limitations and is designed to be used when travelling through mobile as well as through desktops in the same format.
Desktop vs Mobile Version of Marketech Focus (Source Marketech Website)
More at: Getting Acquainted with Marketech Limited and its Modern Trading Platform, Marketech Focus
In addition to this, the users are enabled to access ultra-low rates of brokerage to own their own shares through Marketech Focus and not end up in pooled trustee accounts or highly leveraged CFDs. Moreover, any interest earned by users on their cash is paid straight back to them.
Marketech Focus is packed with features even in its lowest-cost version, and additional functions can be available on-demand as per the needs of the user and his/her budget. Moreover, users only pay for what they need and avail the benefits of ultra-low brokerage, true share ownership and keep all the interest on their cash through using Marketech Focus.
Marketech Focus is curated to make it a feature-rich trading platform that meets the needs of the contemporary trader. In today's scenario, Marketech is well-positioned to derive gains from the prospect arising due to the improved movements in share trading during recent times.