Summary

Developments around technology have completely changed the way businesses operate and the products/services they offer.
Marketech Focus is a modern-day technology-driven trading platform for ASX traders that is fast, simple and yet loaded with features.
Marketech platform is a unique offering that is meant to be used by fresh as well as experienced traders.
Anyone would agree to the fact that we live in an era that is significantly driven by technology and the need for technological innovation is growing at a faster pace than ever. More importantly, technology has made our lives faster, easier and far better through creating an ecosystem where real-time interaction between machines and humans is facilitated through the use of advanced technology.
From waking up with an alarm to unearthing precious metals and even the ongoing research for the COVID-19 vaccine, technology has drastically changed the way we live and work. Moreover, the ever-improving game of technology has brought about a significant level of convenience for the people in the ecosystem.
The utility of the increasing number of gadgets and mobile devices has been making life easier for its users. However, these increasing connections and users pose several challenges for the network.
These days, a smartphone is powerful enough to do a lot of things which would be nearly impossible to do otherwise in such less time.
Enhanced connectivity and improving interface have been at the front foot to deliver excellent smoothness in real-time communication in all aspects of human life. Moreover, business models have transformed to a whole new level to deliver unique offerings to meet various needs of the users.
Several businesses have witnessed immense growth over the recent years due to increased use of technology and the need for smart and technology-driven solutions.
One of the broking companies looking to thrive in the present technology-driven scenario is Marketech Limited which owns the ASX trading platform Marketech Focus.
More at: Introducing Marketech Limited
Features of Marktetech Focus
Marketech Focus is a modern-day ASX trading platform that is packed with features and has something for everyone. Some of the features that make Marketech Focus stand apart are:
Trade Anywhere, Anytime with the intuitive trading platform.
Nice and simple with no hidden fees, no lock-in contracts, no interest scraping.
Live ASX access from $45 per month.
Start trading with a low monthly subscription for as low as $45 per month, which entitles users to brokerage from 0.02%, or a minimum of $5 per trade.
Stay informed with alerts.
Look for the patterns in the charts.
Get the headlines as the events unfold.
Most of all, SAVE MONEY ON YOUR TRADES.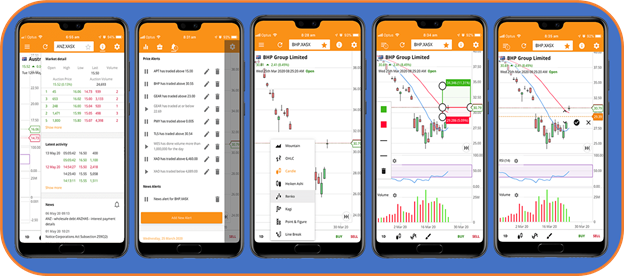 Marketech focus is designed to make trading easier and offer various features to all types of traders, whether they are new to the stock market or have been trading for years. A user can have access to the information that is required through desktop as well as the mobile version of the platform.
More at: Getting Acquainted with Marketech Limited and its Modern Trading Platform, Marketech Focus
Desktop vs Mobile Version of Marketech Focus (Source Marketech Website)
In a nutshell, Marketech Focus is an intelligent trading platform loaded with features and can be used on the go with low brokerage fees.
Unique Utilities Offered for Users
Marketech Focus is a seamless and secure solution that allows users to trade stocks on the ASX through a single powerful trading platform where users can:
Plan their trade using the chart.
Plan their trade entry and exit from the chart, and trade directly on the chart.
Access news, price, and volume alerts directly in the app so users can get on with their day.
Access and view market detail including depth, latest trades, news and fundamentals.
Use Multiple charting styles for technical traders.
Being such a power-packed offering, Marketech Focus seems to be suitably placed to reap benefits from the ongoing technological leap that the world is presently taking. Moreover, there has been a significant increase in trading activity recently, which might just be the time for the platform to escalate its reach.