Summary

Marketech is a breakthrough technology solution in online trading that offers low-cost services to its users.
Through Marketech Focus platform, users can begin trading for as low as $45 per month, which entitles users to brokerage from 0.02%, or a minimum of $5 per trade.
Marketech Focus is a feature rich trading platform curated to meet the needs of the contemporary trader.
Marketech is well-positioned to reap benefits from the opportunity arising due to the increased activities in share trading during recent times.
For a lot of people who are looking to start investing or already investing in stocks on the Australian Stock Exchange (ASX), having access to feature rich and yet an affordable trading platform is paramount. Furthermore, a lot of people face numerous challenges while coping with several requirements that boost the ability to comprehend and analyse the various movements in the stock market.
However, improving technological abilities in the recent past have helped to develop several useful alternative platforms for the trading community, at the time when there has been an increasing activity across stock markets recently. An emerging company looking to grab the opportunity arising from the recent acceleration in trading requirements in this area is Marketech Limited, who own a broking company and are the owner of a trading platform, Marketech Focus.
Marketech is a Perth based company offering a modern-day online stock trading platform as well as share market information platform to its subscribers through an online and mobile app for certain mobile devices.
The Marketech Focus is a cloud-based platform that can be accessed by means of an app or via PC, enabling users to trade in the market. Marketech Focus platform allows users to access share trading services through a third party, Openmarkets.

The Company is licensed under the Corporations Act to provide general financial product advice in relation to certain financial products and arrange for dealing in certain financial products.
Financial Services and Products Offered
Marketech is authorised to carry on a financial services business to provide general financial product advice for a broad class of financial products. In addition to this, the Company is also authorised to deal in a financial product by arranging for another person to apply for, acquire, vary or dispose of financial products in relation with the below-mentioned grades of financial products:
Payment and deposit products limited to a) basic deposit products as well as b) deposit products other than basic deposit products
Derivatives
Debentures, bonds or stocks issued or proposed to be issued by a government
Securities
Marketech caters to both, retail as well as wholesale clients.
The Company has been engaged in designing the market trading platforms for almost 20 years and has been focused on its aim to create an accessible, easy to use, functional & simple yet feature-loaded mobile trading platform.
The Company provides a low priced and a cost effective platform for its clients while trading and that has been a critical element for the unique positioning of the platform.
Marketech Focus platform shouldn't need an instruction manual
Taking into account, the way financial services are priced, Marketech recognises the major shift towards fee-for-service, and away from conflicted remuneration that rewards those who benefit from high turnover.
A low monthly fee for the live market platform with ultra-low brokerage a standard
The platform remains packed with features, in its lowest-cost version too, that the layman user would expect as standard. Moreover, additional functions shall be available on-demand as exchange data costs are the main determinant of pricing. Therefore, it is up to the user which data package suits his/her needs or budget.
Brokerage fees (Source: Company Website)
Pay only for the package required
There are a lot of new players offering super-low or zero commission trading, but many of these offer trustee services where the user owns a part of a pooled fund, or highly risky designer products.
On the other hand, Marketech facilitates the purchase of a user's own shares, held in his/her name at Openmarkets on user's Holder Identifier Number (HIN), so the user can always maintain control and ownership of his/her own shares.
Moreover, users' cash is held in their own Macquarie Cash Management Account, in their own name and receive the full interest payable on that account, with full access to the account.
In totality, Marketech Focus enables to access ultra-low brokerage while offering true share ownership and users are allowed to keep all the interest on their cash.
Additional features that define the unique positioning of Marketech Focus are as follows: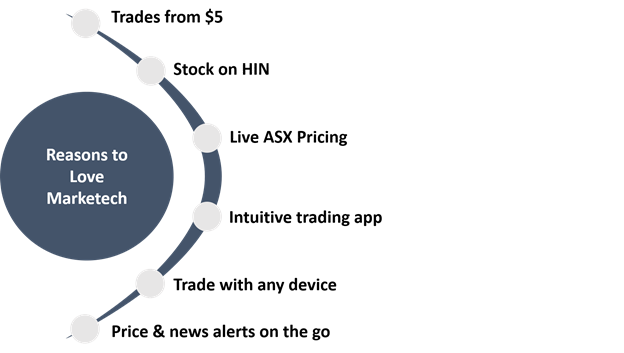 In a nutshell, considering the growth in the number of people who are trading, especially the millennials, and a bend towards on the go easy access mobile trading, Marketech is suitably placed to capture benefits from the buoyant Australian stock market.