Summary

Pinnacle Investment Management witnessed its profits increase slightly in FY20. Announcing aa final dividend, the company maintained a similar level of full-year dividends paid in the previous year.
Perpetual has recently completed a placement and opened a share purchase plan. It has now agreed to acquire a US-based value focussed investment management firm, after acquiring Trillium Asset Management in the US.
Janus Henderson Group reported second quarter results late last month, announcing a dividend for the quarter while continuing share buybacks.
Investment management firms have faced the impact of COVID-19 pandemic, as markets were dislocated in March, causing funds under management to fall and outflows in the portfolios. Since market returns deteriorated after COVID 19, it is likely that performance fees of the funds were impacted predominantly.
Meanwhile, there are businesses that continue to tap inorganic growth opportunities in the wake of crisis. A lot of investment management firms will be disclosing results this month, while some have disclosed results.
Pinnacle Investment Management Group Limited (ASX:PNI)
PNI has reported full-year results for the period ended 30 June 2020, recording a net profit after tax of $32.2 million, up by 5.6% year-on-year from $30.5 million. Diluted EPS for the year was up by 4.7% to 17.9 cents from 17.1 cents in FY19.
Subsequently announcing a fully franked final dividend of 8.5 cents per share, the full year dividends by the company stood at 15.4 cents, no change from the last year. In the second half of FY20, the distribution fee revenue was also restrained.
After adjusting for gains and losses on principal investments, its expenses increased by $1.8 million or 7.2%, primarily due to recruitment, non-cash LTI expense and interest on loan to fund the acquisition of a stake in Coolabah Capital.
Pinnacle recorded $38 million as a share of profits from its affiliates, up by 14.8% from the previous year, including performance fee contribution from five affiliates. Moreover, base management fee revenues in affiliates also increased over the year.
At the end of June 2020, the company's sixteen affiliates had funds under management (FUM) of $58.7 billion. During the year, the FUM increased by 8.1% or $4.4 billion, but it decreased by 4.7% or $2.9 billion in the second half.
On 4 August 2020, PNI last traded at $5.61, up by 10.21% from the previous close.
Perpetual Limited (ASX:PPT)
Recently, the company announced the acquisition of a US-based asset management firm – Barrow, Hanley, Mewhinney & Strauss, LLC (Barrow Hanley). PPT entered into an agreement with BrightSphere Investment Group Inc. to acquire its 75% stake in the business.
The consideration for the transaction is $465 million or US$319 million. Barrow Hanley is a Dallas-based investment manager with funds under management of US$44.1 billion across a range of strategies.
The firm has a team of 95 staff, which includes 54 investment professionals investing in US equities, global equities, global emerging markets equities and fixed income. It also has a presence in London and Hong Kong.
Perpetual seeks to fund the acquisition through capital raising, available cash and debt facilities. The capital raising would provide financial flexibility to continue executing its strategy, including potential organic and inorganic growth opportunities.
PPT also raised a fully underwritten US-denominated new debt facility of US$195 million for the acquisition. The acquisition price of the business reflects a total enterprise value for 75% stake at 8x pro forma EBITDA.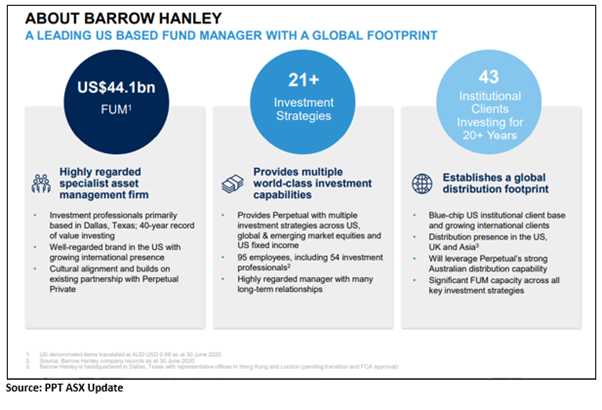 As of 30 June 2020, the acquisition was expected to more than triple Perpetual's FUM to $92.3 billion from $28.4 billion. On a pro-forma basis including the Barrow Hanley and Trillium acquisitions, PPT's FUM comprised 14% in Australian equities, 48% US equities, 11% global equities, and 27% cash and fixed income.
The company intends to use its distribution network to drive growth of Barrow Hanley's highly rated strategies across global value, US value and emerging market equities as well as fixed income strategies. It would also improve its investment in distribution in Europe and the US for growth of Trillium and Barrow Hanley.
Perpetual completed raising $225 million through a placement at $30.3 per share, and it is also undertaking a Share Purchase Plan for retail investors to raise up to $40 million, which was opened on 4 August 2020.
The company is anticipating a statutory net profit of $82 million and underlying net profit of $93.5 million for FY20. The Board intends to change its dividend policy given the acquisitions.
On 4 August 2020, PPT last traded at $30.79, up by 2.25% from the previous close.
Janus Henderson Group PLC (ASX:JHG)
In late-July 2020, Janus Henderson released second quarter results for the period ended 30 June 2020. The company recorded an operating income of US$106.7 million in Q2 against US$(332.4) million in the previous quarter and US$118.5 million in the same period a year ago.
After adjusting for acquisition and transaction related costs, Q2 operating income was US$138.4 million against US$164.5 million in the previous quarter and US$152 million in the same period previous year.
CEO, Dick Weil stated that the company delivered a strong performance in the wake of COVID 19 crisis. In the June quarter, there was a strong rebound in net inflows into its intermediary channel with US$900 million of positive net flows. But this strong performance in this channel was offset by outflows in institutional channels. JHG continues to have a diverse base of clients and strategies and is confident of improving net flows over the quarters.
For the half year, on an adjusted basis, the company delivered revenue of US$856 million, slightly up from US$851.8 million in the year-ago period. Operating income for the period was US$302.9 million, which was up from US$295.4 million in the same period last year.
The company has announced a dividend of US$0.36 per share to the shareholders on records on 10 August 2020, payable on 26 August 2020. During the quarter, JHG repurchased around 1.1 million shares on NYSE and CDIs on ASX for US$22 million.
On 4 August 2020, JHG last traded at $29.88, up by 2.25% from the previous close.
(All currencies in AUD unless or otherwise stated)