In the past few months, we have seen significant impact of COVID-19 on economies, businesses and financial markets. With government interventions to stop the virus spread, businesses made several adjustments to keep their staff safe and maintain business continuity while navigating challenges on operational and financial front.
In this article, we are discussing latest market updates and measures undertaken by few ASX-listed companies that are continuing their operations while braving the corona storm.
Starpharma Holdings Limited (ASX: SPL)
Starpharma Holdings Limited (ASX: SPL) is an ASX 300 company and a global leader in dendrimer goods' development, targeted towards pharma, life science & other related fields.
First Phase Component Completion for DEP® Irinotecan Trial - On 7 May 2020, the company announced the conclusion of first phase component of its phase 1 / 2 trial for DEP® irinotecan. While identifying a recommended phase 2 dose, the trial achieved its goal of assessing the safety, tolerability, pharmacokinetics as well as initial efficacy data. With the completion of this component, the company would now start the phase 2 trial immediately.
Well-tolerated by patients with less severe side effects, DEP® irinotecan is a novel, patented dendrimer formulation of SN-38. There were no cases of severe diarrhoea among the patients that is a main problem with the marketed form of irinotecan, Camptosar®. Irinotecan is a broadly used cancer drug that is marketed by Pfizer, either used alone or in combination with other drugs for colorectal cancer treatment.
In the first phase trial, 7 patients were enrolled who had colorectal cancer, pancreatic cancer & breast cancer. These patients were given doses up to 10 cycles of DEP® irinotecan. Phase 1 trial highlighted encouraging efficacy signals in 50% of evaluable patients to date, not only in patients with colorectal cancer, for which conventional irinotecan is passed, but also for those patients had breast and pancreatic cancer.
SPL Presents at Macquarie Conference - On 5 May 2020, the company released Macquarie Conference presentation, highlighting that SPL is well-positioned to withstand current market turmoil due to coronavirus. The company, boasting a strong balance sheet, has implemented a business continuity program to mitigate any risk from COVID-19. The measures are designed to safeguard the health & safety of staff as well as trial participants.
Meanwhile, the company highlighted its portfolio of high-value assets along with products that are available in the market.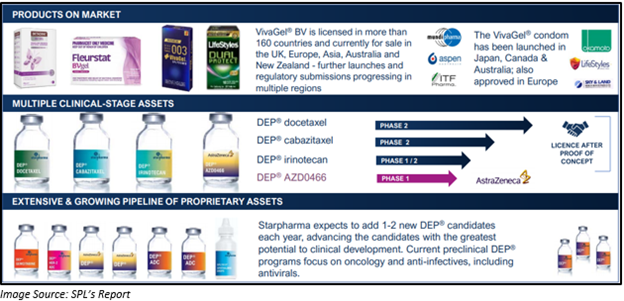 Stock Information - On 8 May 2020, SPL stock closed the day's trade at $0.960, down 3.03% from the previous close.
Link Administration Holdings Limited (ASX: LNK)
Link Administration Holdings Limited (ASX: LNK) is the largest service provider in superannuation administration industry in Australia. On 7 May 2020, the company released its Macquarie Investor Conference presentation, wherein LNK highlighted to have a sustainable business with strong recurring revenue.
Trading Update - As a result of market volatility, Link Group decided to withdraw its FY2020 guidance, while proactively managing cost base as well as resources to assist business operations, business development continuity and ongoing client servicing.
Retirement and Superannuation Solutions - The merger of MTAA / Tasplan has been postponed from October 2020 to March 2021. The April 2020 Pepper European Services (PES) member sweep got rescheduled to October 2020. As at 5 May 2020, the company had processed payments for 0.5 million members worth $3.65 billion.
Corporate Markets: The company highlighted that the mix of non-recurring revenue has changed.
Fund Solutions: Fluctuations were observed in revenue as a result of movement in asset prices. Its engagement with the FCA has increased.
Business during COVID-19-
Earnings profile of the company is strong, with ~ 80% of revenue being recurring in nature. However, the business got impacted due to market volatility.
In the present scenario, LNK is well placed to operate and has initiated various measures towards improving its financial strength.
Response to COVID-19 - Many of the company's activities come under the essential segment of the financial markets' infrastructure. Thus, the company has taken initiatives to protect the health of its staff while ensuring business continuity for its clients as well as assisting other stakeholders.
Stock Information – On 8 May 2020, LNK stock settled at $3.520, up 0.86% from the previous close.
Spark Infrastructure Group (ASX: SKI)
Spark Infrastructure Group (ASX: SKI) is a leading owner of a diversified portfolio of high-performing, essential services infrastructure businesses with interests in electricity network assets valued at $18 billion across the country. The company aims to provide long-term value through capital growth as well as distribution to shareholders from its portfolio of high-quality, long-life businesses.
In the Victoria Power Networks and SA Power Network, the company has a 49% ownership, with 15% interest in TransGrid and 100% in Bomen Solar Farm.
On 7 May 2020, Spark Infrastructure updated its investors with presentation at Macquarie Conference, wherein the company highlighted about its business, FY2020 distribution guidance, COVID-19 update, strategy and growth, and capital management.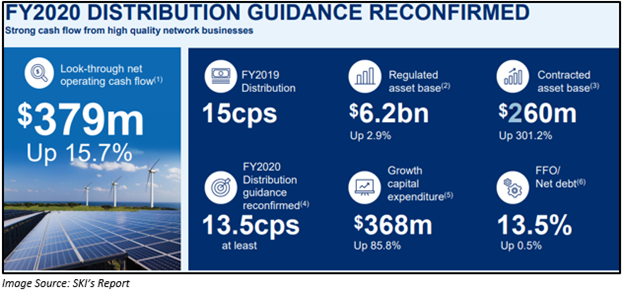 COVID-19 Update
Focus remains on the health and safety of employees while maintaining essential services to customers.
Increase in operating expenses due to adapted ways of working and lower capex resulting in lower labour recoveries.
Drop in energy demand across the National Electricity Market. In March 2020, demand from NSW declined by 6.6%. Energy demand from Victoria dropped 6.8% with an 11.1% decline in South Australia.
Energy Networks Australia announced Network Relief Package at the start of April 2020.
Stock Information- SKI stock closed the day's trade at $2.010 on 8 May 2020, up 1.515% from the previous close.
Perpetual Limited (ASX: PPT)
On 7 May 2020, Perpetual Limited (ASX: PPT), which is one of the largest wealth managers in Australia, announced to have ceased as a substantial holder in Qube Holdings Limited.
The Company also released an investor presentation, highlighting various aspects of the business, including its diversified business model providing some protection from recent market volatility.
Its operating revenue comprises of 39% from PI Investment fees, 25% from PP Market, 12% from PP Non-market, 13% from PCT Debt Market Services and remaining 11% from PCT Managed Fund Services.
Perpetual Corporate Trust (PCT) fund under administration during Q3 2020 stood at $782.9 billion, an increase from Q2 2020.
Perpetual Private (PP) fund under administration, which was $15.2 billion during Q2 2020, dropped to $13.2 billion in Q3 2020.
Perpetual Investments (PI) FUM declined from $26.3 billion in Q2 2020 to $21.4 billion in Q3 2020.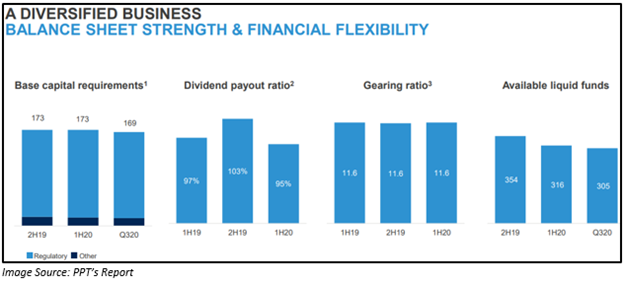 c
Strategic Imperatives Responding to COVID-19 - PPT also highlighted its three strategic imperatives while responding to COVID-19.
Client First: Focusing on the way of delivering exceptional products & services.
Future Fit: Discussed on its strong balance sheet with financial flexibility. The company is well-positioned to respond to evolving situations.
New Horizons: Evaluating new opportunities as they evolve.
New Operating Model - The new operating model of the company is focused on disciplined execution of delivering cost savings and investing for growth. The model is framed to provide efficiencies & create a nimble workforce.

Stock Information - PPT stock closed the day's trade at $30.160, up 4.868% from the previous close.