Summary

Gaming and entertainment company SkyCity Entertainment Group has been under pressure with COVID-19 restrictions leading to the closure of casinos and restaurants.
Despite the ongoing 'pandemic-related' challenges and the impact of NZICC fire towards the end of 2019, SkyCity's normalised EBITDA, and NPAT remained at the top end of the guidance range.
Total reported revenue was up 36.8%. However, normalised revenue (including gaming GST) fell 34.3% YoY; SkyCity witnessed substantial growth in online casino.
Robust balance sheet driven by substantial capital raising aided the Company to withstand COVID-19 related disruptions.
ASX 200 listed company SkyCity Entertainment Group Limited (ASX:SKC) is engaged in the gaming entertainment business. The released its FY2020 results for the period ended 30 June 2020 on 03 September 2020. Following the results, the SKC share price zoomed up 7.359% and settled at A$2.480. On 4 September 2020, SKC share price moved further north ending the session at A$2.570, up 3.629%. SKC has a market cap of A$1.89 billion and has around 760.21 million outstanding shares.
For SkyCity Entertainment, FY2020 remained a challenging period, primarily because of NZICC fire and COVID-19, which had a financial and operational impact on the business. The Group's normalised EBITDA and NPAT were adversely impacted. However, it remained at the top end of the guidance range provided at the time of equity raising.
The Company has a resilient domestic business. Despite the operational constraints, SkyCity's online casino grew rapidly. The Company has more than 35,000 customer registration and has delivered a positive EBITDA since April 2020.
SkyCity had a strong balance sheet post the implementation of the funding plan. At present, the Company is in a position to withstand any additional downside shocks.
ALSO READ: Travel and Entertainment Space: Latest with SKC, AIA and Travel Demand
SKC's also updated that its Adelaide expansion project is well on track. It is expected that the Adelaide project would open in late 2020. Besides, the NZICC/Horizon Hotel reinstatement is progressing fairly.
A Quick Look at FY2020 Results:
Reported revenue from continuing operations improved by 36.8% to NZ$1,125 million. However, there was a decline of 24.3% in normalised revenue (NZ$779.5 million).
Reported EBITDA improved by 16.9% to NZ$348.3 million.
Reported NPAT grew 62.8% to NZ$235.4 million.
Reported EPS of 35.4 cps, up 65.5% on pcp.
FY2020 Revenue by Business:
SkyCity Entertainment Group has four properties, and during FY2020, the total revenue through these properties, excluding IB, was NZ$695.7 million. Let us look at the breakdown.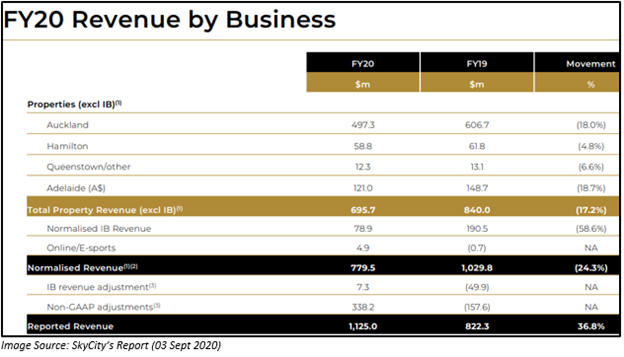 Trading Update:
NZ Properties:
Domestic businesses retrieved at a faster rate than expected during period 1 June to 11 August 2020

Positive local gaming activity noted during the period. Auckland is returning to, and Hamilton beyond their pre-Covid-19 levels.
EGM performance especially strong across Auckland as well as Hamilton.
Positive impetus was also seen in non-gaming businesses.
Significant improvement noted in operating margins. The improvement was supported by cost savings & operating leverage EBITDA along with cashflow significantly beyond hopes.

During 12 August to 30 August, Auckland was closed. However, Hamilton and Queenstown continued to trade ahead of expectations.
SkyCity Adelaide:
On 29 June 2020, SkyCity Adelaide opened phase wise with lowered operating hours.
Since the re-opening of this unit, the performance was ahead of expectations. The local gaming activity was constant with pre-Covid-19 levels.
EBITDA and cash flow were positive since the business re-opened.
NZ Online Casino:
NZ Online Casino remains to trade positively following strong growth noted during April and May 2020.
There were nearly 15,000 new customer registrations for 3 months to 31 August 2020.
The business experienced a marginal reduction in gaming revenue after re-opening of NZ properties. There was a rise in activity during second closure in Auckland.
Since April 2020 till date, this business unit experienced a positive EBITDA.
FY2021 Outlook:
Assuming that there would not be any adverse change to the present COVID-19 outlook in NZ and SA, the Company expects Group normalised EBITDA to be over the FY2020 figure. At present, Group normalised EBITDA is still well below pre-COVID-19 and FY19 levels. SkyCity is not in a position to provide earnings guidance amid the present uncertainty in the market due to the pandemic and NZICC/Horizon Hotel reinstatement.
The stay-in-business CapEx is expected to range from NZ$60 million to NZ$70 million, and growth CapEx (including major projects) would be ~NZ$280 million.
SkyCity has updated that the dividend policy would be reviewed during 1HFY2021. No dividend has been declared during the period. However, the Company expects to pay the final dividend for FY2021 in September/October 2021, assuming that there would not be any further COVID-19 disruptions.
INTERESTING READ: Five tips for Investors looking at Casino and Entertainment Stocks
Strategic Priorities for FY2021:
Once the properties get re-opened, especially in Auckland, the focus would be to continue positive operating recovery.
Another essential priority during FY2021 would be the completion of Adelaide expansion and also achieve the successful opening of new facilities.
SKC would also work to maximise development opportunities in NZ. At the same time, it would be maintaining discipline over capital allocation and resume payment of dividends as soon as possible.
Advance restoration of NZICC/Horizon Hotel subsequent fire.
Progress online casino opportunity in NZ.
Continue to invest in and improve important CSR/sustainability initiatives.
Business Goals:
Improve operating performance.
Enhance operating performance.
Grow & diversify the business.