Highlights

The Australian government has increased defence spending as part of the country's commitment to regional and global security.
Australia is engaging with like-minded nations through strategic and defence agreements.
Saunders International offers a wide range of services to the defence sector.
With its newly acquired entity, the Company intends to deliver industrial automation solutions to the defence sector.
Australia has an emphatic foreign and defence policy, which is highlighted in its new commitments and treaties with its allies and partners. The country is increasing its defence capability as well as engaging with like-minded nations through strategic and defence agreements.
Recently, Australia announced its allegiance to a three-country security pact - AUKUS, with the United Kingdom and the United States. Under the pact, Australia will receive US-manufactured nuclear-powered submarines to keep watch and patrol in the Pacific Ocean region.
Moreover, in September 2021, Australia participated in a four-country Quad meeting organised in the United States. Australia, India, Japan, and the United States are the official members of Quad.
Also, to strengthen its defence hardware, Australia increased its defence budget by 4.4% for the fiscal year 2021–22.
As Australia is growing its defence capabilities, many opportunities would arise for related space players. One such player that is expected to cash in on the emerging opportunities is Saunders International (ASX:SND).
MUST WATCH: Saunders Managing Director & CEO Mark Benson on opportunities in the defence space
Saunders offers varied services to defence sector
Saunders International has more than seven decades of experience in delivering construction, maintenance, and civil engineering services to Australian industries.
The Company offers a wide range of services to the defence sector, including new builds, maintenance, and rehabilitation.
Some of the specialised services offered by the Company include:-
Image Source: Copyright © 2021 Kalkine Media, Data Source: SND Website
RELATED READ: Saunders International (ASX:SND) races past revenue milestone, triples net profit in FY21
Saunders recently acquired PlantWeave Technologies, which is one of the leading specialists in industrial process automation and electrical solutions.
The acquisition will help Saunders to provide defence projects with an add-on facility of automation. These would include the automation of control systems, electrical and instrumentation systems, cyber security, data analytics and Industry 4.0 Technologies.
DETAILED DISCUSSION AT: Saunders diversifies into technology-based infrastructure
Saunders has a proven track record of delivering project excellence for the defence sector. Some of the projects undertaken by the Company include-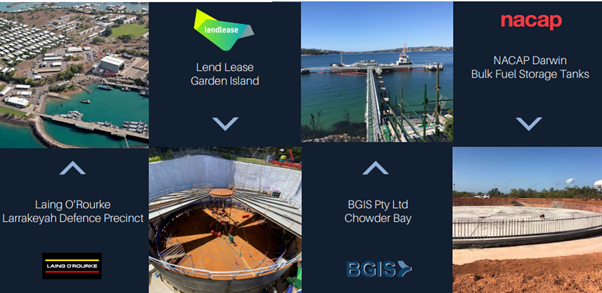 Image source: Company update, 26 February 2021
Saunders' strategic outlook for the defence sector
The Australian government has planned the Defence Fuel Transformation Program (DFTP). The Tranche 2 program is planned for the period of 2021-26 with an allocated budget of AU$500 million. Saunders plans to participate in the DFTP program in order to win and deliver works.
The Company also intends to expand its service offering to existing defence clients under Capital Facilities and Infrastructure (CFI) Program. Projects worth nearly AU$40 million are under construction under the program by Saunders, as per a Company update in February 2021.
Moreover, it plans to include recently acquired industrial automation capabilities to its existing defence clients.
In a strategic move, the Company has established its new office and workshop with an experienced workforce in the Northern Territory. The operational presence of the Company in the region will accelerate its growth objective.
RELATED READ: What are the key forces powering Saunders International's growth?
Bottom Line
Saunders has been catering to the Australian industry with specialised services since its establishment in 1951. The Company's innovative solutions and technology have helped the business to retain some of its clients for nearly six decades.
Saunders PlantWeave will now have much more to offer to its new clients and give add-on services to its existing client base.
As Australia is focusing more on its defence capabilities, Saunders is also gearing up to increase its exposure to the defence space.
Share price
Shares of SND traded at AU$0.75 with a market cap of AU$82.72 million on 14 October 2021.