Australian headquartered VRX Silica Limited (ASX: VRX) seeks to establish silica sand export operations in Western Australia to meet the rising demand for high-grade silica sand driven by energy conservation and renewable energy themes. VRX Silica's advanced silica sand projects, Arrowsmith and Muchea together form the basis of the company's push to become a future producer of high-quality silica sand.
Why Silica Sand is Gaining Prominence?
Sand/gravel is the most extracted natural resource across the world, higher than fossil fuels. Silica sand is majorly used as a component in foundry moulds and in manufacturing of glass. The glass market is loosely split into two main types, flat glass for the building and automotive sectors, and container glass for food and beverage storage and container wares.
Over the past 20 years, the growth in glass demand has surpassed GDP growth and continues to grow at approximately 5 per cent per annum.
The high purity silica is also used to form moulds for non-ferrous (copper, brass, aluminium) and ferrous (steel and iron) metal castings. In addition, silica sand has a broad range of other markets including a range of metallurgical applications, chemical production processes, water purification and filtration, fibreglass production and as an additive in paints ceramics.
Moreover, the global silica sand market is likely to grow at a rate of 3.2 per cent pa through 2022 and at a higher rate of 5 to 6 per cent pa in the Asia Pacific region, powered by infrastructure development. This demand is tied to a decreasing supply in Asia with increasing scrutiny on dredging operations in freshwater rivers and limited exports from countries concerned with their own domestic supplies.
Source: Company's Presentation (30th October 2019)
Existing Silica Sand Operations in Western Australia
All existing silica sand operations in Western Australia are foreign owned. Moreover, the Australian supplies of silica sand are certainly more reliable and of high-quality than competitor sources, particularly in Vietnam, where freight distances to the major foundries and glass making centres are shorter.
The silica sand exports of Australia have reached about 3 million tonnes per annum in recent years. The largest silica sand exporter in Australia is Cape Flattery that has operated under 100 per cent ownership of Mitsubishi Corp since 1977. Cape Flattery exports about 1.8 -2.1 million tonnes per annum of silica sand to Japan, Korea, Taiwan and the Philippines. In addition, Japanese company Tochu Corp. also owns and operates two silica sand mines in Western Australia, at Mindijup and Kemerton.
In 2018, the three operations in Western Australia, including Cape Flattery, exported a total of 970kt of silica sand.
VRX Silica is planning to build combined capacity at its advanced projects- Arrowsmith and Muchea, equivalent to Cape Flattery output and twice the scale of existing Western Australian sand exports.
The company has so far attained a high level of inbound interest from potential offtake customers, receiving a number of letters of interest from 20 potential Asian customers.
World Class Potential of VRX Silica's Projects
VRX Silica is ideally placed to tap the significant opportunities offered by the silica sand market, via its high-grade silica sand projects - Arrowsmith North, Arrowsmith Central and Muchea – that have demonstrated compelling financial metrics in their respective Banking Feasibility Studies (BFS).
The company intends to develop export capabilities and processing plant at each of its Muchea and Arrowsmith projects, capable of exporting up to 2 million tonnes per annum at each location. The pre-production capital cost of each of the company's project has been assessed at $25 million.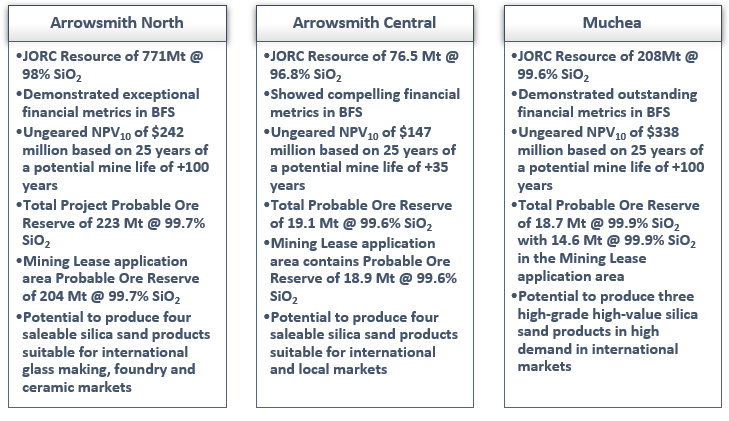 VRX Silica is in a unique position to produce numerous silica sand products from its projects and if required, modify the plant to manufacture the products required by the potential buyers. Its strong fundamental attributes are likely to offer a rapid pathway to financing and production in the future.
VRX traded at $0.110 on the ASX on 4 December 2019 (2:03 PM AEST). The stock has generated a return of about 86.4 per cent in the last six months.
---
Disclaimer
This website is a service of Kalkine Media Pty. Ltd. A.C.N. 629 651 672. The website has been prepared for informational purposes only and is not intended to be used as a complete source of information on any particular company. The above article is sponsored but NOT a solicitation or recommendation to buy, sell or hold the stock of the company (or companies) under discussion. We are neither licensed nor qualified to provide investment advice through this platform.