ASX-listed silica sand exploration and development company, VRX Silica Limited (ASX: VRX), previously known as Ventnor Resources Limited, focuses on the development of silica sand assets in Western Australia. The company's activities are targeted at the production of high-grade silica sand from its significant silica sand projects including Muchea, Arrowsmith and Boyatup Silica Sand Project. VRX Silica also holds Warrawanda and Biranup Project in Western Australia that are prospective for high purity quartz and nickel sulphides, and gold and base metals, respectively.
The silica sand explorer has released the details of its Bankable Feasibility Study (BFS) that contains comprehensive information on VRX's Arrowsmith North Silica Sand Project, including the financial attributes supporting the development of Project. The company has also announced a maiden Probable Ore Reserve at its Arrowsmith Project.
The Arrowsmith North Project is situated in Western Australia around 270 km to the north of Perth, between the regional towns of Eneabba and Dongara. VRX Silica has a pending Mining Lease application (MLA70/1389) for its Arrowsmith North Project, which is encroaching on E70/5109 and is primarily within granted Exploration License E70/5027.
Key Details of BFS
Labelling its Arrowsmith North Project as a world-class project, VRX Silica informed through an ASX update that its Arrowsmith North BFS has demonstrated exceptional financial metrics. The BFS highlighted that the Project will offer substantial economic benefits, including royalties and long-term employment with a noteworthy economic contribution to the local and Mid-West region in the long-term.
Take a look at the key economic assumptions for the BFS below:
Source: Company's ASX update
The company highlighted that an Ungeared NPV10 of $242 million has been calculated, contingent on 25 years of potential production from a significant 100+ years of mine life.
Based on the above-mentioned key assumptions, a financial model has been developed for evaluating the economics of Arrowsmith North Project whose outputs are summarised in the below table:
The company notified that it has met with the Mid West Development Commission, local Shires, Mid West Chamber of Commerce & Industry and several other local Members of State and Federal Parliament and obtained considerable support for the Arrowsmith North Project. Following preliminary environmental studies, the company has been involved with the Department of Water and Environmental Regulation to identify key issues regarding Project environmental approvals for mining, specifically the likely presence of Carnaby's Cockatoo foraging habitat.
VRX Silica has framed a mining and rehabilitation methodology adequate for the environment at the Project, which will empower a fortunate restoration of mined areas.
Probable Ore Reserve
The updated Mineral Resource estimate for the Arrowsmith North deposit comprises 771 Mt @ 98% SiO2, pursuant to the JORC Code 2012 Edition. The Mineral Resource Estimate has been converted into a maiden Probable Ore Reserve following the company's BFS.
In accordance with the JORC Code, the company reported the Probable Ore Reserve of 223 Mt @ 99.7% SiO2 for Arrowsmith North with 204 Mt @ 99.7% SiO2 contained within the Mining Lease application (MLA70/1389) area.
Recently, VRX Silica announced an upgraded MRE comprising 771 Mt @ 98% SiO2 for Arrowsmith North Project, including an Inferred Mineral Resource of 523 Mt @ 98.2% SiO2 and an Indicated Mineral Resource of 248 Mt @ 97.7% SiO2. VRX Silica has now finalised the required task to transform the Indicated Mineral Resource to Probable Ore Reserves.
The company mentioned that its customised wet sand processing plant will produce four saleable products suitable for diverse markets (international foundry, glass making and ceramic markets) with a Probable Ore Reserve of 223 Mt @ 99.7% SiO2. The below table summarises the details of the Probable Ore Reserve that will be generated from the mining of Indicated Mineral Resource and processing in VRX Silica's processing plant: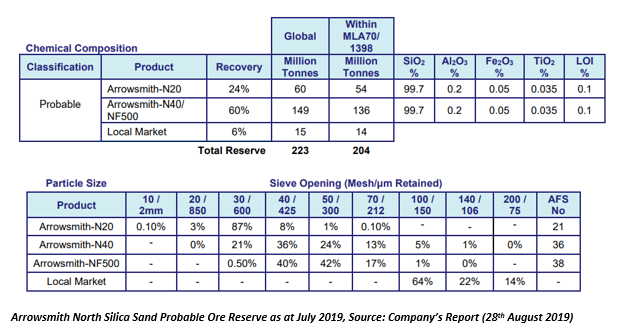 The products cited in the above figure were taken from the catalogue of silica sand products that was prepared following the extensive metallurgical testwork completed by CSA Global at their facility in Northern Ireland, Cookstown and Nagrom in Kelmscott, Perth. These products are those recovered products that could be produced from Arrowsmith North and make up the Probable Ore Reserve of 223 Million tonnes.
Other Details in BFS
The BFS also included the information on some other key measures highlighted below:
Operating Costs: VRX Silica reported that the operating costs have been estimated on 1 Mt per year output, with anticipated unit cost savings if the output is increased as expected to possibly 2 Mt per year.
Royalties: The company uses the prevailing rate of royalty (AUD 1.17 per dry metric tonne) owed to the State for its economic assessments.
Product Quality: The company notified that various products will be differentiated while processing, contingent upon the needed particle size distribution by screening.
Commodity Prices: An independent industry source, Stratum Resources, has determined the commodity prices for silica sand products. The prices for the commodity will be between USD 38 to USD 58 per dry metric tonne FOB (Free on Board), subject to the production of final quality.
Market Assessment: Stratum Resources has been given the task to conduct an independent assessment of the current market prices for suggested products.
Economic Analysis: A 10 per cent and 20 per cent discounted ungeared post tax NPV (net present value) has been calculated under the economic analysis, using a USD/AUD exchange rate of USD 0.70/AUD 1.00. The analysis indicated robust project financials, justifying the viable long-term mining operation of the Project.
Social Factors: As the Project is on unallocated crown land, there are minimal chances of any negative impact on local communities.
Project Funding: The total capex at Arrowsmith North is estimated at ~AUD28 million, and the company expects to source the funding from any one or a combination of, debt, equity and pre-paid offtake from the Arrowsmith North Project.
Several enquiries and indications of interest have been received by VRX Silica from the debt financiers for the Project. A number of organisations across Asia have expressed interest in becoming a funding partner of VRX Silica for development of a mine via pre-paid offtake arrangements.
The feedback from potential funding partners and positive financial metrics of the BFS offers reassurance as to the chances of meeting the best possible project and corporate capital requirements. The Company is confident that it can meet the challenging market specifications for industrial minerals projects from its Arrowsmith North Project.
Stock Performance: Following the announcement, VRX Silica's stock soared 20 per cent on the ASX, trading higher at AUD 0.150 by the close of market trading on 28th August 2019.
The stock has delivered a massive return of 108.33 per cent in the last three months, with the company releasing some major announcements, including Muchea and Arrowsmith Project (North and Central) MRE upgrade, robust Quarterly results and strategic alliance with China Southern Glass.
---
Disclaimer
This website is a service of Kalkine Media Pty. Ltd. A.C.N. 629 651 672. The website has been prepared for informational purposes only and is not intended to be used as a complete source of information on any particular company. The above article is sponsored but NOT a solicitation or recommendation to buy, sell or hold the stock of the company (or companies) under discussion. We are neither licensed nor qualified to provide investment advice through this platform.