Summary

Podium Minerals has commenced resource drilling to increase and enhance the existing Mineral Resources which stand at 1.14m oz of 3PGE plus 37,000t of copper.
Drilling program aims to Define a continuous 6.1km long resource block over the western half of Parks Reef
Increase the extent of total resources to a combined length of 8.5km
POD has received additional funds of $2.142m.
POD is well-funded to systematically pursue its growth strategy for the Parks Reef PGM Project.
Exploration and resources development company, Podium Minerals Limited (ASX:POD) has wrapped up a successful quarter ended 30 June 2020 with significant activities to systematically pursue the Company's growth strategy for the extensive Parks Reef PGM Project.
Advancing Growth Strategy at Parks Reef PGM Project
Inferred Mineral Resources for Parks Reef with contained metals of 1,140,000 ounces of combined platinum, palladium and gold plus base metal credits with 37,300 tonnes copper has been defined through drilling to date by Podium Minerals.
The existing Mineral Resource stretch over 6.9km of the identified 15km strike length of Parks Reef and within 100m of the surface. Moreover, the mineralisation remains open along strike and at depth.
Moreover, an Exploration Target has been estimated for Parks Reef of 80Mt to 120Mt at 1.2g/t to 1.5g/t 3E PGM containing between 3.1 and 5.8 million ounces of combined platinum, palladium and gold on the basis of the continuous and thick mineralisation demonstrated in Podium's resource drilling.
However, POD highlights that the potential quantity and grade of the Exploration Target is conceptual in nature as there has been insufficient exploration to estimate further Mineral Resources. Moreover, POD remains uncertain that additional drilling would result in determining Mineral Resources.
Did you read: Podium Minerals to hit the ground running at its Parks Reef PGM Project
POD progressively moves towards the advancement of its growth strategy for Parks Reef with clear work programmes to outline a credible pathway to production, including:
Continued systematic drilling along the full 15km strike length of Parks Reef with the aim of delineating a materially significant resource base
Testwork and process design to select a preferred process route
A scoping study to define a project development plan
Resource Drilling at Parks Reef West
The west, central and eastern sectors of Parks Reef are the three resource blocks that constitute the current Mineral Resources definition. Moreover, POD has been empowered to efficiently build a resource base while increasing confidence in the continuity of mineralisation along strike through this approach.
Of late, POD has speedily mobilised a resource drilling campaign with approximately 1,600m of reverse circulation (RC) drilling aimed to connect the earlier defined resource blocks in the western and central sectors of Parks Reef.
Plan and Long Section of Parks Reef Mineral Resources and July 2020 Drilling Programme (Source:ASX Announcement)
POD anticipates successful results from the drilling to grow the scope of the total resources to a combined length of 8.5km, comprising a continuous resource block spanning approximately 6.1 km over the western half of Parks Reef.
POD expects to complete results from the drilling during the current quarter. Furthermore, POD also plans to comprise assays to test for continuity of high-value rhodium that was discovered in earlier drill programmes. Subsequently, POD shall then initiate modelling to assist in upgrading the Mineral Resources at Parks Reef.
Interesting Read: 2020 Mid-Year Review of Podium Minerals' Journey at Parks Reef
Likely Extension of Parks Reef
Significantly, POD plans to undertake geological mapping and rock-chip sampling to test for a possible western extension of Parks Reef as part of the existing fieldwork.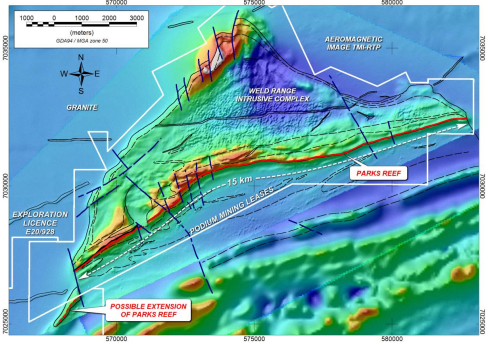 Magnetic Imagery of Weld Range Complex (Source: ASX Announcement)
Prospectivity for approximately 1.2km long extension of the western flank of the Parks Reef has been indicated through magnetic imagery. The area adjoining the western end of POD's mining leases area lying within POD's exploration license (E20/928) is the area of interest.
Further, in order to test for anomalous PGM and base metals, POD has planned rock-chip sampling of the outcrop. Significantly, if this turns out to be positive, POD shall undertake follow-up drilling.
More at: Podium Minerals Commences Drilling at Parks Reef Project, Well-funded to Pursue Growth Strategy
Increase Focus at Parks Reef
POD has continued to increase its focus towards advancing growth strategy at Parks Reef PGM Project. As a result of this, POD's Board has decided not to apply for renewal of its non-core exploration licenses at Highlander (Northern Territory EL 26094) and Tuckabianna (E20/845).
Moreover, POD has surrendered the tenements at Mindoolah (E20/876 and E20/877). Although prospects for gold and base metal mineralisation were indicated through early-stage exploration within each of these tenements, yet exploration activities failed to identify discrete targets.
An important conclusion through the strategic review done by POD's Board is that better opportunity to maximise shareholder value is presented through prioritising resources and funds to build on the successes to date at Parks Reef.
Progressive Work and Further Steps
In addition to the resource development work, POD is on track to a metallurgical testwork programme with the Extractive Metallurgy MPI group at Murdoch University with joint funding provided under the Australian Government's Innovation Connections programme.
This testwork is in persuasion with previously finalized testwork programmes carried out at the Western Australian School of Mines. Moreover, testwork is principally focused on selecting and optimising a leaching process to treat the oxidised mineralisation in Parks Reef.
The testwork is anticipated to last through the upcoming September and December 2020 quarters. Also, it is believed to be a critical path activity to be accomplished along with the resource drilling to supplement a Scoping Study to define an ideal development plan for the project.
Related: Podium Minerals Receives Payment From EV Metals, Proceeds to Strengthen POD's Financial Position
Developments at the Financial Front
POD also undertook a capital raising for a total of approximately $1,540,000 to advance growth strategy at the Parks Reef Project with drilling underway within three weeks of accomplishment of the capital raising. Moreover, POD also received around $711,000 in amounts owed by EV Metals and $391,000 from the sale of 3 million shares held by Podium in EV Metals.
POD's cash on hand stood at $236,000 at 30 June 2020 with an additional approximately $2,142,000 in funds received during July from the completed SPP and the repayment of debt and the first tranche sale of Podium's shares in EV Metals.
Related: Podium Minerals Completes Highly Oversubscribed Share Purchase Plan, Stock Zooms ~21%
This signifies that the Company is well funded to maintain its operations and meet its business objectives. Moreover, POD is optimistic of receiving additional funds through the sale of its remaining shareholding in EV Metals.
On 05 August 2020 (AEST 12:23 PM), POD was trading at $0.048, moving upward by 6.667%, with a market capitalisation of $11.64 million.