Information technology refers to the application of computers for data storage, transmission and manipulation. At the present time, IT (information technology) is applied in all sectors.
In this piece of article, we will have a look at recent updates from three IT stocks operating in different domains.
NEXTDC Limited
About the Company:
Founded in 2010 and headquartered in Brisbane, Australia, NEXTDC Limited (ASX: NXT) operates in the IT sector. The company offers innovative data centre outsourcing solutions, infrastructure management software and connectivity services to businesses helping them in transitioning. Additionally, it offers services like project management and technical support.
Recent update/s:
New Appointment:
On 28 June 2019, the company announced the appointment of Mr Stephen M. Smith as the non-executive director to the board of NEXTDC with effect from 1 July 2019.
Mr Smith holds experience in managing market-leading technology businesses and is an expert in the data centre industry. He was the former CEO and President of Equinix Inc for almost 10 years. Under his leadership, Equinix was able to grow from 17 data centres operating in 10 markets with a $2 billion market capitalization to ~ 200 data centres with a US$38 billion market capitalization and operations in 24 countries on 5 continents.
1H FY2019 Highlights:
The company reported robust revenue growth in 1H FY2019. Its revenue from continuing operations increased by 17% to $90.8mn. The contracted utilization went up by 28% to 50.4MW as compared to the previous corresponding period. Interconnections increased by 34% to 9,982, which represents 7.7% of the recurring revenue.
NXT's underlying EBITDA increased by 26 percent to $42.2mn. However, the operating cash flows declined by 44% to $15mn. The company suffered a loss of $3.1mn.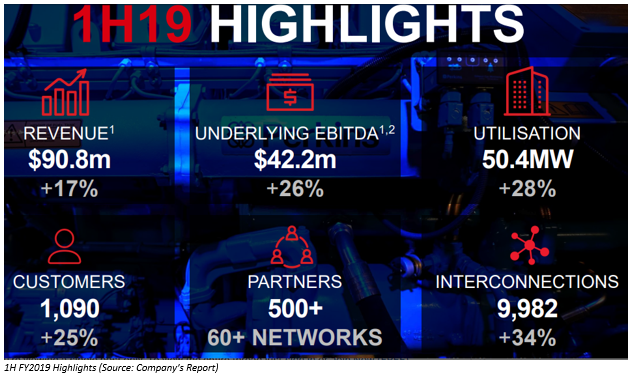 FY2019 Guidance:
The company expects its revenue to be in the range of $180mn to $184mn.
Underlying EBITDA is estimated to be in the range of $83mn to $87mn.
The capex would be between $430mn and $470mn, excluding the acquisition of APDC and B1 properties.
Stock Performance:
The shares of NXT have given a YTD return of 4.61%. By the end of the trading session, on 28 June 2019, the price of the shares of NXT was A$6.490, up by 2.044% as compared to its previous closing price. NXT holds a market capitalization of 2.19 billion and approximately 344.52mn outstanding shares. Its 52-week high stands at A$8.040 and 52-week low is A$5.610. The stock has an EPS of - A$0.016.
OpenDNA Limited
About the company:
ASX-listed IT sector player, OpenDNA Limited (ASX: OPN) offers fully integrated digital marketing as well as customer acquisition services, with an aim to drive online sales of products and services for its customers. OpenDNA also provides personalized real-time, targeted marketing through its hyper personalization and profiling Artificial Intelligence System. The key focus of the company is to drive sales in Australia as well as China. Through its RooLife online e-Commerce marketplace, the company helps the businesses to sell their products to the Chinese clients and process the payment through WeChat and Alipay.
Recent Update/s:
OpenDNA Limited provided various updates related to FY2019 period in its Investor Update presentation released on 28 June 2019.
There was an increase of 320% and 300% in Q1 to Q2 and Q2 to Q3 sales receipts, respectively. The company expects an increase of 350% in Q3 to Q4 sales receipts.
Key Developments In 2019:
The four business units of the company were combined into a single integrated service business with various revenue streams. The company reported growth in the digital marketing client base, which includes Frasers Property. Growth was also registered in the number of contracts secured for digital marketing and sales distribution with the RooLife e-Commerce business of the company for selling products in China. The company also established brand Gateway for selling skincare and vitamins, minerals, supplements (VMS), as well as health & wellbeing products in China, which includes Petrus Pharmaceuticals. The company also entered into an agreement for marketing as well as selling Australian tourism packages to tourists from China through its RooLife platform and websites.
The company also reached an agreement for extending the payment processing capability for WeChat as well as Alipay in Australia. The new e-Commerce AI Recommendation Engine (DAISHU) was built and delivered during the period. The company also integrated its Artificial Intelligence Recommendation Engine into RooLife e-Commerce Platform. Online marketing and sales campaigns for the platform are scheduled to start in July 2019.
The company's revenue stream also got established. The company was able to generate revenue through
Online services & Marketing Fees
Annuity Licensing & Retainer Fees
Commission on all Transactions
Customer Profiling and Business Analytics
AI Personalization
Advertising
Cross selling across business units
In China, the company generated revenue by providing real-time AliPay and WeChat payments. It extended the payments to marketing strategies for retail outlets and cellar doors as well as airport shopping in the Chinese market. Some of the other sources of Chinese market revenue are online e-Commerce platforms selling to China and product & services sales in Mainland China.
Outlook:
In the next 12 months, the company plans to drive a diverse range of revenue lines. Some of these include:
Licensing fees from core AI technologies on a monthly basis.
Commission on sales from high-margin, strong growth products from the premium brands of Australia in China.
Commercialization of data and analytics using the key insights captured from AI technologies of the company with critical industry bodies as well as brands.
The company would also work on expanding its national footprint in Australia and critical verticals in China. It intends to expand and grow its customer base across multiple industry verticals, as well as focus on expansion and sales in China.
Also, on the same day, 28 June 2019, the company announced that its option agreement with Orcoda Limited (ASX: ODA) has ended. The company will not go ahead with the purchase of the China VIE structure.
Stock Performance:
The shares of OPN have given a decent YTD return of 25.71%. By the end of the trading session, on 28 June 2019, the price of the shares of OPN was at A$0.042, down by 2.326% as compared to its previous closing price. OPN holds a market capitalization of 10.33mn and approximately 240.21mn outstanding shares. Its 52-week high is A$0.069 and 52-week low is A$0.026. The stock has a negative EPS of A$0.029.
BrainChip Holdings Limited
About the Company:
BrainChip Holdings Limited (ASX: BRN) is a neuromorphic computing solutions provider. The spiking neural network technology of the company is capable of learning autonomously. It has the potential to evolve and link information, just like the human brain does.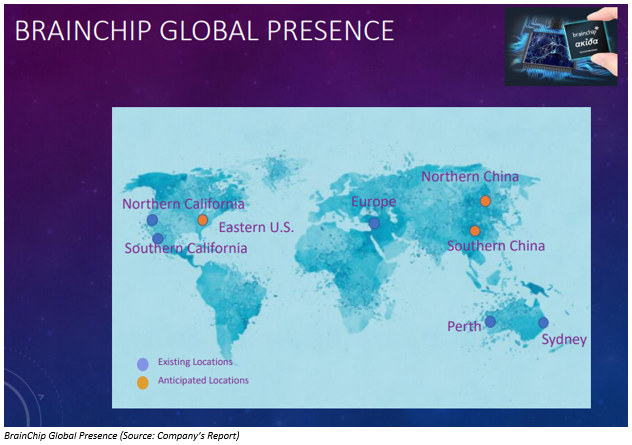 Recent Update/s:
On 27 June 2019, BrainChip Holdings Limited released its Investor Presentation on ASX. The company highlighted that it has entered into a definitive agreement with Socionext Inc, under which Socionext will work with BrainChip on the design and manufacture of the Akida ASIC. Socionext Inc is the second largest Application Specific Integrated Circuit (ASIC) design and development house in the world. It is the amalgamation of the former Fujitsu and Panasonic System-on-Chip businesses and is headquartered in Shin-Yokohama, Japan. Meanwhile, Taiwan Semiconductor Manufacturing Corporation will provide the wafers in this process.
The company also provided the details of a 1 for 4 pro-rata accelerated non-renounceable entitlement offer of up to 270.4 million new shares. This offer has two parts – one is an accelerated institutional entitlement offer, which was completed on 26 June 2019. Through this institutional entitlement offer, the company secured $6.7mn before costs. Around 112.7mn new fully paid ordinary shares in the company would be issued at an issue price of $0.06 per share to the sophisticated and professional investors.
Further, the retail component of the 1 for 4 accelerated non-renounceable entitlement offer would open on 3 July 2019. The eligible retail shareholders who hold shares in the company on the record date 28 June 2019 can apply for new shares at an offer price of $0.06 per new share. The booklet with further details related to the retail entitlement offer will be dispatched on 3 July 2019.
The fund raised would support in the ongoing development as well as manufacturing of the AkidaTM.
Outlook:
In the near term, the company would focus on the development as well as the commercialization of the Akida platform. It will include the licensing of the IP as well as the release of the Akida SoC.
Stock Performance:
The shares of BRN have given a decent return of 78.09% in the last one month. By the end of the trading session, on 28 June 2019, the price of the shares of BRN was A$0.072, down 5.263% as compared to its previous closing price. BRN holds a market capitalization of 79.79mn and approximately 1.05 billion outstanding shares. Its EPS stands at - A$0.023, while its 52-week low is A$0.037 and 52-week high is A$0.186.
---
Disclaimer
This website is a service of Kalkine Media Pty. Ltd. A.C.N. 629 651 672. The website has been prepared for informational purposes only and is not intended to be used as a complete source of information on any particular company. Kalkine Media does not in any way endorse or recommend individuals, products or services that may be discussed on this site. Our publications are NOT a solicitation or recommendation to buy, sell or hold. We are neither licensed nor qualified to provide investment advice.