In today's globalised economy, Heavy Mineral Sands (HMS) are of as crucial an economic importance as non-metallic and metallic raw materials alike. They are traded globally as bulk and bagged minerals and have gained massive traction of late, given their extensive use in the paint and chemical industry, aerospace industry, manufacture of welding rods, foundry industry and recently, to generate electricity in thorium nuclear reactors.
An explorer of HMS, ASX-listed MRG Metals Limited (ASX: MRQ) has relinquished its other Australian projects to focus on its recently acquired and highly prospective Heavy Mineral Sands projects in Mozambique, where exploration to date has shown excellent results. This move depicts the significance of HMS and its potentially bright outlook.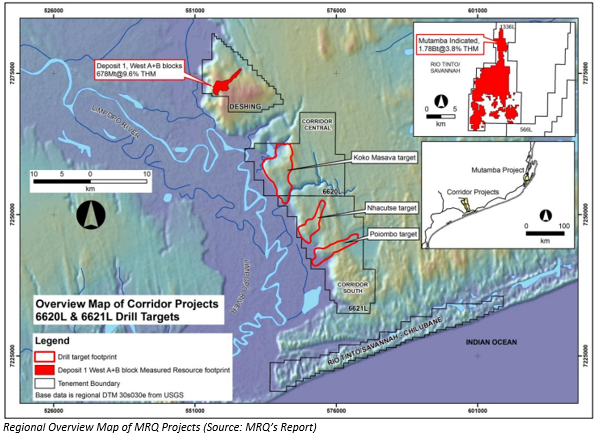 Heavy Mineral Sands
Constituting important resources in the current times, heavy minerals are defined as minerals that have a higher density compared to quartz, which is the most common rock-forming mineral with a density of 2.65 g/cm3. Mineral sands are generally discovered and mined from river, old beach or dune surroundings. These deposits (beach sand deposits or heavy mineral deposits) are dominated by the mineral quartz (SiO2). However, mineral sands may also have concentrations of vital minerals such as zircon, monazite, rutile, ilmenite and garnet.
Mining experts believe that mineral sand deposits are resultant formations of weathering and erosion of pre-existing igneous rocks (pegmatite, granite and basalt), transportation from their source rocks by ancient rivers and coastlines, then re-deposition and concentration by beaches and wind into dune and beach deposits. This explains the presence of mineral sand deposits at varying levels above the present sea level.
HMS Utilisation
The question that arises next is - Why HMS? The below reasons explain why proficient companies like MRG Metals have opted for exploration, development and further business around HMS.
Heavy minerals are used in the manufacture of very important construction and industrial products.
Ilmenite and rutile are a must in the snow-white paints and airplanes field.
Zircon is a vital component for manufacturing control rods for nuclear reactors.
Tantalite is essential in transistors, while cassiterite is in tin cans.
Electronics, robots, computers, lighting, medicine, ceramics, chemistry are few other industries that use HMS.
Heavy minerals are not easily substituted and are exclusively available in few countries, making them valuable and rare.
The HMS industry is a massive employer (in the production and international trading of millions of tonnes per year).
Global demand for HMS has bottomed and is now rising
Titanium and Zircon
MRG Metals explains that HMS deposits are mainly exploited for their zircon and titanium content:
Titanium minerals or titanium feedstocks include ilmenite, rutile and leucoxene.
Ilmenite can be further refined to manufacture feedstocks that have greater titanium dioxide (TiO2) content.
TiO2 is deemed to be a 'quality of life' produce and its use goes up with increase in disposable income.
Zircon, comparatively a smaller part of the HMS set, draws a higher price than titanium feedstocks, offering substantial financial backing to the overall mineral sand operations.
MRQ's Mozambique Opportunity
Now that we have understood the importance of HMS and its growing interest amid miners, investors and businesses, let us unlock the reasons that led MRQ to tap Mozambique (officially the Republic of Mozambique) as its HMS project location.
Modern HMS exploration in Mozambique began in the 1980's, with early discoveries made by Kenmare Resources, BHP and Rio Tinto. Currently, this Southeast African nation is known to host the largest HMS titanium feedstock resources in the World and has some of the World's major World-class mineral sands mines. Companies in the past have intimated that there is a huge gap in HMS resources between Kenya and Mozambique, where many significant mines and resources have been earlier discovered and further developed.
MRQ believes that there is substantial chance to add value via less expensive exploration in areas of known HMS mineralisation to uncover high grade areas with large tonnage and high unit value resources. MRQ has assembled a high calibre team that provides the Company with a technical and strategic competitive advantage and has a proven history of Company-making HMS discoveries and experience in Africa, to advance the HMS Projects.
Experts opine that the number of commercial heavy sands projects in Mozambique would increase in the coming years, with companies like Africa Great Wall Mining Development Group, MRG Metals, China's Dingsheng Minerals (which has the largest reserves and the highest mineral content in the world) being the latest additions to develop HMS projects in the country.
Recently, Savannah Resources, a multi-commodity developer, revealed that the Mozambique government awarded a mining licence to its subsidiary in Mozambique for the Mutamba HMS project. Interestingly, Rio Tinto is developing the Chilubane and Mutamba projects via a JV with Savannah.
This shows that MRQ's Project is surrounded by top-class neighbouring deposits.
Share Price Information
MRQ was trading at $0.012 on 12 December 2019 (AEST 12:43 PM) and has a market cap of $12.3 million. The stock has impressive returns of 140% (6-month). The Company recently completed a $1,250,000 placement, through the issue of 125 million fully paid ordinary shares at $0.01 per share, together with 62.5 million attaching listed options, exercisable at $0.01, to ramp up exploration activities at the HMS Project in Mozambique, with further work commencing early 2020.
To know more about MRQ's development at its Mozambique's HMS Project- READ HERE.
---
Disclaimer
This website is a service of Kalkine Media Pty. Ltd. A.C.N. 629 651 672. The website has been prepared for informational purposes only and is not intended to be used as a complete source of information on any particular company. The above article is sponsored but NOT a solicitation or recommendation to buy, sell or hold the stock of the company (or companies) under discussion. We are neither licensed nor qualified to provide investment advice through this platform.