A mineral explorer listed on the ASX since 2011 and headquartered in Ballarat, MRG Metals Limited (ASX: MRQ) lately has been focussed on exploring for Heavy Mineral Sands (HMS) in a world-class HMS location, Mozambique.
In 2019, the Company acquired a highly prospective HMS Project in Mozambique, where exploration to date has shown excellent results. MRQ is focussed on this Project to an extent that all other Australian projects have been relinquished.
Why Did MRQ Select HMS?
On a global scale, HMS holds crucial economic importance as non-metallic and metallic raw materials alike. They are ideally located in tropical and sub-tropical countries and are traded globally as bulk and bagged minerals. The mineral sands industry involves mining HMS identified in fossil beach and river environments, which are primarily exploited for their titanium and zircon content.
Titanium minerals/titanium feedstocks include ilmenite, rutile and leucoxene. Ilemenite can be further refined to manufacture feedstocks with a higher titanium dioxide (TiO2) content (like synthetic rutile and high Titania slag). Zircon, a comparatively smaller part of the HM group draws a higher price than titanium feedstocks, which provides a substantial financial contribution to mineral sands operations.
Heavy minerals are used in the manufacture of very important construction and industrial products. Few heavy minerals are not easily replaced and are exclusively available in a few countries, which makes them both valuable and rare.
The Mozambique HMS Project
On 7 November 2018, MRQ announced that it had agreed to acquire the Mozambique HMS project. Regarding the acquisition, the Company purchased all the shares from the shareholders - in Trophosys Pty Ltd and in Sofala Resources Pty Ltd. Trophosys and Sofala include the Mozambique Company which holds the approved HMS assets in Mozambique. These highly prospective HMS exploration projects are:
The Corridor Project- which consists of Corridor Central and Corridor South,
Linhuane Project- which consists of a palaeodune adjacent to the coast that Rio Tinto undertook shallow drilling on,
Marao/Marruca Project- which consists of a palaeodune system that lies ~50km from the present coastline.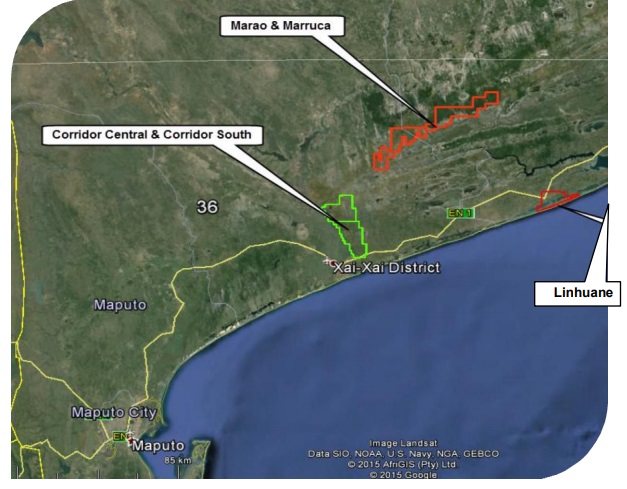 Project Locations (Source: MRQ's Annual Report)
Recent Developments at the HMS Project
In April 2019, MRQ commenced an airborne survey by the contractor, Geotech. The final production flight was completed on 7 April 2019. The interpretation of airborne magnetic data has defined discrete and large anomalies up to 3 km x 0.5 km on the Corridor Central tenement and 9 km x 1 km on the Corridor South tenement that occur within more diffuse and broader areas of anomalism. Overall, there are at least 13 TMI-AS anomalies interpreted from the data that require testing.
In May and June, MRQ focussed on the Corridor Central tenement, stating that magnetic anomalism correlates with areas where historic drill results show high grade HMS mineralisation, as well as with the radiometric anomalism in that area. Several historic drill holes with high grade total heavy mineral (THM) were drilled over a discrete high intensity TMI-AS peak within TMI-AS Anomaly 1. However, the most coherent and extensive anomalism, that occurs to the southwest and north of TMI-AS Anomaly 1, remains untested.
The significant extent of near surface anomalism strongly suggests much larger zones of HMS mineralisation, with potentially higher grade THM, occur within the Corridor Central tenement.
Discussing the Corridor South tenement, an extensive linear northeast-southwest oriented anomaly, ~9km long and 1km wide dominates the TMI-AS fabric. This anomaly is interpreted to be a palaeoshoreline and appears to be a composite of at least 2 significant strandlines. However, TMI-AS Anomaly 10 remains untested by any previous drilling.
The processed airborne magnetic and radiometric data for the Corridor projects provides MRQ with a comprehensive suite of data, helping in a better understanding of the project geology. Moreover, it has identified the location of palaeogeographic coastal characteristics known to host heavy mineral sands of high grade strandline-style mineralisation.
Moving ahead and to the more recent quarter ended 30 September 2019, the Company focussed at Koko Massava, Nhacutse and Poiombo targets in Corridor Central and Corridor South tenements in Mozambique.
Aircore drilling commenced at Koko Massava on 26 September 2019, with excellent visual estimated results, demonstrating a strong correlation between visual estimated THM grade (the first few holes show high grade HMS occurs to 50 metres depth) in aircore drilling with laboratory assay of THM grade from auger drillholes collared in the same locations down to 10 metres depth from surface;
Hand Auger Drilling THM laboratory assay results over the Koko Massava target provided strong correlation with the earlier visual estimations of THM grade in the same sample intervals and auger holes.
Reconnaissance Hand Auger drilling over Nhacutse and Poiombo HMS targets in the Corridor South tenement showed visual estimation of THM grade again strongly correlated with THM assay grade from the laboratory
The recent results demonstrate the world-class regional context and confirmation of the enormous prospectivity of MRQ's HMS project. By 25 October 2019, 40 aircore holes were finished. It involved ~2071 m of drilling wherein the holes differed in depth from 33 to 75 m (average depth being 51.8 m).
In a progress update released on 30 October 2019, MRQ stated that Drilling is being undertaken by Bamboo Rock Drilling Limitada utilising a purpose-built Thor Reverse Circulation Aircore drill rig with 76mm diameter rods and 80mm diameter Harlsan aircore bits. 39 of 40 holes were completed and have intersected individual 3m sample intervals of >4% estimated visual THM, with 25 of the 40 holes showing uncut, average estimated visual THM% grades >3% over the entire hole depth.
Shortly after, as reported on 15 November 2019, ~2,439 m of drilling was finished including 48 Phase 1 aircore holes. The hole depth differed from 24 – 75 m, (average being 50.8 m).
Tapping the area of the highest visual heavy mineral grade (estimated), these reassuring results reinforce MRQ's judgment to begin infill drilling (Phase 2).
The first batch upon the receipt of customs clearance is expected to arrive in Perth around November 18, 2019. It has also received the green signal from the Ministry of Mineral Resources.
On 21 November 2019, the Company released laboratory results for a batch of 246 samples, including QAQC samples, from a total of 34. Overall, the lab results indicate that
out of 34 holes, 31 achieved an uncut avg downhole grade of over 3% THM
7 of the 34 holes having an uncut avg downhole grade of over 5% THM
10 holes ending in over or equal to 5% THM and
5 of the holes were collared at surface with grade over or equal to 5% THM
These results confirm the possibility for discovery of significant HMS mineralisation and also support the visual estimated grades for THM which was reported for aircore drilling within the target area. Lab results for the first aircore drill samples are likely to be received by November 2019 end.
---
Disclaimer
This website is a service of Kalkine Media Pty. Ltd. A.C.N. 629 651 672. The website has been prepared for informational purposes only and is not intended to be used as a complete source of information on any particular company. The above article is sponsored but NOT a solicitation or recommendation to buy, sell or hold the stock of the company (or companies) under discussion. We are neither licensed nor qualified to provide investment advice through this platform.