Highlights

The ~7,000m drilling program targeted extension, growth and discovery outside of the MRE of 79Mt at 0.64% V2O5
Viking tested five exploration targets to evaluate the potential of the more than 8km VTM horizon identified
VKA anticipates the initial assays from this "growth focussed" drilling program by the end of this month
Listed company Viking Mines (ASX: VKA) -- with its Western Australia-situated Canegrass Battery Minerals Project primarily targeting the Vanadium Redox Flow Battery sector (an alternative to lithium-ion) -- has informed about the completion of approximately 7,000m drilling program at Canegrass. The "growth focussed" campaign comprised of 44 Reverse Circulation (RC) drillholes, with initial assays expected by this month's end.
Notably, the drilling program followed up on previous high-grade hits. These included the March drilled Kinks South drillhole that returned 17m at 0.98% Vanadium Pentoxide (V2O5), including 12m at 1.06% V2O5.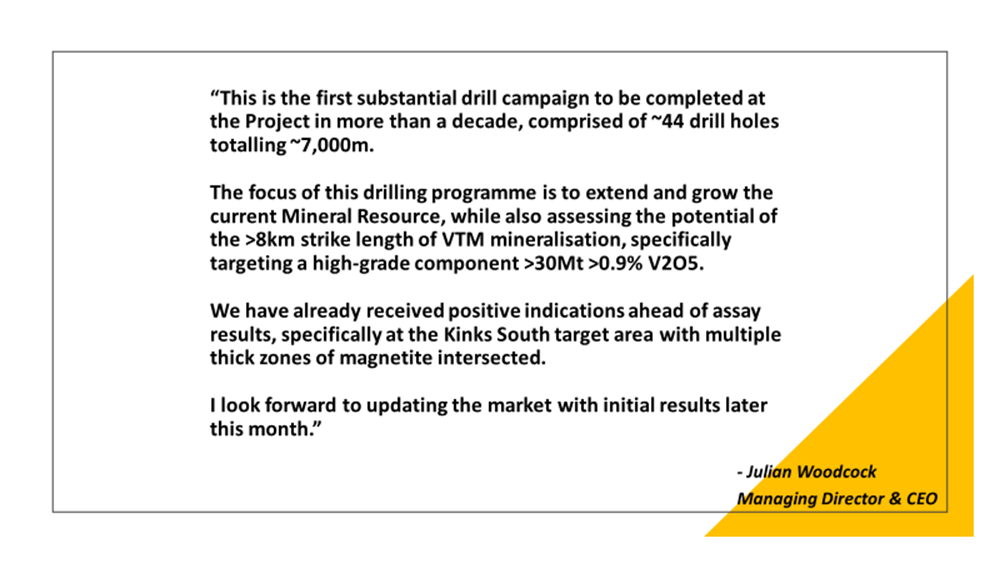 Source: Company update
More
ASX listed Viking Mines has completed its 7km drill campaign at the flagship Canegrass Project. This consisted of 44 drillholes that VKA states are targeting new high-grade Mineral Resources beyond the MRE of 79Mt at 0.64% V2O5. Notably, the drilling has followed the March 2023 VCRC0006 drillhole and other high-grade hits at Kinks South.
The company has tested five exploration targets -- beyond the current Mineral Resource Estimate -- to evaluate the potential of the >8km VTM horizon identified. Initial assays from the latest drilling are expected by this month's end.
VKA mentions that drilling was focused on improving the confidence in the current MRE as well as on growing the Mineral Resource base by way of discovering new Vanadiferous Titanomagnetite mineralisation.
The next steps would include making quick advancements at the Canegrass Battery Project, Viking asserts. Activities would include completing logging of drill chips and evaluation of the target areas tested. Priorities also include assessing results (expected later this month) from preliminary sighter metallurgical testwork programme and updating the geological model.

Canegrass Project Vanadium Mineral Resource estimate, 0.5% V2O5 cut-off grade, >210m RL; Image source: Company update
Statement by Managing Director & CEO
Julian Woodcock, Managing Director & CEO of Viking Mines, has remarked that one of the primary objectives of the "first substantial drill campaign" concluded at Canegrass Project in over a decade is to "extend and grow" the project's current Mineral Resource. He stated that the company has already received "positive indications" ahead of assay results.
VKA shares traded at AU$0.013 at the time of writing on 7 July 2023.