Highlights

Vanadium Resources (ASX:VR8) has been recognised at Mining Indaba 2023 with the Development award.
The company is developing one of the world's largest and highest-grade vanadium deposits in South Africa, Steelpoortdrift.
Indicating competitive capex and opex metrics, the DFS has reaffirmed the project's potential to emerge as a world-class, low-cost, and large-scale vanadium producer.
Vanadium Resources has kicked off project financing activities with the target of first concentrate and flake production in mid-2025.
Vanadium Resources (ASX:VR8 FRA:TR3) is basking in the glory of winning the Development award at Mining Indaba 2023.
Recently, the ASX-listed company participated in 'Investing in African Mining Indaba 2023', a world-renowned mining investment event focused on the successful capitalisation and development of mining interests in Africa. The forum brings together innovators and visionaries across the entire value chain.
This year, the theme of the event was 'Unlocking African Mining Investment: Stability, Security, and Supply'.
Here's what we should know about Vanadium Resources.
Vanadium Resources (ASX:VR8) developing world-class asset in Bushveld Complex
Vanadium Resources (ASX:VR8) is committed to developing its flagship Steelpoortdrift Vanadium Project, which the company believes is one of the world's largest and highest-grade vanadium deposits.
The project sits within the world-renowned Bushveld Complex in South Africa. The established mining jurisdiction offers access to significant infrastructure and expertise nearby.
Project Location (Image source: VR8 presentation)
The company has acquired a property nearly 15km from Steelpoortdrift Mine Site. The property will host the company's proposed Salt Roast Plant to produce vanadium pentoxide flake.
Outstanding project economics and Mineral Resource and Ore Reserve estimate
The definitive feasibility study on the project has demonstrated outstanding project economics with a post-tax net present value (NPV7.5%) of US$1.21 billion (US$0.9 billion attributable), internal rate of return (IRR) of 42%, and rapid payback of 27 months. The study has estimated Cash Cost of US$3.24/lb and pre-production capex including contingency of US$211 million.
The project is forecast to produce 484,000 tonnes of vanadium pentoxide flake over 25 years.
The company says that the study has provided validation for the development of the Steelpoortdrift Project into the next global vanadium producer.
Also, the updated Mineral Resource Estimate for the project stands at 680 million tonnes at 0.7% vanadium pentoxide and ore reserve estimate totals 76.86 million tonnes at 0.72% vanadium pentoxide.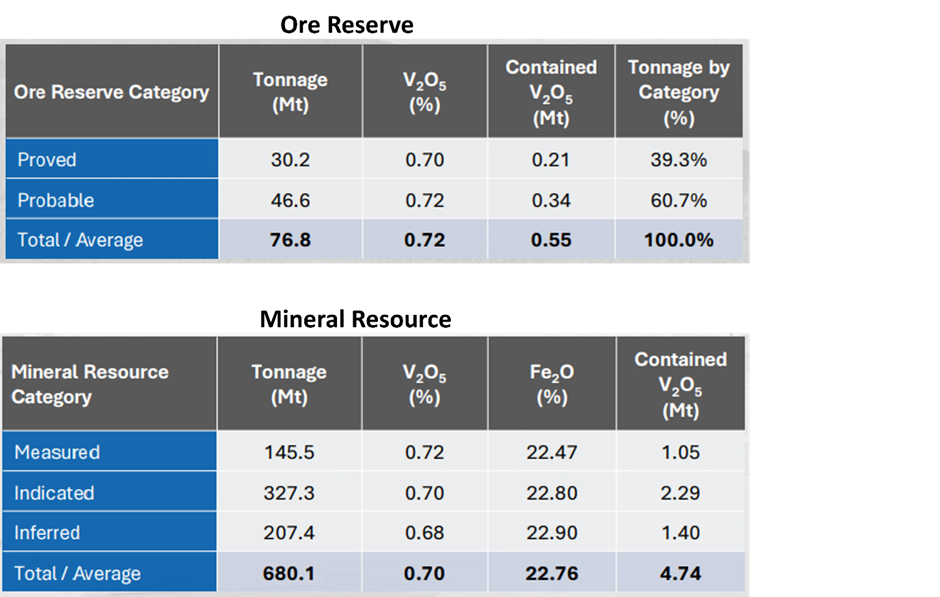 (Image source: VR8 presentation)
Read this report in detail here
Vanadium Resources has now proceeded to project financing activities. The company is advancing towards securing equity and debt funding, as well as arranging suitable off-take. The company believes vast opportunities exist for its world-class vanadium project as the world prepares for the transition to clean energy.
VR8 targets to start producing concentrates and flakes in mid-2025.