Summary

Renascor's Siviour Graphite Project hosts one of the world's most substantial graphite resources, with competitive industry costs confirmed by a recent DFS
Renascor is planning for an integrated battery anode material manufacturing operation, which would be the first integrated, in-country mine and Purified Spherical Graphite (PSG) operation outside of China
Vertical integration of a PSG processing operation with Siviour Graphite Project aligns with feedback from potential customers and provides significant value addition, as confirmed by the battery anode material study
Projected supply gap for graphite and direct exposure of PSG to the EV market growth provide enhanced PSG global prospects
South Australia-based mineral developer, Renascor Resources Limited (ASX: RNU) appears to be rightly positioned with a mineral-rich resource base to capitalise on the growing opportunities in the battery-commodity space. The Company, with its attention, pivoted to the development of battery-grade PSG for use in lithium-ion batteries, is progressing well on its 100%-owned Siviour Graphite Project.
Renascor is developing a vertically integrated operation which consists of a mine and concentrator along with a downstream process to produce PSG for sale to anode manufacturers. Its integrated battery anode material manufacturing plan aligns Renascor with the PSG end-users seeking supply chain security outside of China.
Notably, China currently controls 100% of existing commercial PSG operations for converting graphite concentrates to PSG. The recent positive results from the 'Battery Anode Material Study' marked a significant achievement for Renascor seeking to create meaningful added value through the integration of a PSG processing operation with its Siviour Graphite Project.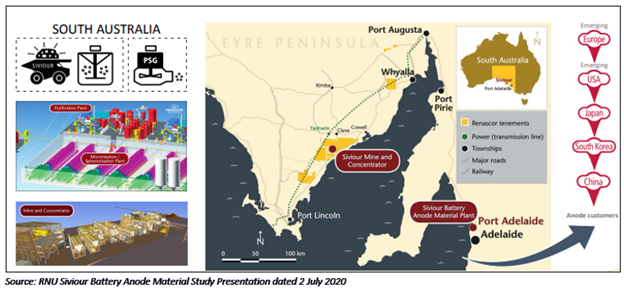 To know more about the study results, please read: Renascor's PSG Processing Operation Provides Path to Capitalise on World-Class Siviour Graphite Project, Study Indicates
As there is not currently any supplier of natural PSG outside of China to fulfil growing demand, Renascor believes it can tap the lucrative prospects catalysed by the changing market scenario.
Let us look at how Renascor Resources is carving way successfully to leverage the flourishing market prospects around the lithium-ion battery anode market.
Lens through Market Opportunities
Demand Perspective: EV Growth Fostering Global Megatrend
Initiation of a worldwide megatrend characterised by global EV growth is creating a paradigm-shifting event for battery minerals. The proportion of EV sales, which has expanded in recent times, is projected to grow further in the coming years.
Graphite being critical to the transition to lithium-ion batteries is expected to witness increasing demand to meet projected lithium-ion battery growth, with battery demand growing at 19% annually versus 2% for other uses, according to a study by Benchmark Mineral Intelligence. Furthermore, EV momentum is more robust in the market for PSG, which is used exclusively in lithium-ion battery applications, providing more direct exposure to growth in the EV sector.
Supply Perspective: Pursuit for Alternative Source of PSG
China currently commands 100% production of natural PSG from the graphite concentrate feedstock it obtains both domestically and internationally. Post the conversion, PSG is either used in China or exported to the existing anode markets, which include Japan and South Korea. At the same time, Europe and the US are the emerging anode markets, further enhancing prospects for PSG.
Renascor Positioned Well
Amidst the projected supply-gap and focus on enhancing the supply chain security for PSG, Renascor's integrated PSG operations in South Australia appear to align well with the changing market scenario.
The Company, through its integrated battery anode material manufacturing operation, is planning to be the first integrated, in-country mine and PSG operation outside of China. Meanwhile, strong government support is anticipated to assist with on-going offtake discussions.
Competitive Advantage via Siviour Graphite Deposit
Renascor seems to be at an excellent spot to offer a viable and secure alternative to Chinese PSG supply via its flagship Siviour Graphite Project, hosting one of the world's largest graphite resources and having near-surface, flat-lying orientation. Significantly, low-mining costs benefit, facilitated by Siviour's shallow, horizontal orientation and massive scale is expected to offer competitive cost of graphite concentrate feedstock for PSG production.
Renascor's comparative advantage in PSG production is built from obtaining the graphite concentrate feedstock from Siviour at production cost, rather than market price. The price differential has an exaggerated impact on the operating cost of PSG since only half of the graphite concentrate used as feedstock during the milling process are spheronised to PSG.
Sustainability and Technical Developments in Manufacturing
Renascor has been significantly involved in intensive testing and process design for three years in Australia, China, and Germany for developing sustainable and commercially viable process. Manufacturing using Siviour Graphite Concentrate as raw material feedstock involves a two-step milling and purification process. The battery performance tests align with industry parameters concerning durability, charge/discharge, and formation behaviour.
Milling
Conventional cascading milling equipment is used for micronisation and spheronisation. For achieving 50% target yields and marketable sizing (12µm to 20µm), pilot plant micronisation and spheronisation are being carried out. Next generation milling tests are slated with German and Japanese manufacturers.
Purification
Renascor, instead of using hydrofluoric acid generally used in China, has adopted a cleaner caustic roast purification process. This more cost-effective method has consistently achieved battery-grade purity level with Siviour graphite, while evaluation by potential customers is of-going.
Renascor achieved up to +99.95% TC purification utilising caustic roasting, Urbix proprietary techniques and hydrofluoric acid.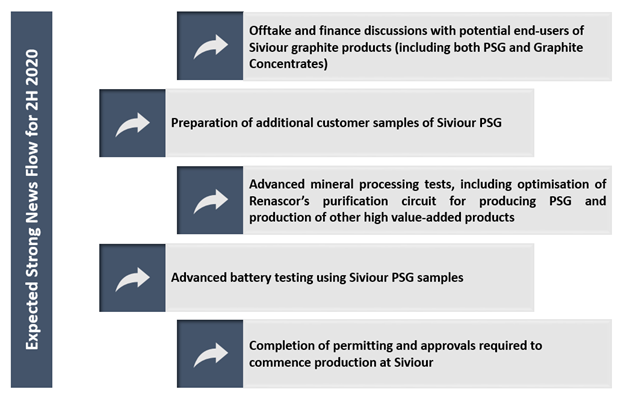 RNU stock closed the day's trade at $0.011 per share on 8 July 2020. The stock has generated a return of 57.14% in the last three months.