Summary

Renascor's battery anode material study indicates significant value addition by integrating a PSG processing operation with its Siviour Graphite Project.
Siviour is one of the world's largest graphite resources, and a recent DFS confirms industry leading operating costs.
The study highlights a plan to pass on the low cost from the mining operation to a downstream operation to produce Purified Spherical Graphite (PSG) for sale to global lithium-ion battery makers.
The study shows globally competitive gross operating cost of PSG, robust economics, and eco-sustainability backed by strong funding.
Encouraging results from the study would underpin discussions with end-users and potential off-takers to permit the financing and development of Siviour.
Renascor to continue optimisation, engineering and regulatory programs for the integrated mine and battery anode material operation.
Staying ahead of the curve with notable developments, Renascor Resources Limited (ASX: RNU) is advancing well towards building a domineering presence in the battery-commodities market. In a significant development, the Company unveiled promising results from 'Battery Anode Material Study', targeting the assessment of an integrated mine and battery anode material operation for producing PSG for lithium-ion battery anodes.
The latest results validate the Company's flagship Siviour Graphite Project's competitive edge in the high-growth lithium-ion battery market and are expected to assist in securing offtake commitments for permitting Siviour's financing and development.
Following the significant update, RNU stock price edged up by over 44% to close at AU$0.013 per share on 1 July 2020.
Renascor via its wholly owned South Australia-based Siviour Project is rightly positioned to tap the lucrative opportunity towards meeting the graphite supply gap, as demand for lithium-ion battery anode soars while the graphite supply dwindles.
The Company is progressing on the back of relative advantage offered by Siviour Graphite Project in terms of ability for producing graphite concentrates at one of the lowest graphite development costs in the world. Notably, Renascor recently remained focussed mainly on progressing the development of its Siviour Project, especially on the production of battery-grade PSG.
Battery Anode Material Study Results
The Battery Anode Material Study indicates that integrating a PSG processing operation with Renascor's Siviour Graphite Project creates substantial added value and aligns the Company with PSG end-users seeking supply chain security outside of China. Notably, the project sports the world's first integrated, in-country mine and battery anode material operation outside of China.
Globally Competitive Cost
The study indicates that PSG by Renascor has a globally competitive gross operating cost of US$1,989 per tonne. The favourable position of Siviour's PSG is backed by Renascor's market data indicating that all the existing commercial PSG operations, which are in China, have comparatively higher average operating costs of ~ US$2,000 per tonne.
This relative cost advantage can be attributed to the use of comparatively low-cost Siviour's graphite concentrates as feedstock for producing PSG and co-locating downstream operations in Australia. Graphite concentrate prices are projected to rise over the life of battery anode material operation, which provides potential cost savings increasing above US$1,150 per tonne over the operational life, as the production uses Siviour's graphite concentrate.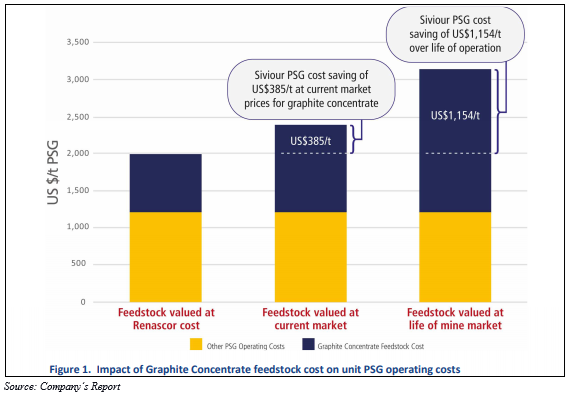 Robust Economics
The compelling economics of a combined mine and battery anode materials operation have been confirmed by the study results, including
Post-tax unleveraged NPV10 of AU$713 million
Post-tax unleveraged IRR of 33%
Total start-up capital cost of AU$213 million, comprising AU$114 million for the mine and concentrator; and AU$90 million for the battery anode operation.
Average annual EBITDA of AU$156 million
Strengthening Potential Offtake
China currently commands 100% of downstream process capacity for the conversion of graphite to PSG. However, Renascor is planning PSG production of 28,000 tonnes per annum on an average, expected to reduce the supply dependence for graphite concentrates and PSG on overseas Chinese players and downsize the perceived supply chain risk to Australia.
In addition, the in-country Australian processing with battery anode material operation situated within the planned corridor of Siviour graphite concentrates in Port Adelaide does not impose additional shipping cost.
The Company has garnered positive feedback from potential off-takers and finance partners who are eyeing to diversify the supply chain from China.
Satisfaction of Sustainability Requirements
Renascor's proposed battery anode material plant is designed to produce PSG through more environmentally friendly chemical purification. The process avoids hydrofluoric acid usage, thereby satisfying increasing strict sustainability requirements of prospective financiers and end-users.
Bolstering Funding Prospects
For the integrated mine and battery anode material operation, the Australian explorer has received firm support for debt financing. It includes in-principle finance support from Export Finance Australia and the recent appointment of a leading European investment bank. The Company has also secured in-principle support from the official Dutch Export Credit Agency, Atradius for the mine and concentrate operation.
Road Ahead
With emphasis on the integrated mine and battery anode material operation, Renascor plans on continuing the Siviour Graphite Project development.
The planned work programs include:
Advancing ongoing offtake and finance discussions with potential end-users of Siviour products, both PSG and graphite concentrates.
Preparation of additional customer samples of Siviour PSG.
Advanced mineral processing tests, which comprise Renascor's purification circuit optimisation for the PSG production coupled with production of other high value-added products.
Progressing on the permitting and approval completion required for commencing production at Siviour.
Remarking on the Battery Anode Material Study results, Managing Director David Christensen has indicated that the study by incorporating an in-country Purified Spherical Graphite manufacturing facility offers a clear direction for leveraging off the comparative advantage "to create shareholder value and compete in the high growth Purified Spherical Graphite market".