Highlights

King River Resources is advancing its ongoing laboratory work to develop its High Purity Alumina (HPA) Project.
The laboratory work is aimed at selecting the final pathway for the HPA process.
The new pathway is targeted at better project economics as well as ESG benefits.
Renowned exploration and mining company King River Resources Limited (ASX:KRR) has been making progress in its ongoing laboratory work as part of the High Purity Alumina (HPA) Project.
The company's latest announcement brings to us the fine details of the advancement in the related process pathways being developed for the project.
The company is conducting laboratory process development testwork to design and develop new process improvements to its ARC HPA process with the aim to gain potentially more economical pathways and a more environmentally friendly process route to the production of HPA.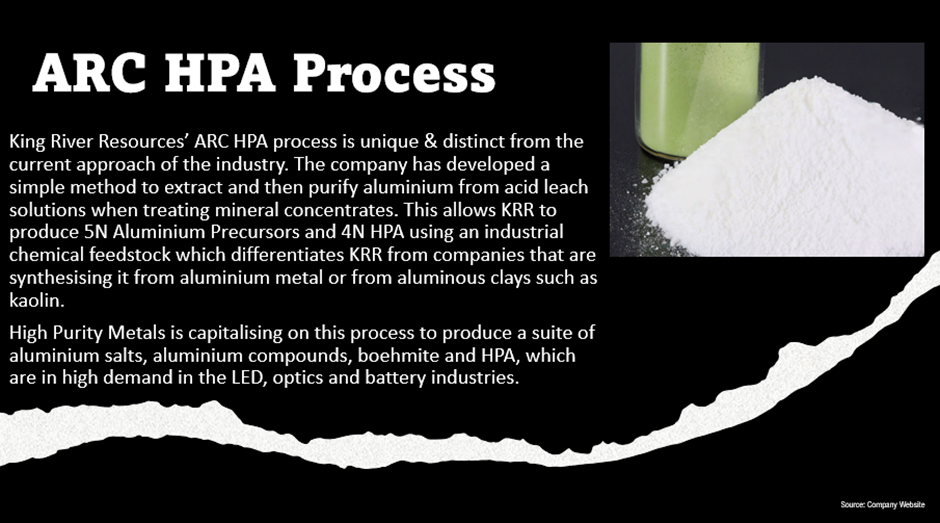 Image Source: ©2022 Kalkine Media®
Innovative process pathways
Source Certain International (SCI) has been conducting laboratory testwork systematically on three processes pathways for HPA. This is being done with the objective to enhance economics and environmental, social and governance (ESG) benefits of the project.
KRR HPA research is currently directing all its focus on developing new process routes which will further expand the company's laboratory research programmes.
The effort is being put in to make the process pathway better than what was employed during the initial HPA Pre-Feasibility Study (PFS) and the Type 1 Precursor Detailed Feasibility Study (DFS).
A modification of the original ARC HPA process outlined in the PFS, ARC – 1 initially produces the 5N purity Al salt using an Aluminium (Al) chemical feedstock by recrystallisation. Then, Al Hydroxide is made from the Al salt and calcined to HPA. High purity reagents are required during the process to produce by-products which are later neutralised or processed for recycling.
This process is beneficial as it needs no off-gas treatment because only water is released in the calcination process.
Using this new process, the reagent and waste issues from the ARC 1 process can be addressed. However, this process is still under development. A different reagent which can be recycled more directly is used during the initial recrystallisation purification stage.
The ongoing testwork will improve purity, increase overall recovery, and reduce the purification steps. The Al salt produced during testwork can be converted to Al hydroxide before calcinating into HPA.
The benefits of this process are that it requires no off-gas treatment, produces less waste, and has better recycling opportunities.
This process too makes use of an Al chemical feedstock; however, it follows different approach which doesn't need any precipitating reagents. Also, no reagent related wastes are generated during this process. Rather, this process produces Al Hydroxide directly for calcination to HPA. The process is still under development.
KRR shares traded at AU$0.013 on 20 September 2022.