Highlights

IOUpay has reported impressive numbers for the first half of June quarter.
Total transaction value as well as consumer and merchant sign-ups, approval, and onboarding registered strong growth.
The Company is advancing well with notable progress across SOGO Department Stores deal and Razor Merchant Services agreement.
A marketing programme is being prepared in collaboration with IDSB for rollout in the September quarter.
IOUpay Limited (ASX:IOU) is experiencing growing demand for its flagship BNPL offering, myIOU. For the first half of the June quarter (1 April to 15 May), the fintech company has reported significant progress with notable growth in transaction volumes as well as customer and merchant acquisitions.
15% growth in BNPL volumes
IOU registered a 15% increase in BNPL volumes during the reported period as compared to the previous half quarter period (16 February to 31 March). This reflects further activity related to cultural events and holidays.
Total Transaction Value (TTV) clocked at AU$2,041,256, delivering AU$145,660 in Net Transaction Revenues (NTR).
The myIOU Income Margin of 7.1% is aligned with the average margin across the financial year-to-date (YTD) period, and the effective annualised returns for individual transaction profiles stay within the target range.
Moreover, IOU has written TTV of AU$25,507,217, delivering NTR of AU$1,782,125 on a financial YTD basis. This delivers my IOU Income Margin of 7% for FY22 till 15 May 2022, which lies within the Company's target range and above expectations.
Furthermore, the Non-Performing Loans (NPL) of AU$133,183 and NPL Ratio of 0.51% suggest moderate delinquencies and IOU's targeted consumer acquisition process.
RELATED ARTICLE: A look at factors painting rosy outlook for BNPL player IOUpay (ASX:IOU)
Uptrend in Consumer and Merchant sign-ups
The Company has reported consistent growth in consumer and merchant sign-ups, approval and onboarding for the half June quarter period.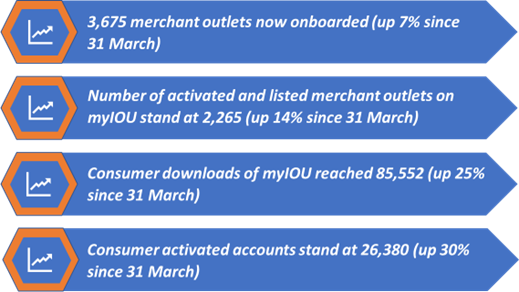 Data source: IOU update
IOU believes that the merchant and customer activation growth aligns with expansion of shopping choice, backed by new merchant additions and increased reach in regional Malaysia.
The growth in consumer engagement has also been attributed to the easing of COVID-19 restrictions, along with IOU's Digital Marketing Strategy and several promotional campaigns.
RELATED ARTICLE: IOUpay (ASX:IOU) records strong Q3 with premium BNPL business
IOU on track with SOGO integration
During the March quarter, IOU inked a merchant agreement with SOGO (K.L.) Departmental Store Sdn. Bhd. to offer myIOU BNPL services at the latter's department stores on point-of-sale (POS) as well as e-commerce payment platforms.
IOU remains on schedule with the Phase 1 POS integration (instore purchases) in the June quarter. Phase 2 integration will see IOU go live with myIOU on the e-commerce platform of SOGO for online purchases during the September quarter.
Implementation of special campaign for RMS deal
IOU has reduced the number of merchants onboarded from the first two batches to 232, after a review of the merchant listings, from a total of 290 merchants.
The Company remains actively engaged in reviewing and assessing the merchants offering myIOU BNPL services. This helps to ensure alignment with IOU's brand values, expected transaction activity levels and satisfaction of return anticipations.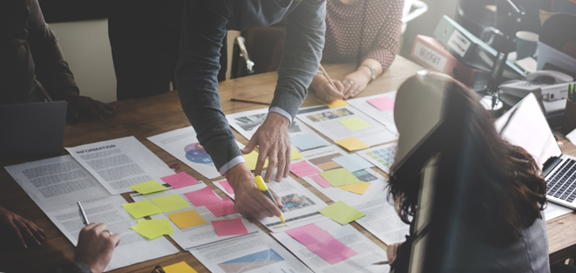 Source: © Rawpixelimages | Megapixl.com
A special campaign has been executed for RMS to onboard qualified merchants with a view to accelerating the assessment and onboarding of merchants. This campaign is expected to continue till the end of the September quarter.
IOU plans to execute a review of the campaign during the December quarter.
RELATED ARTICLE: Know about IOUpay's (ASX:IOU) revamped myIOU BNPL app
Cross-sell BNPL marketing programme with IDSB on cards
The payment for the second tranche concerning the IDSB transaction is due within 6 months of the First Tranche Payment and the finalisation of the transfer of shares for the First Tranche, which was effected in December 2021.
IOU is engaging with the vendors and IDSB to confirm the amount of the Second Tranche Payment, which is calculated with reference to IDSB's profit before tax for the financial year ended December 2021.
Source: © Rawpixelimages | Megapixl.com
IOU and IDSB expects to roll out a marketing programme in phases starting in the September quarter. The programme is developed to market myIOU BNPL services to the high-credit quality civil servant customer base of IDSB.
RELATED ARTICLE: IOUpay (ASX:IOU) clocks strong BNPL volumes in first half of March quarter
Growth opportunities amid growing Malaysian economy
According to the Department of Statistics Malaysia, there has been a continued improvement in economic activity. This is indicated by a 5.0% year-on-year expansion in Malaysia's economy during the March quarter, up from 3.6% in the December quarter. This growth of 5% surpasses the market expectations of a 4% increase.
The advancing National Recovery Plan (NRP) and easing of COVID-19 restrictions have led to increased domestic demand, ultimately supporting economic growth.
IOU shares traded at AU$0.068 on 01 June 2022.