Highlights

Invion has tabled its December 2022 quarter, highlighting promising research outcomes with PhotosoftTM technology against infectious diseases.
In vitro study outcomes indicated PhotosoftTM compounds' activity against multiple strains of Superbugs.
PhotosoftTM compounds also demonstrated antiviral activity against Zika virus, Dengue virus, and the Delta and Omicron BA.1 variants of SARS-CoV-2.
The company is targeting to commence at least two Phase 1 trials in 2023.
Invion remains well funded to pursue its near- and medium-term development agenda.
Invion Limited (ASX:IVX) is going strong with the development of its PhotosoftTM technology to treat multiple cancers, atherosclerosis and infectious diseases. The ASX-listed company ticked off major milestones during the three-month period ended 31 December 2022.
The life sciences company ended the December quarter with significant strides to prove up its PhotosoftTM technology against infectious diseases, including COVID-19, antibiotic-resistant superbugs and an array of viruses, bacteria and fungi.
Encouraging PhotosoftTM study outcomes against viruses and bacteria
Although cancer is the major focus of PhotosoftTM technology, Invion marked major developments using its technology against viruses and bacteria during the quarter.
One of the major achievements was several PhotosoftTM compounds exhibiting in vitro activity against multiple strains of antibiotic-resistant MRSA bacteria (Superbugs), Escherichia coli bacteria and Candida albicans fungus. This study was conducted by the Australian Centre for Antimicrobial Resistance Ecology (ACARE), University of Adelaide, in partnership with Invion. MRSA is an antibiotic resistant bacteria that is difficult to treat, and various strains of superbugs have been described as one of the top ten threats to humanity by the World Health Organization (WHO). To know more, read here.
Moreover, in other studies, numerous PhotosoftTM compounds demonstrated antiviral activity against Zika and Dengue viruses. The compounds were more potent than Monensin, the control compound, in both the cases.
Zika virus, found in 86 countries, is linked to birth defects and other neurological complications, while Dengue, nickname "breakbone fever", causes intense pain in joints and muscles.
© Luciferlucifermetal| Megapixl.com
Prior to the quarter, Invion announced encouraging results from in vitro tests conducted against the Delta and Omicron BA.1 variant of SARS-CoV-2.
Nine of ten PhotosoftTM compounds tested displayed antiviral activity against both variants. Further, the PhotosoftTM compounds were more effective than Remdesivir. Several countries have approved Remdesivir, a broad-spectrum antiviral medication, for emergency use against COVID-19.
Also, some of the compounds had EC50 values that were 250-400 times smaller than Remdesivir. This figure highlighted that the amount required was substantially lower than Remdesivir to achieve the same result.
Read the detailed report here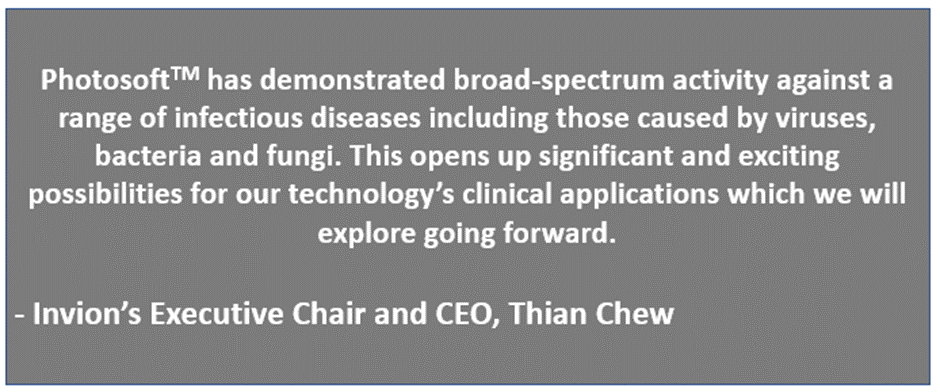 Human clinical trials expected in CY23
Currently, Invion is gearing up to start human clinical trials in CY23 and is working alongside its research partners, including the Peter MacCallum Cancer Centre. The company has reported encouraging in vitro and in vivo outcomes indicating both safety and efficacy profiles, and across multiple cancer types.
The company targets to begin at least two Phase 1 trials in 2023.
Strong cash position
Invion believes that its strong cash position and its funding agreement with RMW Cho Group will allow the company to carry out its short- and near-term development plans.
Invion shares were trading at AU$0.009 midday on 31 January 2023.