Highlights

Invion has released its H1FY23 report, highlighting progress with respect to its Photosoft™ technology and lead drug candidate INV043.
Photosoft™ has demonstrated positive results against antibiotic resistant MRSA bacteria, Candida albicans fungus and Escherichia coli bacteria, as well as SARS-CoV-2.
INV043 has shown effectiveness against six squamous cell carcinoma cell lines related to anal cancers.
In 2023, Invion plans to commence at least two clinical trials using INV043.
ASX-listed life sciences company Invion Limited (ASX: IVX) has released its half yearly report for the period ended 31 December 2022. The company, which is leading the global research & development (R&D) of PhotosoftTM technology to treat cancer and other diseases, achieved key R&D milestones during the reported period.
The primary highlights related to IVX's progress with respect to the treatment of cancer and infectious diseases are listed below.
In vitro studies indicate INV043 effectiveness against anal cancer
A major progress during the first half was the results from the Peter MacCallum Cancer Centre's in vitro studies. These demonstrated the company's lead candidate INV043's effectiveness against six squamous cell carcinoma cell lines, IVX mentions. These cell lines represent several anal cancers.
The outcomes from the Peter Mac studies show consistency with the drug's positive results demonstrated by the Hudson Institute of Medical Research for other types of cancers. Those studies focused on triple negative breast cancer.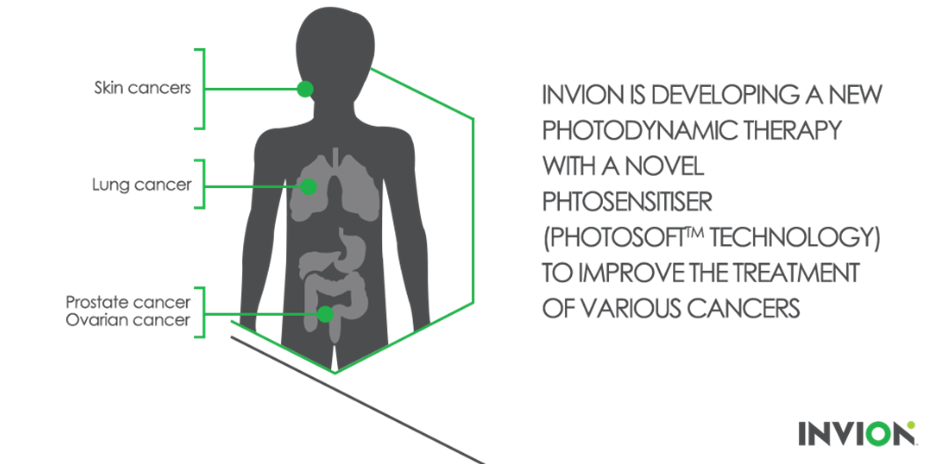 Image source: Company website
Invion Limited has commented that aside from the above two, other partners are also undertaking further work on INV043, with human clinical trials expected later in 2023.
The plan is to begin a minimum of two INV043 clinical trials in the ongoing calendar year -- one on skin cancer and the other probably related to anogenital cancer.
Photosoft™ shows activity against infectious diseases
During the first half of FY23, Invion also achieved multiple promising results from early studies using Photosoft™ on several infectious diseases. One significant progress was the findings -- in collaboration with the Australian Centre for Antimicrobial Resistance Ecology (a research division at the University of Adelaide) -- with respect to antibiotic resistant MRSA bacteria.
Invion has mentioned that the said bacteria is a superbug -- the World Health Organization considers antibiotic resistance as one the top threats to humanity -- and in vitro tests demonstrated Photosoft™ compounds' activity against the said superbug's multiple strains. Further, activity against Candida albicans fungus and Escherichia coli bacteria was also noted.
Separately, Photosoft™ has potential against SARS-CoV-2 (virus associated with Covid-19). Photosoft™ compounds have demonstrated antiviral activity against the virus's Omicron BA.1 and Delta variants.
Photosoft™ territory expansion
Invion reported in February 2023 about entering into a conditional agreement with Hong Kong-based RMW Cho Group Limited. This relates to expansion of the existing Co-Development Agreement and Exclusive Licence and Distribution Agreement -- Atherosclerosis and Infectious Diseases that Invion has with RMW Cho Group.
The new agreement would involve expansion of IVX's co-development and distribution rights for Photosoft™ (with respect to infectious diseases) to territories including the US, Canada, and Hong Kong. Read more.
Invion ended the period with AU$8.03 million in cash. The company says that it remains funded to undertake the development work focused on cancers, atherosclerosis and infectious diseases not covered under agreements with its Hong Kong-based partner.