Highlights

Invictus Energy (ASX:IVZ) is undertaking sidetracking drilling operations at the Mukuyu-1 well.
The company recommenced drilling after repairing the Rig 202 Top Drive System control module.
The Mukuyu-1 well sits within the SG 4571 licence in Zimbabwe's Cabora Bassa Basin.
ASX-listed Invictus Energy Limited (ASX:IVZ) has provided an update on sidetrack drilling being undertaken at the Mukuyu-1 well.
The well lies in SG 4571 licence in one of the last untested large frontier rift basins in onshore Africa, the Cabora Bassa Basin in Zimbabwe.
Invictus, an independent upstream oil & gas exploration company, holds an 80% stake in the SG 4571 licence comprising the world-class Mukuyu (Muzarabani) prospect. As per Invictus, the prospect is independently estimated to contain 20 trillion cubic feet and 845 million barrels of conventional gas condensate (gross mean unrisked basis).
Mukuyu-1 sidetrack drilling operations
Invictus commenced the drilling to initiate Mukuyu-1 ST1 (sidetrack) well after successfully plugging the well back to the 9⅝" casing shoe (at approximately 2,020m measured depth).
The company faced troubles with the drilling operations, which included:
Delay due to the failure of a mud motor and loss of drilling nozzles which led to two unscheduled change-outs.
The failure of the Top Drive System's (TDS) control module.
Nevertheless, Invictus has recommenced the drilling operations for Mukuyu-1 ST1.
Additionally, the company is displacing the mud system for the planned lighter-weight (less dense) drilling mud in preparation for drilling ahead.
The company expects to complete the operations in approximately 10 days.
Invictus' Managing Director, Scott Macmillan, said: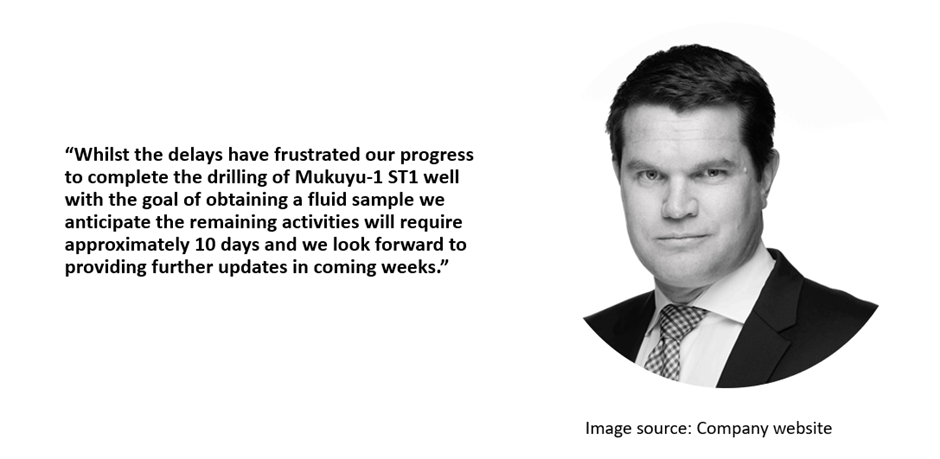 (Source: © 2022 Kalkine Media® | Data Source: Company update, 9 December 2022)
Share price: IVX shares traded at AU$0.277 midday on 9 December 2022.