Highlights

Saunders International Limited (ASX:SND "Saunders") has made a strong start to FY23, following FY22 which was a year of significant achievements
Revenue grew 28.4%, while net profit after tax was up 18.2% year-on-year in FY22
The company has already secured projects worth A$77 million in FY23
Saunders says that it is well established for further growth with a record orderbook, robust balance sheet, and pipeline of opportunities
The financial year 2022 marked significant achievements for Saunders an ASX-listed multi-disciplined engineering and construction firm. The robust performance during the period was driven by a combination of strong operational execution of projects and increased opportunities in the markets within which the company operates.
This strong performance is paving the way for a stronger FY23. Saunders, which started FY23 on a substantial orderbook of A$193 million, has already added major contracts to its orderbook since the beginning of the period.
FY22 – A Year of Achievements
Saunders ended the FY22 with a record revenue of A$129.9 million, an increase of 28.4% year-on-year, and a net profit after tax of A$6.5 million, an improvement of 18.2% year-on-year.
The company's cash and cash equivalents stood at A$36.7 million at the end of FY22. Dividend stood at 3 cents per share for the full year.
During this period Saunders secured a contract worth A$165 million to design and construct the US Defence Fuel Storage Facility near Darwin. The company also undertook several substantial projects at Australian defence facilities.
To know more about the company's FY22 performance, click here
Saunders set for a magnificent leap in FY23 with major contracts
Saunders has set the ball rolling for the fiscal year 2023 with major contracts contributing to revenue and earnings in FY23 and beyond.
The year started with the company announcing new projects worth A$24 million in August 2022.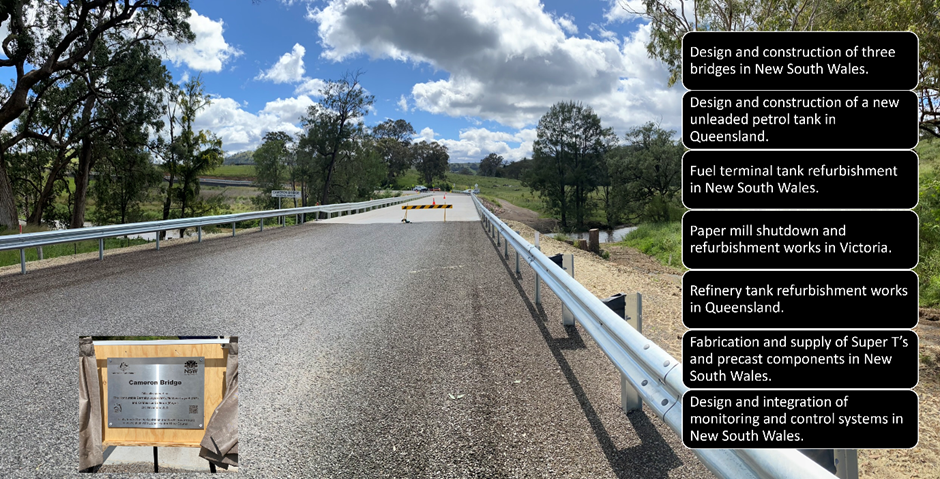 Cameron Bridge completed by Saunders Civilbuild, which was opened on 2 November 2022.
(Image Source: SND Database, 2 November 2022)
In October, Saunders won two projects worth A$44 million and A$9 million. On top of being multi-million-dollar contracts, these projects are of strategic importance to Australia.
The A$44-million contract is for the design and construction of the aviation fuel terminal at the new Western Sydney International Airport.
Under this contract, Saunders will be engaged in the design and construction of:
(Source: © 2022 Kalkine Media®, data source: Company update, 17 October 2022)
The A$9-million project awarded in October, covers the design and construction of a 32-megalitre diesel storage tank for Park Fuels at Kooragang Island, Newcastle. The project is part of the government's 'Boosting Australia's Diesel Storage Program', which has five more projects yet to be awarded.
Saunders continues to support the Grant recipients in finalising their respective solutions.
Saunders' strategic plan is to grow the company's size and diversify its capability. The company says that it is well poised for further growth with the momentum of FY22 set to continue into FY23.
SND shares were trading at A$1.15 midday on 1 December 2022. The year-to-date return stands at nearly 19%.