Highlights

Invictus Energy's latest announcement reveals a significant development related to its 80% owned and operated Cabora Bassa project in Zimbabwe.
The exploration rights of the Sovereign Wealth Fund of Zimbabwe for EPOs 1848 and 1849 have been provided for three years till 15 September 2025.
At Mukuyu-1, the rig maintenance at the first well will be completed soon. The arrival of the final outstanding well services equipment is expected in a few days.
Independent upstream oil and gas company Invictus Energy Limited (ASX:IVZ) has informed the market that its subsidiary Geo Associates (Private) Limited (80% owned) has been assigned the exploration rights of the Sovereign Wealth Fund of Zimbabwe (SWFZ) for Exclusive Prospecting Orders (EPOs) 1848 and 1849 for a period of three years to 15 September 2025.
With the successful completion of the assignment of the exploration rights the company's footprint now covers the entire conventional oil and gas play fairway in the Cabora Bassa Basin in Zimbabwe.
Details of the Exploration Rights in a nutshell
The Assignment Agreement with the SWFZ ensures the conversion of the EPOs to a Special Grant in terms of Part XX of the Mines and Minerals Act, allowing progress to development and production.
The exploration rights have been approved under section 92(2) of the Mines and Minerals Act [Chapter 21:05]. The decision has been taken following the recommendation of the Mining Affairs Board.
Image Source: Company Presentation
A combined area of around 360,000 hectares is covered under the Exploration Licenses. This includes EPOs 1848 and 1849, spanning over an area of about 130,000 hectares, as well as the current Special Grant 4571 licence area spread over nearly 100,000 hectares.
Invictus' high-impact exploration program in Cabora Bassa Basin | Expert Talks with Scott Macmillan
Significance of the expanded area for IVZ
IVZ believes that this newly expanded basin master position, and the high-quality seismic data
acquired in the CB21 Survey, has provided it with a material portfolio of high potential prospects and leads.
In the new expanded basin master position, several drill ready prospects have been identified along the southern basin bounding fault. The prospects have reflected similarities to the East Africa Rift "String of Pearls" which led to substantial discoveries in the Lokichar Basin in Kenya and Albertine Graben in Uganda.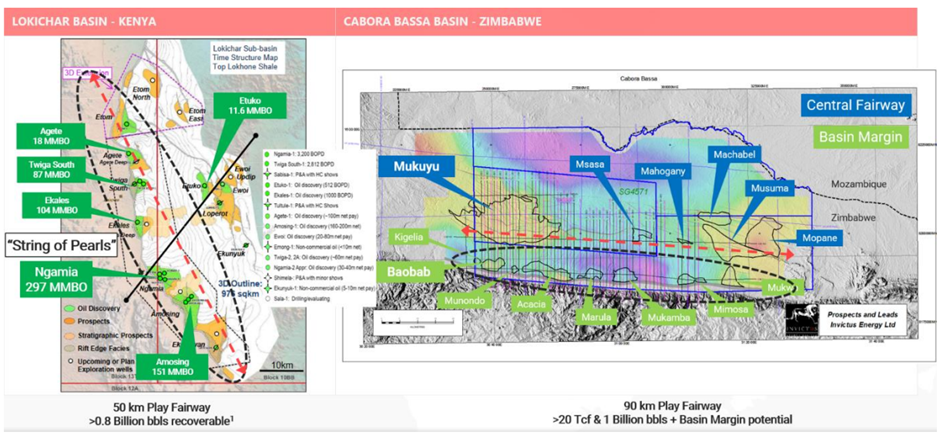 Basin Margin Play "String of Pearls" comparison with Lokichar Basin in Kenya
Also, an Independent Prospective Resource estimate is being conducted for the Basin Margin area including the Baobab prospect. It will be released as soon as it is completed.
Management update on Mukuyu-1
IVZ shares were trading at AU$0.212 on 19 September 2022.