Highlights

Tether's stablecoins, including the USDT token, are pegged to traditional assets like fiat currencies and gold
BTC's value is variable, depending on demand and supply, whereas USDT's value remains stable
The failure of the TerraUSD stablecoin in May shows that even the stablecoin category comes with risks
What does Bitcoin (BTC), widely considered the first cryptocurrency to hit the market, do? The question makes sense when discussing Tether's USDT (the third-largest by market cap) because not every cryptocurrency has the same utility. Bitcoin was invented as an 'electronic coin' by its creator Satoshi Nakamoto, and Bitcoin's whitepaper suggests it was supposed to add speed to remittances by doing away with central banks' role in the issuance of currency.
Tether, contrary to what many people think, is a wider project with many stablecoins, and USDT, which is pegged to the US dollar, is one of them. The primary difference between BTC and USDT is that the latter's value traces the US dollar, while Bitcoin and most other cryptos do not have a fixed price. Tether is like a fixed value cryptocurrency with blockchain as the underlying technology to speed up transfers.
Tether's function
There has yet to be a consensus on what any particular cryptocurrency project -- including Bitcoin, Ethereum (ETH), and Dogecoin (DOGE) -- actually intends to achieve. All these projects, Tether included, are banking on blockchain technology that adds decentralisation to record-keeping. By one measure, Tether's USDT can appear as a blockchain-powered USD coin. However, since Tether has no link to any regulatory authority like the Federal Reserve, there is no assurance that the USDT token would always maintain the same value.
For now, the USDT token has found at least one utility, which is the token's use in the sale and purchase of other cryptocurrencies like BTC. In order to trade cryptos, an investor must first deposit a fiat currency like the USD or the Australian dollar with an exchange. When the holding is sold, the investor can convert cryptos into a fiat currency again according to the current price prevailing. Some crypto traders, however, convert a fiat currency into USDT and undertake multiple trades using USDT. This is perhaps because USDT maintains the same value as the USD.
Is it possible for Tether to crash?
Tether claims to have sufficient reserves, meaning each USDT token floating in the market is backed by reserves held in cash and cash equivalents like US Treasury Bills. So far, USDT has maintained a fixed value even in the face of a deep correction in the cryptocurrency market in 2022. That said, one major stablecoin project, Terra, which was also pegged to the US dollar, collapsed this year, indicating why even the so-called stablecoin category in cryptos is risky.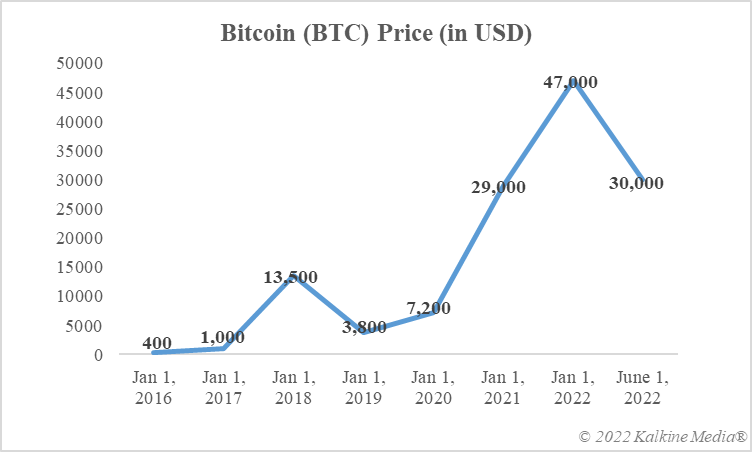 Data provided by CoinMarketCap.com
Bottom line
What Tether does is not exactly the same what other cryptocurrencies do. Bitcoin, for example, is seen by some as a fiat currency alternative. The ETH token, on the other hand, is a medium of exchange in Ethereum's ecosystem. Tether's USDT is used by some crypto traders to deal in variable price cryptocurrencies. This, it is said, eliminates the requirement of every time converting a fiat currency into crypto and vice-versa.
Risk Disclosure: Trading in cryptocurrencies involves high risks including the risk of losing some, or all, of your investment amount, and may not be suitable for all investors. Prices of cryptocurrencies are extremely volatile and may be affected by external factors such as financial, regulatory, or political events. The laws that apply to crypto products (and how a particular crypto product is regulated) may change. Before deciding to trade in financial instrument or cryptocurrencies you should be fully informed of the risks and costs associated with trading in the financial markets, carefully consider your investment objectives, level of experience, and risk appetite, and seek professional advice where needed. Kalkine Media cannot and does not represent or guarantee that any of the information/data available here is accurate, reliable, current, complete or appropriate for your needs. Kalkine Media will not accept liability for any loss or damage as a result of your trading or your reliance on the information shared on this website.