Summary

LICs are a source of gaining exposure to Australian shares, global shares, fixed interest investments and several other investment strategies.
As per its lately published annual review 2020, Milton Corporation's profits plummeted 16.7% to $111.3 million due to lower dividend income
WAM Research's investment portfolio dropped in the month of June with key contributors like VEA and ADH.
WAM Capital's investment portfolio rose in June, because of relaxations provided by the government on previously imposed coronavirus induced restrictions, while WAM Global increased its FY2020 fully franked final dividend to 7 cents per share, up by 250% noted in FY19.
There are more than 100 Listed Investment companies (LICs) and listed investment trusts (LITs) accessible by investors to choose from on Australian Securities Exchange and have offered exposure to a wide range of assets for each transaction. They function like a managed fund and have a fund manager who chooses and manages the investments of a company.
Let's have a look at few LIC stocks-
Milton Corporation Limited (ASX:MLT)
Milton Corporation is an Australia based listed investment firm that invests in Australian listed equities, trusts, interest bearing securities and real property.
On 24 July, MLT published annual review for this year, and reported that its underlying profit for the year ended 30 June 2020, which excludes special dividends, dropped 16.7% to stand at $111.3 million due to lower dividend income received on Milton's $2.7 billion diversified investment portfolio..
Key performance indicators include:
Net profit after tax of $116.9 million for the year ended 30 June 2020.
Fully franked final dividend of 8.5 cents per share would be paid on 2 September.
Earnings per share dropped 21.4% to 17.45 cents per share including special investment revenue.
Milton's annualised management expense ratio (MER) and total assets as at 30 June 2020 was noted 0.14% and $2.9 billion, respectively.
Cash balances of MLT stood at $114.1 million, as at 30 June 2020.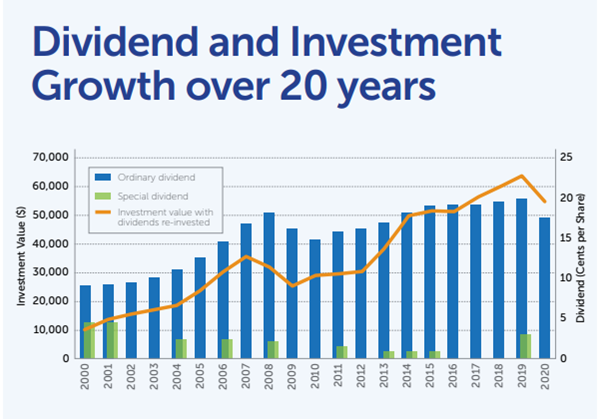 Source: ASX
Lower dividends were obtained on Milton's investment portfolio in 2020, as many companies lowered dividends to preserve cash. Bank investments were cut due to concerns about weaker growth in long-term earnings from deteriorating credit quality, elevated enforcement costs and impact of technology-based disturbances.
Milton expects its earnings and dividend growth to be limited as uncertainty regarding the impact of COVID-19 persists. There is a disconnect between elevated asset prices and highly uncertain earnings atmosphere. Milton has a robust balance sheet and franking credit balances that give confidence that 100% franked dividend is well backed up.
WAM Capital Limited (ASX:WAM)
WAM Capital investment portfolio rose in June as COVID-19 restrictions eased and Australian economy displayed signals of recovery. Significant funders to the positive investment portfolio performance comprised of firms namely Healius Limited (ASX:HLS), Viva Energy Group Limited (ASX:VEA) and Afterpay Limited (ASX:APT).
In June, HLS, the Australian healthcare, and diagnostics services company, declared sale of its medical center and dental businesses to private equity firm BGH Capital Pty Limited for $500 million on a cash and debt free basis.
The sale will help Healius to lower debt and simplify its portfolio by focusing on pathology, diagnostics, and day hospital businesses. The divestment is likely to be finalised by the end of this year.
VEA, Australia's largest service station operator, announced an update in June highlighting tougher than anticipated retail fuel margins, and advancing demand for petrol and diesel fuels as driving related travel restarted in Australia in April and May.
Afterpay, a BNPL firm, is now the fastest growing e-commerce payment platform in the world. The Company reached 1 million active users in UK during June, with more than 600k repeat customers. Afterpay closed at a high of 143.3% for FY20.
WAM Global Limited (ASX:WGB)
WAM Global is handled by Wilson Asset Management who has a proven record of making a difference for stakeholders and the community for above 2 decades. WGB
gives shareholders an access to the actively managed investment portfolio. The Company's goal includes growing a stream of fully franked dividends and offering capital growth.
As per an update dated 21 July, WAM Global announced a 100% franked final dividend of 4 cps (cents per share) bringing about financial year 2020's final dividend/distribution amount to 7 cps (cents per share), up by 250% on pcp.
The firm has profits reserve of 24 cps (cents per share) as noted on 30 June 2020, giving 3.4 years of dividend/distribution. The rise in fully franked dividend for 2020 was made possible by the investment portfolio's performance during highly volatile 12-month for global equities.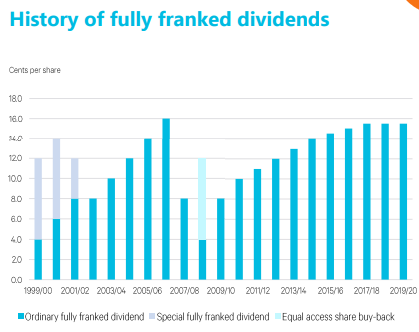 Source: ASX
WAM Research Limited (ASX:WAX)
WAM Research investment portfolio fell in June with major contributors as Viva Group and Adairs Limited (ASX:ADH). IDP Education Limited (ASX:IEL), global provider of international student placement and English testing services, was a disparager to performance.
The firm has gross assets of $191.7 million and listed equities worth $162.2 million. WAM Research has net tangible assets (NTA) before tax of 98.72 cents for June 2020 and NTA after tax of 102.55 cents.
While Viva Energy recorded stronger than expected retail fuel margins and witnessed improved demand for petrol and diesel fuels, Adairs reopened all stores progressively throughout May and operated a strong online offering. It provided FY20 sales guidance in June of nearly $385 to $390 million. IEL was affected by the uncertainty encircling coronavirus and flow of global students across universities around the world.
Contango Income Generator Limited ((ASX:CIE)
Contango Income Generator Limited, an income focused listed investment company with a portfolio of entities mainly outside of the ASX top-20, has performed strongly in the months of May and June.
CIE's investment portfolio was stable in entire June with a return of 0.11%, while NTA before tax of the portfolio stood at $0.74 per share.
A dividend yield of 5.21% or 7.16% including franking credits was paid by CIE over the last 12 months. S&P/ASX All Ordinaries Accumulation Index reverted 2.34% in June and was aided by a number of bigger entities recovering post a challenging period.
CIE plans to position its portfolio towards more defensive stance with businesses having lower quality making room for better franchises. It anticipates keeping its portfolio completely invested to maximise accumulation of dividend income and target stocks that are supposed to be most robust in deteriorating economic conditions.
Let us now get acquainted with the closing price of the above-discussed five stocks, as on 24 July 2020 that are as follows: