Desks, agencies and brands regard US-based digital advertising company Engage:BDR Limited (ASX:EN1) to be a premier advertising marketplace. The Company, built by pioneers, offers unique, transparent inventory for programmatic buyers, publishers and advertisers and is known to deliver the strongest yield and monetization technologies to its clientele of world-class publishers.
Recently, EN1 has been garnering attention from the media, investors and other market participants upon posting record breaking monthly- revenue numbers, a strong first quarter, a freshly launched Advisory Council, onboarding new large-scale programmatic clients, and integrations.
Taking this trajectory forward, the Company announced a robust April 2020 mid-month trading update wherein its cash receipts have increased to $5.5 million, the highest ever since ASX listing (2017).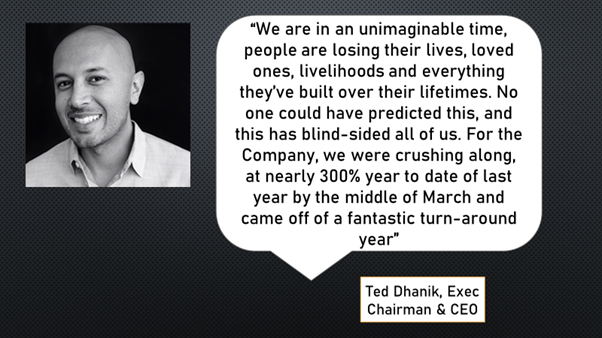 Let us deep dive-
EN1's Solid Cash Balance
EN1's current cash balance was reported at $2,400,000, which is significantly greater than the average and ending balance of $1,800,000 last year. The cash receipts increased to $5,500,000, highest ever since ASX listing of 2017. Interestingly, the cash balance at 31 March 2020 of $1.4 million has grown to $2.4 million (23 April 2020).
Grant of US SBA PPP Funding
Recently, EN1 got the US government Paycheck Protection Program funding worth $690K. The funding is entirely forgivable and creates no liability for the Company within 60 days if used entirely on US employees' payroll.
EN1 further intimated that the funding will have a significantly positive net impact on its P&L over the next 60 days and will sit at the other income line at the half-year review mark.
Moving on, the net impact on EN1's balance sheet adds $690K to working capital and assets, without any incremental liabilities, and the management expects additional PPP funding in the short term with the US Govt. granting and extending the program, presently doubling the primary budget, as US quarantines continue.
Interim Financial Results
There are quarantine orders across 85% of the US, resulting in brand budget pauses. Consequently, the start of EN1's April 2020 revenue was light. However, revenue is expected to increase throughout the remainder of April and greater through subsequent months of the second quarter.
The daily revenue analysis demonstrates an over 25% increase over the past 7 days. Management expects the topline to continue to stabilise over the balance of April and into next month.
Speaking of revenue, the advertising industry typically assumes about 65-70% of its topline in July – December of the year. In line with the same, EN1's expects this year to yield a similar revenue seasonality, as experienced in the prior years.
Operating Expenses Reduced to Limit Cash Outflow
During the quarter, there were payments of $250.6k associated with executive and nonexecutive fees paid to Directors fees for the March 2020 quarter.
In early March, to limit cash outflow, EN1's Management was proactive to defer and significantly reduce all operating expense categories like office rent, board & director compensation, tech & infrastructure vendors, consultants and equipment leases.
This means that vendors, partners, and companies that EN1 works with have been very malleable, though the business is expected to continue as usual.
Moreover, Alto, EN1's primary lender, has willingly and proactively deferred recent amortisation payments.
Bottomline
Mr Dhanik believes that the Company has "weathered MANY storms over the 12 years" and caught hints when another came along- as noticed by the PPP and EIDL application within 24 hours of their launch, deferring all that was possible the day quarantines commenced and ramping up the business development effort weeks earlier.
After conversations with around 50 companies in the industry space, EN1 affirmed that the typical impact is 50-70%, closer to the 70% mark, hence diversified its streams. Resultantly, there has not been an impact like others as EN1's current standing is much stronger than the competition, backed by lower operating expenses.
Mr Dhanik also intimated that key states in the US (Florida, California, Texas, Georgia, New York, etc.) could open soon, and large brands will, therefore, be able to soon transact with users, which will require ad dollars to be spent online, with the Company.