With an expected healthy cash runway until the end of 2021, Australian pharmaceutical company Nyrada Inc. (ASX: NYR) appears to be progressing well in its drug discovery and development program of its two lead programs in cholesterol-lowering and brain injury.
The preclinical stage, drug development company specialising in novel small molecule drugs to treat cardiovascular, neurological and chronic inflammatory diseases has not witnessed any significant impact on development programs amidst current challenging Covid-19 scenario.
The Company's main China and US-based clinical research organisation vendors are operating as usual without any disruption to production. Concerning its drug synthesis vendor in India, Nyrada implemented appropriate mitigation measures to minimise any disruption in the face of the mandatory three-week shutdown of their facility.
ALSO READ: Recently Listed Nyrada is Improving Lives and Providing Hope Through Innovation in Drug Development
Listed on Australian Stock Exchange on 16 January 2020 with a fully subscribed $8.5 million Initial Public Offering, NYR accomplished some milestones in the March quarter.
As NYR operations continue to advance into Quarter 2, 2020 amidst the Covid-19 situation, let us have a closer look at its preclinical program activities and financial summary for the March quarter 2020.
Brain Injury Program - A Therapeutic Area of Largely Unmet Clinical Need
The Nyrada Brain Injury Program is focussed on the development of a neuroprotectant drug for reducing secondary injury which occurs following the primary injury when a patient sustains a head trauma or suffers a stroke. The novel compounds are being developed by the Company for inhibiting the process of brain cell death or excitotoxicity, regarded as the key driver of secondary brain injury.
During the March quarter, the preclinical team completed an exploratory pharmacokinetic study of NYX-242 – the current lead neuroprotectant candidate - evaluating a variety of routes of administration. The compound's excellent drug-like properties were demonstrated by the study.
Importantly, the study also highlighted that the lead candidate crosses the blood-brain barrier and has sufficiently long half-life of plasma when administered via intravenous intrusion, the preferred administration route for stroke patients with patients with moderate or severe brain trauma injuries.
Nyrada also reported development of a new generation of neuroprotectant compounds having greater potency than NYX-242. Currently, these new compounds are being optimised prior to efficacy testing in an animal model of brain injury.
Nyrada continues the synthesis and testing of further analogues, including via a dose optimisation pharmacokinetic study. The comprehensive testing strategy for compounds would enable Nyrada to select the best compound for moving into the clinical testing.
ALSO READ: Lens through Nyrada's Neuroprotection Program: Treatment for TBI & Stroke
Cardiovascular Program for Cholesterol-Lowering Solution – PCSK9 inhibitor
The cholesterol-lowering program is centred around the development of the LDL-cholesterol lowering drug to help in prevent cardiovascular disease. The drug inhibits the function of PCSK9, a protein that regulates the metabolism of low-density cholesterol.
During the quarter, a scientific peer-reviewed paper was published by Nyrada in the international journal, Bioorganic and Medicinal Chemistry. The paper outlined successful identification of a small molecule inhibiting the PCSK9 production in vitro and lowering total blood cholesterol levels in an animal model.
Overcoming a longstanding pharmaceutical challenge, the paper offers proof-of-concept that a small molecule inhibitor is therapeutically viable against PCSK9. It also opens the potential for Nyrada for developing the first oral PCSK9 inhibitor therapy in combination with a statin in a 'single pill' treatment.
Strong Financial Position
Nyrada incurred A$1.5 million on operating activities during the quarter, slightly higher than previous quarters, while total funds outflows were A$2.4 million versus forecast fund use in the Prospectus of A$2.2 million, primarily on account of higher R&D and administrative expenses.
As of 31 March 2020, Nyrada reported a strong cash position with A$6.1 million in cash. Based on current forecasts, Nyrada believes to possess adequate cash for sustaining R&D activities and operations until the end of 2021.
Outlook of Lead Programs
Brain Injury Program- Nyrada intends to lodge a provisional patent shortly and thereafter will be updating the market regarding the details of the new family of compounds. According to the Company, the neuroprotection drugs are set to enter clinic by mid-2022
Cholesterol-Lowering Program- By Mid-2020, the Company aims at identifying a lead PCSK9 inhibitor candidate, followed by advancement towards a first-in-human clinical study.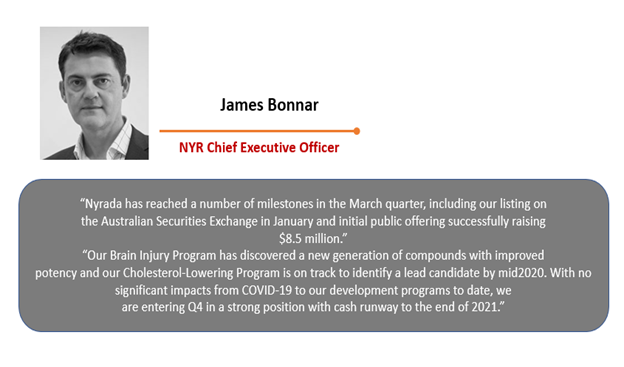 NYR last traded at A$0.17 on 20 April 2020.
---
Disclaimer
This website is a service of Kalkine Media Pty. Ltd. A.C.N. 629 651 672. The website has been prepared for informational purposes only and is not intended to be used as a complete source of information on any particular company. The above article is sponsored but NOT a solicitation or recommendation to buy, sell or hold the stock of the company (or companies) under discussion. We are neither licensed nor qualified to provide investment advice through this platform.