Health care in Australia is the most diversified and dynamic sector and has the potential to generate significant revenues for the Australian economy. The health care sector comprises of companies engaged in drug development and R&D activities as well as companies which are providing medical devices and medical insurance.
There are plenty of high-quality health care companies, which have delivered excellent returns to their investors. Investment in health care stocks, which are conducting successful clinical trials, is high yielding and could provide solid growth prospects. However, there are always risk attached to such investments, in case the trials fail to deliver expected results.
On 15 November 2019 (AEST 12:47 PM), S&P/ASX 200 was trading upward by 0.74% to 6,785.5 and S&P/ASX 200 Health Care (Sector) was trading at 40,582.6, up 0.95%. In this article, we are digging out three health care stocks, listed on the Australian Securities Exchange (ASX)- AMT, BOT and AGH
Allegra Orthopaedics Limited (ASX: AMT)
Health care company, Allegra Orthopaedics Limited (ASX: AMT), which delivers a wide range of orthopaedic products, is focused on new innovations, technologies and research, aimed towards bringing excellence and diversification to its existing product portfolio. The company's goal is to provide pain-free movement to people's lives.
Allegra is developing orthopaedic products for upper and lower limbs- for upper limb, implants are available for clavicle, shoulder, and hand & wrist and for lower limb implants are available for hip, knees, and foot & ankle.
Significant Milestone for Sr-HT-Gahnite Spinal Cage Device
On 15 November 2019, the company announced to have reached a significant milestone, with the commencement of the pre-clinical large animal study, which is being undertaken by a Board certified Australian orthopaedic spinal surgeon. The study has secured approval from the FDA for the biodegradable cervical fusion device.
The study is targeted towards evaluating the safety, efficacy and performance of the device in the sheep model, closely translatable to the human spine. Moreover, the study would highlight the load bearing capability of the Sr-HT-Gahnite spinal fusion cage.
In another ASX announcement on 30 October 2019, the company unveiled results of the 2019 annual general meeting. Allegra mentioned that all the resolutions of the meeting were passed on a show of hands and it received 2,900,681 valid proxy votes for each resolution.
Key Highlights- (year ended 30 June 2019)
Total revenue of Allegra was $5,119,646, which includes Orthopaedics and Innovation division.
The company generated revenue of $3,992,859 from ordinary activities.
AMT received net cash worth $568,829.
Stock Performance
The company's stock was trading at $0.190 on 15 November 2019 (AEST 12:57 PM), with approximately 99.56 million outstanding shares and a market cap of nearly $18.92 million. The stock has delivered a return of 140.51% in the last six months.
Althea Group Holdings Limited (ASX: AGH)
One of the key players in the cannabis space, AGH is engaged in the manufacturing and supply of medicinal cannabis. Althea has various licences for the cultivation and import of medicinal cannabis.
3K Patient Milestone
On 15 November 2019, the company announced to have crossed the 3,000-patient milestone for its medicinal cannabis products. In October 2019, 486 new patients were prescribed with the company's products. To date, 3,031 patients have been prescribed with Althea's products. Moreover, 375 Australian Healthcare Professionals (HCPs) have prescribed the products.
Althea remains on track to reach 4k patients by 31 December 2019.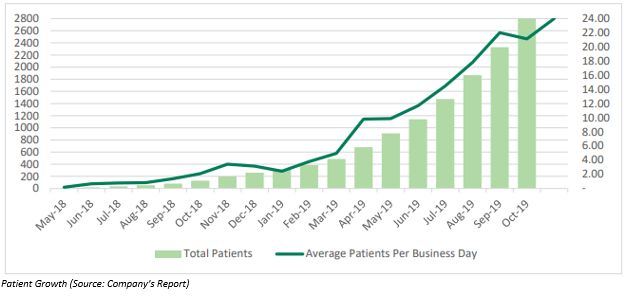 Licence from UK Health Regulator
In an ASX release on 14 November 2019, the company announced to have received a licence from the Care Quality Commission (CQC) for the Bristol site of its wholly owned subsidiary, MMJ Clinic Group Limited t/a MyAccess Clinic.
The site was also registered with the commission, which is the independent regulator of health and social care in England;
With this licence, the MyAccess Clinics prescribers have access for providing domiciliary care;
In the United Kingdom, the site of MyAccess Clinics is the second medical cannabis clinic to receive the CQC licence;
MyAccess Clinics was launched in mid-2019 and is a private medical clinics' chain of Althea in the UK.
Agreement with NHMRC-funded Australian Centre
According to a company announcement, Althea signed an agreement with the Australian Centre for Cannabinoid Clinical and Research Excellence, funded by the National Health and Medical Research Council. With this agreement, Althea would become one of the cannabis product suppliers for clinical trials.
As part of the deal, Althea would supply two cannabis formulations for the Cannabinoid for Symptom Control in Advanced Cancer, An Open Label Prospective Clinical Trial in New South Wales.
Stock Performance
The company's stock was trading at $0.465 on 15 November 2019 (AEST 01:04 PM), down 1.064% from previous closing price with approximately 233.31 million outstanding shares and a market cap of nearly $109.66 million. The stock has delivered a year to date return of 77.36%.
Botanix Pharmaceuticals Limited (ASX: BOT)
ASX listed clinical stage cannabinoid company, Botanix Pharmaceuticals Limited (ASX: BOT), which is based in Philadelphia (US) and Perth (Australia), is engaged in the development of topical treatments for serious skin diseases including acne, psoriasis and atopic dermatitis. For its novel transdermal drug delivery technology Permetrex™, the company has an exclusive license. Botanix has a planned dermatology pipeline for synthetic cannabinoids, which are under clinical trials.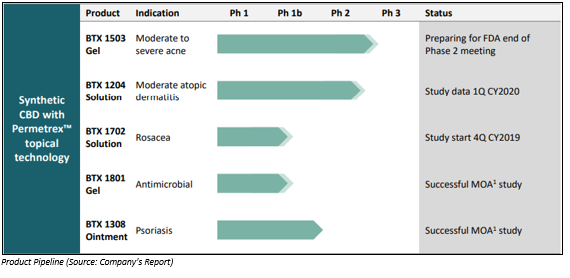 Key Highlights for Last Quarter- (ended 30 September 2019)
Clinical development- The company completed BTX 1503 Phase 2 clinical trials during this quarter, with the results unveiling that the product is safe and has good efficacy in patients with moderate to severe acne.
After completion of the phase II trial, Botanix would proceed with preparation for Phase III clinical studies and is planning an end-of-Phase II meeting with the US FDA.
Phase 2 clinical study for BTX 1204 atopic dermatitis is entering the final stages with recruitment scheduled for completion in the fourth quarter of 2019 and study data in first quarter of 2020.
In September 2019, the company successfully completed formulation development and pre-clinical trials for a new product, BTX 1702, which is for the treatment of papulopustular rosacea.
During the September quarter, the net cash outflows were approximately $6.7 million.
At the end of this quarter, the company's cash and cash equivalents stood at $37.31 million.
Stock Performance
The company's stock was trading at $ 0.110 on 15 November 2019 (AEST 12:58 PM), with approximately 964.5 million outstanding shares and a market cap of nearly $106.1 million. The stock has delivered a return of 50.68% on a year to date basis.
---
Disclaimer
This website is a service of Kalkine Media Pty. Ltd. A.C.N. 629 651 672. The website has been prepared for informational purposes only and is not intended to be used as a complete source of information on any particular company. Kalkine Media does not in any way endorse or recommend individuals, products or services that may be discussed on this site. Our publications are NOT a solicitation or recommendation to buy, sell or hold. We are neither licensed nor qualified to provide investment advice.