Consumer discretionary is the term representative of goods and services which consumers consider as non-essential, but these are desirable if their available income allows them to purchase the same while the decision to buy them is also determined by the state of the economy, which can affect consumer confidence. Consumer discretionary may include entertainment and leisure, durable goods, apparel, and automobiles. The S&P/ASX 200 Consumer Discretionary Index, by the end of the trading session was down by 0.12% to 2,448.9 on 16 August 2019.
Let's look at some of the Australian Consumer discretionary stocks below.
Michael Hill International Limited
Michael Hill International Limited (ASX: MHJ), established in 1979, is engaged in the manufacturing, wholesale and distribution of jewellery through a global network of 306 stores globally, with 305 Michael Hill stores in Australia, New Zealand and Canada, and 1 Emma & Roe store in Australia. The Group's global headquarters, including its wholesale and manufacturing divisions, are located in Brisbane, Australia. With a market capitalisation of around AUD 193.88 million with approximately 387.75 million shares outstanding, the MHJ stock last traded on 16 August 2019 at AUD 0.495, down 1% by AUD 0.005 with ~ 28,976 shares traded.
On the same day, Michael Hill International declared an ordinary fully paid dividend of AUD 0.0150 for the six months ended 30 June 2019 (Record Date: 13 September 2019; Payment Date: 27 September 2019), taking the full year dividend to AUD 0.04 per share (FY18: AUD 0.05 per share). The Group also disclosed its financial results for the full year to 30 June 2019, posting a statutory net profit after tax of $ 16.5 million, up from $ 1.6 million in FY18 and the EBIT also improved to $ 21.1 million from $ 8.9 million in FY18.
The operating revenues were recorded at $ 569.5 million for the period (FY18: $ 575.5 million) while the underlying EBIT stood at $ 34.6 million (FY18: $ 40.1 million). Besides, the Group same store sales reduced by 3.3% to $ 524.7 million (FY18: $ 542.8 million). While the Gross margin fell from 63.7% in FY18 to 62.0%, the Equity ratio improved to 46.8% from 45.9%. The Net debt reduced by 11.4% to $ 24.8 million (FY18: $ 28.0 million).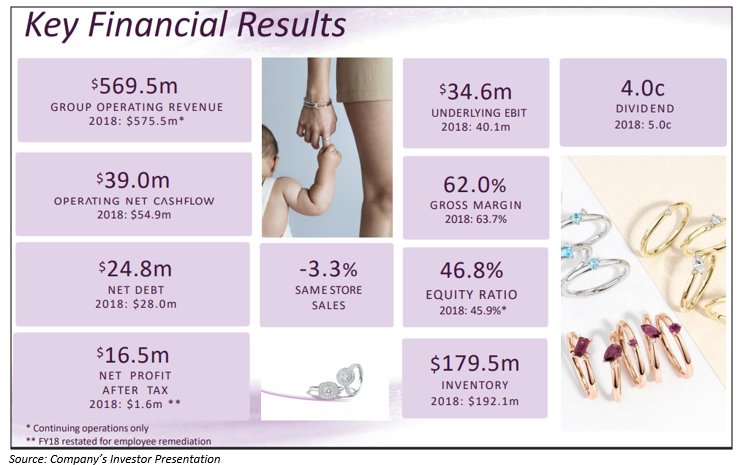 Michael Hill International continued to improve same store sales momentum throughout the year, finishing with FY19Q4 at +0.7% and reduced inventory, while the e-commerce sales improved by a stellar 43.6% to $ 16.0 million (FY18: $ 11.1 million). As the company migrates to a highly integrated IT environment, continued investments are being made in technology. Also, the Group launched 10 new Michael Hill stores while 11 under-performing stores were closed during the period, leaving the total number of stores at 306.
Going forth in FY20, Michael Hill International expects the market conditions to remain challenging, while the Group would primarily focus on strengthening its customer proposition with new branded product and improved disciplines in buying, selling and marketing.
Vita Group Limited
Vita Group Limited (ASX: VTG), based in Australia, retails mobile telephones and operates a network of retail stores that sell cellular telephones, accessories, extended warranties, mobile entertainment content, corded and cordless telephones, and Internet products. The Group has a market cap of ~AUD 195.35 million with ~ 162.11 million outstanding shares. On 16 August 2019, the VTG stock last traded higher at AUD 1.245, up 3.32% by AUD 0.040 with ~ 235,825 shares traded. Besides, VTG has generated a return of 10.55% YTD.
Recently, Mitsubishi UFJ Financial Group, Inc. and Carol Australia Holdings Pty Limited became substantial shareholders in Vita Group Limited upon purchase of 9,220,683 and 8,195,160 Fully Paid ordinary shares, translating into voting powers of 5.69% and 5.06% respectively.
On 19 July 2019, Vita Group announced the appointment of George Southgate as Company Secretary, effective Monday, 22 July 2019, replacing Mr Mark Anning, following a business restructure. Mr Southgate joined the company with a strong legal and medical background, and qualifications including Master of Laws (Health Law), Bachelor of Laws (Hons), Graduate Diploma Legal Practice (Dist) and Bachelor of Nursing; and he is also an Associate Member of the Governance Institute of Australia.
Earlier, the Group released its FY19 guidance and outlined FY20 plan and remuneration changes. Accordingly, Vita Group estimates the EBITDA to be somewhere between $ 45 - $ 46.5 million for FY19, which would translate into a growth rate of 10%-13% as compared to the prior year FY18. The improved guidance is mainly representative of the Group's strong performance in its Sprout accessory businesses and Retail ICT.
In addition, Vita Group also detailed some changes in its remuneration construct with strategic partner, Telstra. As outlined in its T22 Strategy, Telstra would introduce new, simplified mobility plans to the market before 2019-end, which would necessitate revised remuneration arrangements. According to the latest remuneration changes, Vita is anticipating increased remuneration related to the sale of devices, including tablets, smartphones, wearables, as well as non-transactional performance metrics. Conversely, Vita also anticipates lower remuneration from the sales of connections across the Telstra network. Moreover, as announced in August 2017, Vita had also agreed to let go of few legacy remuneration components, totalling ~$12 to $13 million pa, effective 1 July 2019. These reductions were decided in exchange of an extension of Vita's master license period , the execution of an annual performance-based extension mechanism, as well as increase in the number of Vita owned stores to 115 within the Telstra retail network.
The net impact of the changes mentioned above would be based on whether the Group is able to achieve success in its sales across Telstra's network, as consumers and small businesses transition to the new plans in place.
A snapshot of the Group's half year 2019 results is given below.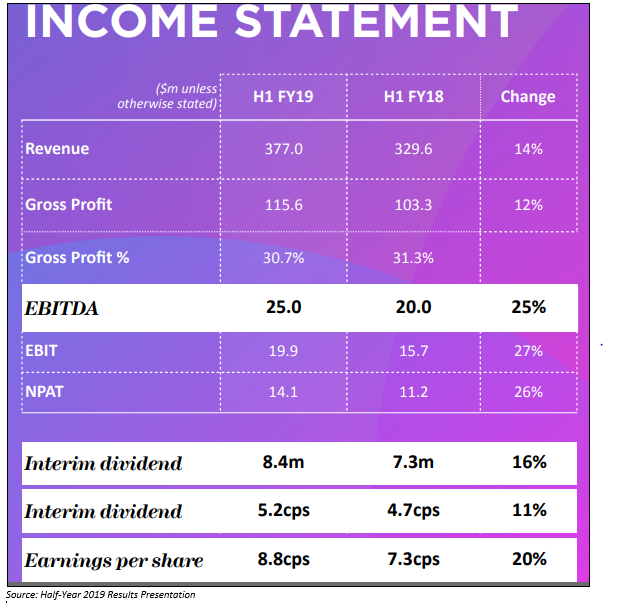 Turners Automotive Group Limited
Turners Automotive Group Limited (ASX: TRA) is an integrated financial services provider, primarily operating in the automotive sector in Australia. With a market capitalisation of around AUD 185.7 million and approximately 85.97 million shares outstanding, the TRA stock last traded on 18 July 2019 at AUD 2.160.
Recently on 30 July 2019, the Group released its Turners FY20 Investor Roadshow presentation touching upon its market update, highlights and divisional review, strategy update and focus areas and outlook. Turners Automotive Group stated that after a period of growth, used car change of ownership numbers have plateaued in the market. While, the underlying demand is still strong with more cars exiting fleet due to cost of repairs increasing and a stricter WoF regime from NZTA. According to the Group, the industry is witnessing a period of consolidation Registered dealers down 5% cf. 2018, while Less than 10% of Turners volume comes from used imports.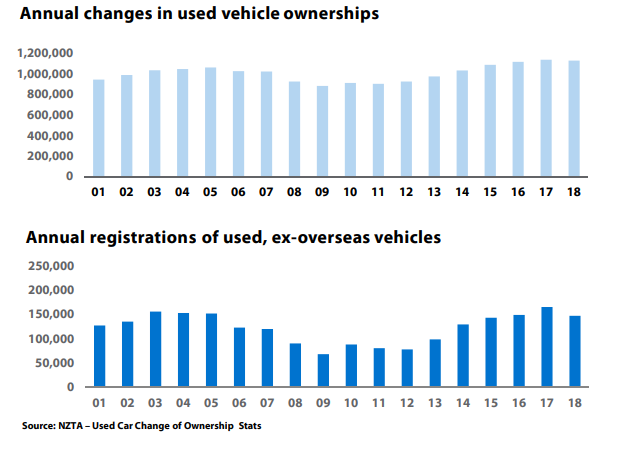 Source: FY20 Investor Roadshow presentation
A snapshot of the Group's FY19 results is as follows.
Source: FY20 Investor Roadshow presentation
For the financial year ended 31 March 2019, the Group reported a Net Profit Before Tax (NPBT) of $ 29 million (FY18: $ 31.1 million) while the adjusted NPBT was around $ 33.6 million (FY18: $ 31.3 million), above the Q4 guidance $ 32 million and up 8% on the prior year.
The revenue for the year was posted at $336.6 million, up 2% from $ 330.5 million in FY18. Turners Automotive Group continued to maintain investments into expanding the branches and the North Shore branch is scheduled to be opened in Q2 FY20 while seven new branches are also under planning with contracts for two of them signed already.
The Group aims to focus on and capitalise on its strengths, core competencies, de-risk and simplify the business, as well as accelerate growth in a capital efficient manner. Also, earlier in the calendar year 2019, the Directors of the Group enhanced the dividend policy, following a strategic review, and decided to increase the payout ratio to 60-70% of the NPAT from 50-60%.
Source: FY20 Investor Roadshow presentation
---
Disclaimer
This website is a service of Kalkine Media Pty. Ltd. A.C.N. 629 651 672. The website has been prepared for informational purposes only and is not intended to be used as a complete source of information on any particular company. Kalkine Media does not in any way endorse or recommend individuals, products or services that may be discussed on this site. Our publications are NOT a solicitation or recommendation to buy, sell or hold. We are neither licensed nor qualified to provide investment advice.