This article consists of the five stocks from the different sectors. We will cover the recent development in these companies.
The return of the five stocks under discussion, in the last six months period are as follows:
Six months performance of ABV, CXL, LEP, DRX, PET
Let us now look at the updates of the five stocks to understand them better.
Advanced Braking Technology Ltd
Recent Update/s:
On 7 August 2019, Advanced Braking Technology Limited (ASX: ABV), a company into the development and commercialisation of wet brake technology announced that it had received an order from Minecorp-Chile on behalf of SALFA Chile, a General Motors vehicle dealership, for its brakes.
With this order, the company is able to achieve a strategic objective of diversifying its customer base. These brakes would be fixed on the Isuzu NPS 4X4 trucks. This order for brakes represents a new international market for the company for its products, i.e. Chile and Latin America.
The value of the 1st order is around $150k and it comprises of Failsafe kits which will be kept in buffer. Also, the first order would be provided with a constant supply of spares as well as consumables. The company expects to have more demands for Failsafe like the Isuzu NPS 4x4 Canter from Minecorp-Chile. It would be marketed within Chile as a new truck application.
Stock Performance:
By the end of the day's trading session on 9 August 2019, the ABV'S shares closed flat at a price of A$0.021. ABV has a market capitalisation of A$6.26 million and has approximately 297.91 million outstanding shares.
Calix Limited
Calix Limited (ASX: CXL) an Australian technology company that is into the business of developing new processes, as well as materials to solve global challenges announced on 7 August 2019, that it has entered into a ten-year distribution agreement with Afepasa. Afepasa manages, alters, packs and commercialises sulphur in its diverse varieties, being utilised in 80 percent of agricultural applications as a fungicide and the remaining as a raw material for various industrial manufacturing purpose. Under the distribution agreement, the marketing and selling of bioactive resources of the company would be done as an active component under Afepasa branding. The distribution agreement covers region such as Europe, Africa, and the Middle East.
The company has delivered upon its commercialisation plans for bioactive magnesium hydroxide (BOOSTER-Mag) of pursuing sales as well as marketing licensing model, and at the same time continue with the manufacturing of active materials internally. The Company, at present, is working with some of the largest crop protection companies in the world in other areas where it can enter into similar licensing agreements.
Also, the aquaculture water treatment product, AQUA-Cal+ of the company continues to progress in China and is under expansion.

Stock Performance:
By the end of the day's trading on 9 August 2019, the price of CXL's share was A$0.84, up by 0.599% as compared to its previous closing price. CXL has a market capitalisation of A$102.6 million and has approximately 122.87 million outstanding shares.
Ale Property Group
ALE Property Group (ASX: LEP) possesses the biggest portfolio of freehold pub assets which was established in the year 2003. It holds a portfolio of ~86 pub properties throughout the 5 mainland states of Australian region.
FY2019 Results:
On 7 August 2019, ALE Property Group, which is the owner of the largest portfolio of freehold pub properties in Australia had released its full-year results for the period ended 30 June 2019. The company reported a total distributable profit for the period worth $28.3 million. The statutory net profit after tax for the period was $26.6 million. The full-year distribution went up by 0.5 percent to 20.90 cents/share.
There was an increase in the current passing gross rent by 4.28% to $61.04 million after the finalisation of the rent review of 2018 for 36 amongst the list of 79 properties engaged.
The capital position of the company continued to remain strong with gearing, which stood at 41.5% (historical low). The Directors' estimates of around eighty-six properties went up by 2.4 percent to $1,163.2 million.
Debt maturities are spread out over excess of 4 years. The rent review results are expected to be positive.
Stock Performance:
By the end of the day's trading session on 9 August 2019, the company's shares were at a price of A$5.160, which was down by 0.578% as compared to its previous closing price. LEP has a market capitalisation of A$1.02 billion with approximately 195.77 million outstanding shares, PE ratio of 19.95x and an annual dividend yield of 4.03%.
Diatreme Resources Limited
Diatreme Resources (ASX: DRX), an emerging Australian producer of mineral/silica sand, on 7 August 2019 made an announcement related to the support received from the key stakeholders or a new silica sand mine in far North Queensland after the recent shareholder meeting held in Cairns. The latest meeting follows the company signing a Memorandum of Understanding with Anhui Fengsha Mining Group to supply ~500,000 tonnes of photovoltaic grade silica sand for the solar photovoltaic market.
Apart from this, photovoltaic grade silica has the potential of carbon-neutral mining activity based on independent verification for its supply in Asia. Further, it will reduce the dependency of China on coal-fired power.
Also, recently in July 2019, the company signed an MOU with Anhui Fengsha Mining Group for the supply of 500k tonnes of photovoltaic grade silica for rapidly increasing solar PV market.
Stock Performance:
By the end of the day's trading on 9 August 2019, the DRX shares closed at a price of A$0.011, down by 8.333 percent from its prior close. DRX has a market capitalisation of A$17.57 million and has approximately 1.46 billion outstanding shares.
Phoslock Environmental Technologies Limited
Water treatment & water services company, Phoslock Environmental Technologies Limited (ASX: PET) on 7 August 2019, released an institutional roadshow presentation highlighting the global problem of impurities entering canals, rivers, and lakes and discussed the solution provided by its product, Phoslock®. Phoslock® is an environmentally friendly product that was invented by CSIRO, which is an Australian Government organisation, during the 1990s. Phoslock® is a modified Bentonite Lanthanum product that locks up Phosphorus in a safe and permanent manner.
The company highlighted that since 2005, it has more than 300 commercial applications of this product in lakes, rivers & canals in more than 20 countries. It also has 80+ peer-reviewed publications which are certified and accredited in most major countries (US and China). The complete solution of the company is provided to customers, most of whom are from Government Authorities.
Types of projects in which the company has worked includes:
One-off application.
Application of the product in stages over number of years.
Applications on Catchment area such as inflow rivers, canals.
Maintenance contracts.
Repeat applications.
The team of around 60 employees of PET works in China. China is huge market with major source of funding from the government.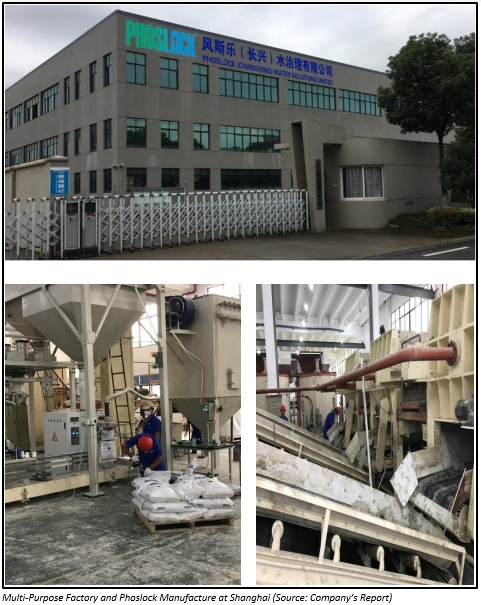 Financial Highlights:
The company reported a revenue of 18.7 million and net profit before tax worth $3.5 million in FY2018. In 1H FY2019, the net cash generated through operations was $10.7 million. The company now expects revenue for the full year 2019 to be in the range of $27 million and $30 million. The balance sheet was strong in 1H FY2019 with net cash balance of A$18 million with receivables/work in progress/inventory worth $14 million and a net assets worth A$27 million.
Stock Performance:
By the end of the day's trading on 9 August 2019, the PET's shares closed at a price of A$1.44, which was down by 0.69 percent as compared to its previous closing price. PET has a market capitalisation of A$800.39 million and has approximately 551.99 million outstanding shares.
---
Disclaimer
This website is a service of Kalkine Media Pty. Ltd. A.C.N. 629 651 672. The website has been prepared for informational purposes only and is not intended to be used as a complete source of information on any particular company. Kalkine Media does not in any way endorse or recommend individuals, products or services that may be discussed on this site. Our publications are NOT a solicitation or recommendation to buy, sell or hold. We are neither licensed nor qualified to provide investment advice
With the pandemic continuing to affect the globe, healthcare companies are evaluating their lead compounds for COVID-19 treatment. Future revenue for these stocks depends on the probability of launching an approved treatment in the market.
CLICK HERE FOR YOUR FREE REPORT!