In the recent past, mining companies have delivered exponential returns to the investors. Due to the future requirements of lithium and cobalt and other minerals for electronic vehicles, the exploration companies have stepped up drastically in the hope of delivering stellar earnings in the future. Several projects are announced, and there has been constant upgradation going on amongst the companies. Let's have a look of the three companies which have given solid returns in the recent past. 
Silver City Minerals Limited
Silver City Minerals Limited (ASX: SCI) is associated with exploration and mining activities of base and precious metals. The facilities are located on the Broken Hill District of western New South Wales, Australia. The company extracts minerals like silver, lead and zinc etc.
On 12 August 2019, ASQ made an enquiry regarding the increase in price and volume of SCI on the same date. In reply the management briefed that they are not aware of price volatility and as per the release, SCI has shared all the updates and information to the investors.
Quarterly updates for the 3 months ending 30 June 2019.
SCI reported net cash used in operating activities at $ 0.184 million, including $ 0.043 million used in exploration and evaluation, $ 0.093 million in staff costs and $ 0.046 expenditure for administration & corporate costs. The company reported a cash balance of $ 0.445 million at the end of May-June 19 quarter. The Company has identified several new targets at Broken Hill, located 15 kilometres to the south, based on coincident lead geochemistry, IP chargeability and gravity. The Company has successfully encountered significant copper-gold mineralisation. The location is in a major crustal structure the Copper Blow shear zone.  SCI reported several distinctive magnetic and gravity anomalies both north and south of the Copper Blow shear zone in the eastern part of the tenements.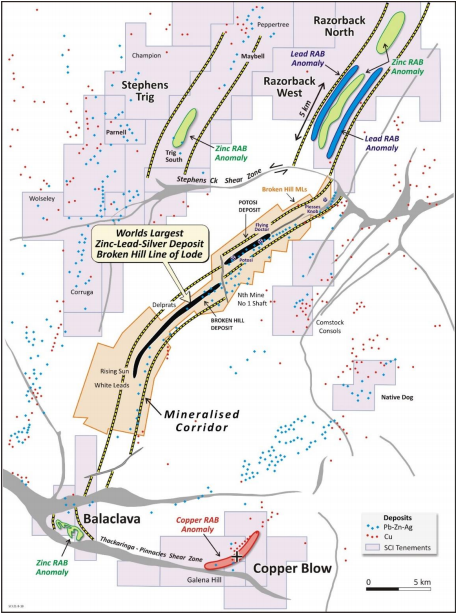 (Source: Company fillings)
H1FY19 Financial highlights: The company reported H1FY19 revenue at $ 224,072 vs $ 308,297 in H1FY18.  In H1FY19 SCI reported a loss of $ 1,237,737 compared to a loss of $19,016 in prior corresponding period. Cash balance of the company stood at $875,318 million as on 31 December 2018. Total current assets stood at $ 903,846 million including receivables of $ 28,528.  Deferred exploration and evaluation expenditure stood at $5,719,763 and net assets at $ 6,686,268.
Outlook: The management has provided guidance for the June-August'19 quarter where it estimated total cash outflow of $0.120 million. The management believes Copper Blow shear zone has the potential to host large copper-gold deposits in future.
Stock Update: On 30 August 2019, stock of SCI closed at $0.013, down 7.143% from its previous close. The 52-week trading range of the stock stands between $0.007- $0.028. The stock of SCI has generated healthy returns of 55.56 % and 40% in the last three and six months, respectively. The market capitalisation of the stock is $4.11 million, and SCI has shares outstanding of 293.71 million.
Australian Mines Limited
Australian Mines Limited (ASX : AUZ) is engaged in exploration and mining of mineral resources like Cobalt, Nickel, Scandium etc.
Updates from Flemington Project:
Recently, the company has provided updates from the Fleming project where it cited that expansion drilling returned additional high-grade cobalt and scandium intersections. The intersections include
15 metres @ 2,054ppm (0.20%) cobalt from 3 metres depth
14 metres @ 1,202ppm (0.12%) cobalt from 11 metres depth
13 metres @ 1,186ppm (0.11%) cobalt from 4 metres depth
AUZ reported that individual metres grading as high at 16,300ppm (1.63%) cobalt followed by continuation of high-grade zone which is contiguous with, and extends 1,200 metres west from, existing Flemington Mineral Resource. The management cited that this project will become a future source of cobalt and the mineral will be sued for the fast-growing electric vehicle market. Cobalt is required in making batteries used for electric vehicles.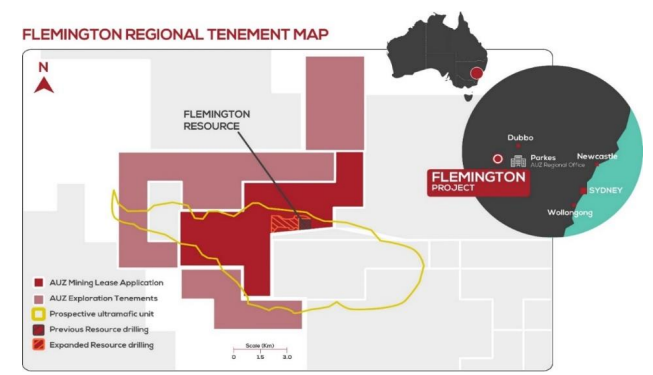 (Source: Company fillings)
Long-term collaboration with SK Innovation:
On 5 August 2019, Australian Mines and SK Innovation have entered into a long-form off-take agreement that extends the agreed terms of the binding term sheet announced by the Company in February 2018. In January 2019 Australian Mines informed that SK Innovation made a deal to supply battery-grade cobalt sulphate and nickel sulphate to the later which is being produced from Australian Mines. However, the above deal will be valid on subject of satisfaction of certain conditions precedent. The deal indicated that Australian Mines wholly owned subsidiary Cobalt-Nickel-Scandium Project in North Queensland. The company will provide the mineral for the initial seven years and can be extended to six years further. The price of the cobalt will be decided as per the London Metal Exchange nickel and cobalt prices.
With a press release, the company has updated about the quarterly cashflow for the month ended 30 June 2019.
Sconi Cobalt-Nickel-Scandium Project:
AUZ's Queensland-based Mineral Resources, which includes Bell Creek, Sconi, and Minnamoolka, surpassed 115 MT.  The company came up with a new Mineral Resource Estimate for the Bell Creek satellite deposit of 738,359 tonnes, comprising of contained nickel and contained cobalt of 71,575 tonnes.
The company, incoming years will work towards finalising long agreement with SK Innovation. The agreement states SK Innovation will buy cobalt sulphate and nickel sulphate which will be explore and processed from the Sconi Project.
During the reporting quarter, AUZ processed extra bulk ore from its Sconi Cobalt-Nickel-Scandium Project with the Company's demonstration-scale manufacturing plant located in Perth, Western Australia.
During the quarter, Australian Mines explored and processed twelve kilograms of MSP, which assayed up to 58% nickel and 4% cobalt. The above figures are in line with the nickel and cobalt content of the MSP currently being supplied to the global market. Likewise, the impurity level of Australian Mines' MSP is comparable to that being produced by leading Japanese metal refining companies to produce electric vehicle batteries.
Outlook: Update of further Mineral Resource is scheduled on early 2020. The company got results which confirms large-scale follow-up drilling program and planned to commence from October 2019.
Stock update: On 30 August 2019, AUZ closed at $0.022, with no change from its previous closing. The market capitalisation of the stock stood at $75.78 million along with 3.44 billion of outstanding shares. The stock of CDA has generated negative returns of 35.29% and 37.14% in the last three-months and six- months, respectively.  The 52-week trading range of the stock stood at $0.017 to $0.087 and currently the stock is quoting at the lower band of its 52-week trading range.
Andromeda Metals Limited
Andromeda Metals Limited (ASX: ADN) is engaged in the exploration and processing of minerals like halloysite?kaolin.
On 20 August 2019 with a market update, Andromeda Metals Limited informed that it has exercised its options of 181,250 number of ordinary shares of at a price of 1.2 cent per share.
Direct Shipping Ore Offtakes Secured for Halloysite-Kaolin Product:
The company Letters of Intent from customers for Direct Shipping Ore (DSO) for halloysite?kaolin with a quantity of 405,000 tonnes per annum. Longyan Kaolin China, one of the leading chemical company has signed a LOI for 200,000 tonnes per annum.
Beihai Kaolin of china with one of the largest production facility of kaolin has signed an LOI with AND for a total quantity of 200,000 tonnes per annum of DSO. The average price of the mineral is quoted at AU$115 – AU$140/t CIF.
The company indicated that Scoping Study will be completed by the end of September, 2019.  All volume and market price information will be utilised for the said purpose.
Exploration activities are planned forMount Hope, where a historic non?JORC 12.2Mt halloysite?kaolin resource has been reported. Similarly at  Camel lake, high purity halloysite surface samples have been recovered.
The offtake agreements for all  three  product  forms  were  signed  on  the  expectation that  the  eventual  commercially produced material would match the specifications of the samples provided.
Quarterly cash flow update:
The company has come up with an update where it has provided quarterly cash flow figures. During the quarter the company reported cash used from operations at $0.667 million. Cash used for investment stood at $0.050 million and cash used for financing stood at $0.010 million. Cash balance at the end of 30 June 2019 stood at $1.669 million.
The company has provided guidance of next quarter for the 3- month period ended 30 September 2019 wherein it has given an estimate of $0.350 million used for exploration purpose. Staff costs would be around $0.080 million followed by $0.180 million of administration and corporate costs.
Stock Update: On 30 August 2019, AND's stock last traded at $0.055, up 3.774 % from its previous day's closing price. AND's market capitalisation stood at $71.85 million, with approximately 1.36 billion outstanding shares. The 52-week trading range of the stock was noted at a low of $0.005 to high of $0.070 and currently trading at the higher band of its 52-week trading range. The stock has delivered a stellar return of 341.67 % and 960 % in the last three and six months, respectively.
---
Disclaimer
This website is a service of Kalkine Media Pty. Ltd. A.C.N. 629 651 672. The website has been prepared for informational purposes only and is not intended to be used as a complete source of information on any particular company. Kalkine Media does not in any way endorse or recommend individuals, products or services that may be discussed on this site. Our publications are NOT a solicitation or recommendation to buy, sell or hold. We are neither licensed nor qualified to provide investment advice.
There is no investor left unperturbed with the ongoing trade conflicts between US-China and the devastating bushfire in Australia.
Are you wondering if the year 2020 might not have taken the right start? Dividend stocks could be the answer to that question.
As interest rates in Australia are already at record low levels, find out which dividend stocks are viewed as the most attractive investment opportunity in the current scenario in our report.
CLICK HERE FOR YOUR FREE REPORT!