It all started ~15 years ago when the mobile phones began to flourish in popularity, display of standards and a medium to impress in school. Yes! In school it was banned back then and even now, in the majority of campus in Australia. Unlike in the past, almost every school-going child owns a phone now, and it's been a topic of debate whether it should be allowed in schools or not.
The present controversy of owning a phone changes to strict No in the past, making it immensely difficult to own one, at that particular point of time. But wait! I happened to be the lucky one. Somehow, I convinced my parents to gift me my first phone, i.e. none other than Nokia N-Gage. Yes, you are right, the first gaming mobile phone with the coolest feature and design to say the least.

The enthusiasm for gaming phones started to fade away, replacing it soon with a desire for owning a phone with the camera. Later, I began to search for the prospective buyer of the phone, in the quest of selling my previously owned mobile phone. It is worth mentioning that it is one of the toughest jobs to find the potential buyer who can pay well in contributing towards your budget for buying the next mobile phone.
So, finally when I found one buyer, I incurred a loss of 40%, and N-Gage was finally sold for Nokia 6600 – the durable yet unique design of its own was one of the most popular cell phones to date. Designed on Symbian 7 platform, featuring VGA camera and video player along with the capability of gaming and video call capability, this particular mobile phone was able to sell around 150 million units across the globe.
"Desire creates the power – Dr. Raymond Holliwell"
As said in the quote mentioned above, the desire of having a trending phone struck me with an empty pocket. And hence, the willpower generated by desire gave rise to an idea of exchanging and making use of used phones.
As the stock market runs on sentiments, the selling of new phones depends on individuals' opinions maintaining market flows for the used phone user. During the process, the most crucial skill of an individual exists in the negotiation, and with that, you can even end up earning profits, a little secret not shared with anyone, well everyone knows now ?.
Till the time I had graduated from the college, I have used only Nokia phones ranging from Nokia 3220, Nokia 3230, Nokia 6670, Nokia 6680 to Nokia E32, to mention a few. And my first experience of holding touch screen phone began with Nokia 5800 and Nokia N8.
As the saying exists, if you don't adapt fast with a change in technology, you will be out of business, and the same applied to Nokia with the advent of more multi-tasking Android phone and user-friendly iPhones. Once upon a time, Nokia ruled the mobile phone market, but nowadays it is trying hard to retain its stance. Similarly, with time, people who have been associating a mobile phone as a status symbol have now started to think of it as a necessary gadget. Also, the utility it provides vary from person to person.

Moreover, my first interaction with Android started with HTC One and then to Google Pixel. I tried coming back to Nokia with its Windows feature addition – with Lumia version, but failed to live with it for some time due to its shortage of application and the same happened with the Blackberry Passport.
Having said that, presently iPhone 7 phone is providing me with fast multi-tasking and better security after Blackberry. After sticking with iPhone for quite a long time, I am planning to buy new phones, but oscillating between the below trending phones of the time.
Though iPhone 11 pro is more expensive than the iPhone 11, it has a third telephoto camera for improved zooming and bigger size. The iPhone 11 pro comes with 18W charger while iPhone 11 with 5W charger. Both of them have the most reliable dual ion-exchange process glass screen and better water resistance than its predecessor. It was also floated in the market with Dual SIM with eSIM, wireless charging and the next-generation A13 chipset for speedier performance along with 4GM RAM.
The price of iPhone 11 Pro and iPhone 11 starts with A$1749 and A$1199, respectively.
Samsung Galaxy Note10/10+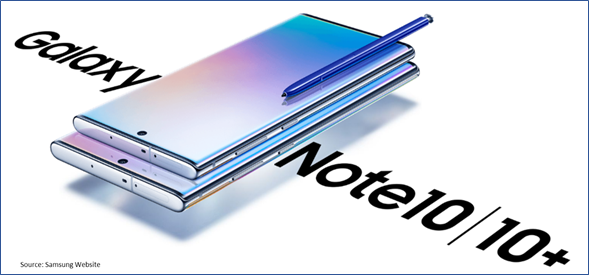 Samsung Galaxy Note10+ is a gaming phone, a movie-tech camera along with its iconic stylus adding to the flare of one's writing. The display is dynamic AMOLED believed to be brilliant in all condition by the manufacturer with immense storage capacity from internal 512 GB to 1TB external micro-sd. The difference between 10 and 10+ is of the size of 6.8" and 6.3" respectively. The RAM is ~8GB for Galaxy Note 10 and ~12GB for Galaxy Note 10+.
The price of Galaxy Note10 and Galaxy Note10+ for 256GB space is A$1499 and A$1699 respectively.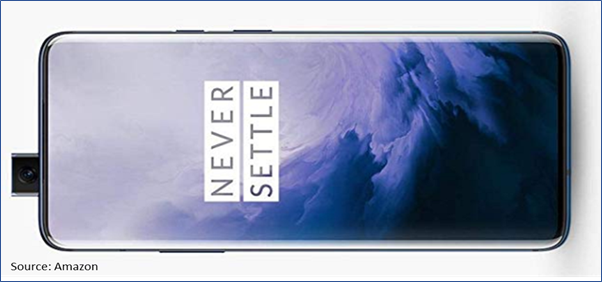 OnePlus 7T Pro features with popup camera and 6.67 inches Fluid AMOLED screen. Qualcomm Snapdragon 855 plus powers the phone with 4,085mAh battery and 8GB of RAM. The front camera is of 16MP, and rear three cameras are in a combination of 48MP, 8MP and 16MP, giving optical zoom for ultrawide angle lens. The phone is fast charging but does not have wireless charging features.
The price of the phone on Amazon is A$1174.
Huawei P30 Pro has a leading battery life with magnificent camera redefining the Chinese manufacturer's phone. It has 7NM processor with 256GB of capacity and 8GB of RAM. The battery is with power-saving technology and has a capacity of 4200mAh. Features such as wireless charging and battery sharing pack the phone with all technology accessories.
The price of the phone on Amazon is A$1,064.80.
Google, with its Pixel ventures in mobile phone devices, has made it one of the major mobile manufacturers in Australia. It has 64-128GB of internal storage space with 6GB of RAM which runs on Qualcomm Snapdragon 855 Chipset. The camera is not seemed to be as good as peers as it has 8MP of front camera and rear make up with 12.2MP and 16MP camera. The phone is powered by 3700 mAh capacity.
The cost of the phone via Telstra starts with minimum A$1278.96.
Interesting Read: Backpacking to Australia: 6 Must-Have Apps
---
Disclaimer
This website is a service of Kalkine Media Pty. Ltd. A.C.N. 629 651 672. The website has been prepared for informational purposes only and is not intended to be used as a complete source of information on any particular company. Kalkine Media does not in any way endorse or recommend individuals, products or services that may be discussed on this site. Our publications are NOT a solicitation or recommendation to buy, sell or hold. We are neither licensed nor qualified to provide investment advice.