Amid Covid-19 situation, an uptick has been observed in the investors' confidence for the safe heaven metals like gold. The local gold miners in Australia are currently benefiting from the recent boom in the gold prices. The stock prices of the various gold companies have witnessed significant uplift in the past few months, as a result of which many of them are trading near to their 52 weeks high price. We have screened few ASX-listed gold stocks which are currently trading at higher levels on ASX.
Bellevue Gold Limited (ASX: BGL)
Australian gold exploration company, Bellevue Gold Limited has witnessed an uplift of 26.60% in its share prices over last six months. The stock BGL is currently inclined towards its 52 weeks high price. The March 2020 quarter was considered successful by the company as it reported a 23% increase in its total Inferred Resource at the Bellevue Gold Project to 6.1Mt at 11.3 g/t for 2.2Moz. Over the quarter, the company raised $26.5 million in share placement which further strengthened the company's cash position. As at 31 March 2020, the company had a cash balance of $37.8 million.
During the quarter, the company also made progress with dewatering of the historic Bellevue underground and undertook desktop studies which highlighted the potential for multiple starter open pits which could generate early cashflow based on shallow, high-grade mineralization.
Perseus Mining Limited (ASX: PRU)
The stock of Perseus Mining Limited, West African gold producer has witnessed an increase of 28.16% in the last six months and is trading close to 52 weeks high price.
Despite the Covid-19 situation, the company's supply chains for each of operating sites are currently open, although movement of both local and foreign employees is currently impacted by government-imposed travel restrictions. If calculated at a spot gold price of US$1,609 per ounce and an A$:US$ exchange rate of 0.6102, the total value of cash and bullion on hand at the end of the quarter was A$265.5 million, including cash of $204.4 million and 23,166 ounces of bullion on hand, valued at $61.1 million.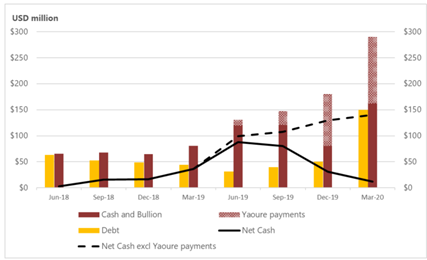 Quarterly balance of cash and bullion, interest-bearing liabilities and net cash and bullion (Source: Company Reports)
At market close on 15 May 2020, the stock of PRU was trading at a price of $1.115, up by 4.695%, with a market cap of $1.24 billion.
Red 5 Limited (ASX: RED)
Red 5 Limited sits within an increasingly unique space on the ASX – a gold producer with an annual production of approximately 100kozpa and a clear pathway to deliver a substantially increased production profile from two production centres based in Western Australia.
In March 2020, the company undertook a $125 million share placement which significantly de-risked the equity funding component for the KOTH project development. The proceeds from the placement will be used for the development of an integrated bulk open pit and underground mine and stand-alone 4Mtpa process plant at KOTH, ongoing exploration and working capital.
During the March 2020, quarter, the company report gold production of 20,077 ounces and gold sales of gold sales of 19,360 ounces. In June quarter, the company expects to produce 26,000 ounces to 30,000 ounces at an all-in sustaining cost of A$1,400 – A$1,525 per ounce. Following the March 2020 Quarter production result, FY2020 guidance is between 98,000 to 102,000 ounces at an AISC of A$1,570 – A$1,620 per ounce.
At market close on 15 May 2020, RED stock was trading at a market price of 0.260, up by 15.556% intraday.
Saracen Mineral Holdings Limited (ASX: SAR)
In the last one month, the stock of Saracen Mineral Holdings Limited has increased by 16.09% on ASX and is trading very close to its 52 weeks high price. For the March 2020 quarter, the company reported record quarterly gold production of 158,132oz at AISC of A$1,133/oz, taking the total year to date production to 374,584oz at AISC of A$1,081/oz. Over the quarter company sold 165.7K ounces of gold at a record average price of $2,228 per ounce, which generated a revenue of around $369 million. At the end of march quarter, the company's cash and equivalents stood at $340.3 million.
The Production guidance for FY21 remains unchanged at 600,000oz. At market close on 15 May 2020, SAR's stock was trading at a price of $5.050, up by 6.992% on ASX.
Ramelius Resources Limited (ASX: RMS)
Western Australian gold producer, Ramelius Resources Limited (ASX: RMS) has witnessed an increase of 41.74% in its share price in the last six months. The stock is currently trading very near to its 52 weeks high price of $1.545. The company is currently well placed to accommodate both future mine development decisions and acquisition opportunities.
The company's operational and financial performance in the recent past has underpinned its core strategies of securing both the immediate short-term future of Ramelius and building its capacity in the medium to longer term. In the first half of FY20, the company experienced strong financial and operational performance. In H1FY20, the company produced 92,084 ounces of gold from its Mt Magnet, Vivien, and Edna May gold mines at an All-In Sustaining Cost (AISC) of $1,240 per ounce.
Going forward, the company is focused on the continued developments at the Marda and Tampia projects at Edna May and new mines, Eridanus and Shannon, at Mt Magnet. RMS's decent financial performance, healthy balance sheet, recent acquisition, etc., agur well for the growth in future. In order to deal with the dynamic gold price environment, the company tries to balance the levels for suitable downside insurance, through hedging, whilst maintaining exposure to any future upside in the gold price. At market close on 15 May 2020, RMS stock was trading at a price of $1.545, up by 8.803% intraday with a market cap of around 1.12 billion.