The FTSE 100 index was trading higher at 6,255.25 on Wednesday (17th June 2020, before the market close at 2.50 PM GMT+1). Also, FTSE 250 index gained around 0.35 per cent. The market sentiments are expected to be dominated by the following factors:
British inflation rate plunged to 0.5 per cent in May from 0.8 per cent in April, according to the data from the Office for National Statistics. Subsequently, the Monetary Policy Committee of Bank of England is expected to announce further stimulus of GBP 100 billion.
Moreover, trial results of dexamethasone showed that death rates were slashed by one-third among the severely ill COVID-19
However, the resurgence of COVID-19 cases in the United States and Beijing is fading the hopes of a swift economic recovery.
Given the prevailing market conditions, we are going to review two telecommunication stocks to see how they have been performing amid the economic turbulence. The two telecommunication service providers are BT Group PLC (LON: BT.A) and Telecom Plus (LON: TEP). As on 17th June 2020 (before the market close at 1.13 PM GMT+1), BT Group's stock price surged around 0.30 per cent, while Telecom Plus (TEP) gained over 2.67 per cent. Please note that the Telecom PLC released its final results for FY20 yesterday. We will walk through the financial and operational performance of both the Companies to understand the share price movements today.
BT Group PLC (LON: BT. A) – Transformation Programme and Modernization Shall Bring Lucrative Savings in Future
BT Group PLC is a FTSE 100 listed Company, which provides communications and connectivity services. It provides services related to broadband, fixed-voice, TV and mobile to UK customers along with ancillary services and products, such as insurance and handsets. It also caters to UK communications providers with wholesale access products and services. The Company's retail brands include EE, BT, Openreach and Plusnet. It serves in over 180 countries and consists of four customer-facing units, namely Global, Enterprise, Consumer, and Openreach.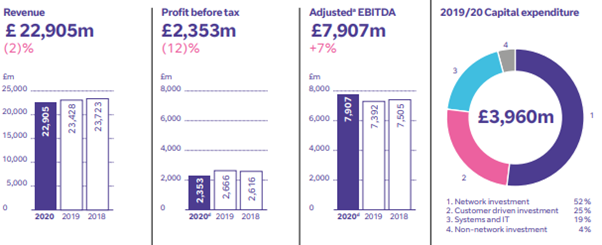 (Source: Annual Report, Company Website)
Synopsis of Recent Regulatory Updates
7th May 2020: Progress on Transformation Programme and Dividend Suspension
The Company updated that phase 1 of its transformation programme is completed, and the next phase is expected to generate annualized gross benefits of GBP 1 billion by March 2023, through modernization. Meanwhile, the Company has suspended the dividend for FY20 for mitigating the financial impact of COVID-19 crisis.
1st May 2020: Board and Committee Changes
Nick Rose decided to retire from its position as a non-executive director, after serving for more than nine years to the Board of BT Group PLC. He will be succeeded by Iain Conn and Sir Ian Cheshire, as Senior Independent Director and Chair of Remuneration Committee, respectively, from 16th July 2020. Also, Matthew Key will succeed as Chair of the Audit & Risk Committee.
Financial Highlights – Reflecting a Decent Performance
On 21st May 2020, the Group published its annual report for the full year to 31 March 2020. Overall, the results for the year were in line with guidance. Reported revenue stood at GBP 22.9 billion, down 2 per cent and adjusted revenue was GBP 22.8 billion, down 3 per cent. Key highlights regarding profitability:
Reported pre-tax profit stood at GBP 2.4 billion (down 12 per cent), which included charges of GBP 95 million because of Coronavirus, primarily reflecting augmented debtor provisions.
Adjusted EBITDA fell 3 per cent (compared to FY19) due to lower revenue and investments.
Reported earnings per share stood at 17.5 pence, down 20 per cent, while adjusted earnings per share fell 11 per cent to 23.5 pence.
Balance Sheet and Other Highlights
Net debt stood at GBP 17.9 billion at 31 March 2020, GBP 6.9 billion higher than at 31 March 2019 (GBP 11.0 billion), primarily reflecting lease liabilities recognised on the transition to IFRS 16 on 1 April 2019.
Further, the Groups' operating net cash inflow surged by 47.0 per cent to GBP 6,271 million in FY20 from GBP 4,256 million in FY19, driven by lower pension contributions and one-off cash flows.
Normalised free cash flow stood at GBP 2,011 million, down 18 per cent, mainly due to surged cash capital expenditure.
The capital expenditure stood at GBP 3,960 million (excluding BDUK funding deferral) in FY20.
(Source: Annual Report, Company Website)
Share Price Performance Analysis

(Source: Refinitiv, Thomson Reuters) -1-Year Chart as of June 17th, 2020, before the market close
BT's shares were quoting at GBX 119.95 on 17th June 2020 (before the market close at 2:54 PM GMT+1). Stock's 52 weeks High is GBX 212.25 and Low is GBX 98.39. Total outstanding M-Cap. (market capitalization) stood at approximately GBP 11.66 billion.
Business Outlook
The Company's transformational plan is set to drive long-term growth since it is simplifying the processes and systems. Given the continually evolving state of COVID-19 uncertainties, the Company could not provide in guidance for FY21. The simplification programme is expected to generate GBP 2 billion of annualised savings over the next five years. Moreover, it has launched new products for consumer and business segments, which should generate revenue in future. Furthermore, the Group has been investing in full-fibre broadband technology and getting prepared for future demand.
Telecom Plus PLC (LON: TEP) – Continued Growth in Partners and Members and Posted Satisfactory Full-Year Results
Telecom Plus PLC is a FTSE 250 listed Company, which is a utility supplier. The wide range of its services includes broadband, home insurance, mobile, gas, electricity, telephony (calls and line rental), and its CashBack card. It has two reporting segments - Customer Acquisition and Customer Management. The Customer Acquisition segment sells wireless internet routers and mobile phone handsets. The Customer Management segment caters to the supply of gas, electricity, fixed telephony, mobile telephony, and home insurance to small businesses and residential customers.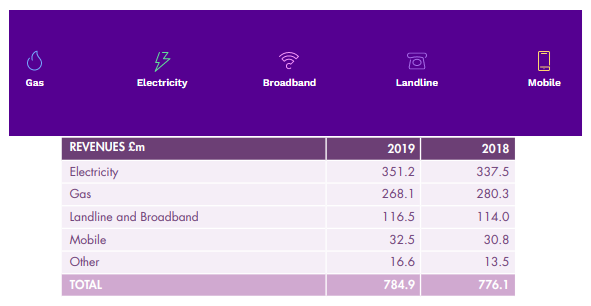 (Source: Annual Report, Company Website)
Recent Significant Developments of 2020
16th June 2020: Satisfactory Performance Invited Dividend Increase
The Company increased the total dividend by 9.6 per cent to 57 pence for FY20, as against 52 pence in FY19.
21st April 2020: Resilience in Business
The Company reported a seamless transition to work from home environment and was operating at substantial liquidity and flexible balance sheet position.
Financial Highlights - Increased Annual Dividend with Decent Fundamental Growth Story
On 16th June 2020, the Group provided the final results for the year ended 31 March 2020, with reported a record annual earnings. Additional Highlights that reflects growth trajectory:
For the financial year 2020, the revenue increased by 8.9 per cent to GBP 875.8 million as compared with the previous year (2019: GBP 804.4 million), driven by the seasonally normal gas consumption, larger customer base, and higher energy prices during the period.
The adjusted profit before tax was up by 8 per cent to GBP 60.8 million (2019: GBP 56.3 million), while statutory pre-tax profit improved by 11.9 per cent to GBP 48.1 million from GBP 43.0 million.
Customer numbers for FY20 advanced by 2.7 per cent to 652,237 (2019: 635,039) and service numbers improved by 6.4 per cent to 2,022,716 (2019: 1,901,319) reflecting a further enhancement in the quality of the customer base.
Balance Sheet Strength
The Company has a robust balance sheet with modest gearing, and access to significant, additional debt facilities (recently refinanced) to cover any temporary pressure on working capital. Some of the other key highlights are:
Telecom ended the FY20 with GBP 43.6 million in net cash and cash equivalents.
In January 2020, the Group agreed new GBP 150 million borrowing facilities with Lloyds Bank Plc, Bank of Ireland Group Plc and Barclays Bank Plc for the period to 17 January 2023, with an option to extend for up to a further two years.
At 31st March 2020, net debt stood at GBP 59.4 million and capital expenditure was GBP 10.3 million.
Share Price Performance Analysis
(Source: Refinitiv, Thomson Reuters) -1-Year Chart as of June 17th, 2020, before the market close
TEP's shares were quoting at GBX 1,468.00 on 17th June 2020 (before the market close at 2:56 PM GMT+1). Stock's 52 weeks High is GBX 1,585.00 and Low is GBX 907.00. Total outstanding M-Cap. (market capitalization) stood at approximately GBP 1.12 billion.
Business Outlook
These above results clearly demonstrate the resilience and strength of the unique business model. The Group said its trading since last update on 21st April 2020 has been encouraging, with churn significantly below the elevated levels seen during the previous quarter. Looking further, the Company holds considerable confidence in the future, considering its healthy balance sheet position.