Streams of financial and regulatory aid are flowing from the Australian government to help businesses making strenuous efforts to sail through the headwinds caused by the coronavirus pandemic. The imposition of social distancing, overseas travel restrictions, prohibition of social gatherings and lockdowns in different regions are unavoidable and need of the hour; however, this has also caused supply chain disruptions, thereby contracting economic activity.
Read: NAB Survey: Business conditions deteriorate in Q1 2020
The Companies have a lot on their plate to handle including maintaining employment, continuing operations and maintaining a strong balance sheet amidst lack of business generation and no cashflows.
In trying times like these, the role of government intervention becomes so imperative that it cannot be emphasised enough. When all else fails in a market slowdown, government intervention can help to avoid a market failure and achieve a more equitable distribution of resources (income and wealth), thus improving the performance of the economy.
While one single intervention is usually not sufficient to produce the desired result, the Australian government, like all other governments around the world, has rolled out both fiscal and monetary measures to fight back the uncertainty and economic slump amidst the Covid-19 situation.
In March 2020, the government approved two fiscal packages totalling $ 189 billion and by the end of month, the value of measures announced in Australia totalled $ 213.6 billion in direct, on-budget spending from the federal government, $ 105 billion in lending from the Reserve Bank of Australia (RBA) and the federal government, and $ 12.8 billion from the state governments.
The federal government's total stimulus package includes a $ 130 billion worth of JobKeeper Payment Programme announced on 30 March 2020, a kind of wage subsidy initiative, to support those citizens working in sectors heavily impacted by the Covid-19 outbreak and to cushion the economy on a whole.
Market reports suggest that the New South Wales (NSW) state government has offered to provide $ 10,000 to small businesses (like cafes, gyms, corner shops, restaurants and small accommodation providers), impacted by Covid-19 related shutdowns under a new grant scheme. This is in addition to a $ 2.3 billion stimulus package announced during mid-March 2020 by the state government, comprising $ 700 million in extra health funding and $ 1.6 billion in exemptions from payroll tax, for investments into infrastructure development and other measures.
Subsequently, in late-March 2020, the NSW government released another funding package worth $ 1 billion to boost employment in the services sector, further exemptions of payroll and other taxes.
Likewise, the Western Australia government announced a relief package of $ 1 billion which includes additional support energy bills of households and small businesses as well as $ 500 million for smooth functioning of the health care system.
These extensive stimulus packages will do a lot to keep the businesses afloat, especially the small ones, and help them cover the fixed costs.
Marking a first of its kind development, Australia's first digital business bank, Judo Bank focused on lending to small- and medium-sized enterprises, has received $ 500 million by the Federal Government via Australian Business Securitisation Fund ($ 250 million) and government's Structured Finance Support Fund ($ 250 million) to lend out to those businesses in the need of cash support.
This demonstrates that the Australia government is also figuring out innovative channels to distribute the funds in the most appropriate and swift manner by taking help of financial technology companies.
While some businesses are expected to shut down inevitably, through concerted efforts like these, the Australian government is trying to prevent the worse to happen.
Let's look at how ASX-listed financial technology companies, Zip Co Limited and FlexiGroup Limited in Australia are moving through the Covid-19 situation and could potentially be next in line to receive checks from the Australian government and eyeing for the same.
Interesting Read: BNPL Players Become Attention Seeker of the Week, Read How!
Zip Co Limited (ASX: Z1P)
As a leading fintech player in Australia, Zip Co offers point-of-sale credit and digital payment services to industries including education, retail, health and travel across the globe. The Company's three key brands include Zip Money, Zip Pay and Pocketbook.
It is interesting to note that Zip's platform is entirely digital and utilises big data to provide real-time consumer responses.
Amid the coronavirus pandemic, Z1P has updated that the business is continuing to perform strongly, registering healthy customer growth and transaction volume. Moreover, the Company has a strong pipeline of enterprise partners in integration or in advanced discussions.
During the first two months of 2020, the Company generated revenue of $30 million, representing an increase of 98% year-on-year.
The Company delivered an outstanding first half of financial year 2020 (H1 FY20), reporting revenue of $ 69.6 million, up 103% on H1FY19. Also, it had a transaction volume of $ 964.7 million for the period, up 95% on H1FY19 and loan book (receivables) surpassed $ 1 billion, up 52% from June 2019.
The Company continues to deliver cash EBTDA breakeven, whilst investing for growth, demonstrating strong unit economics.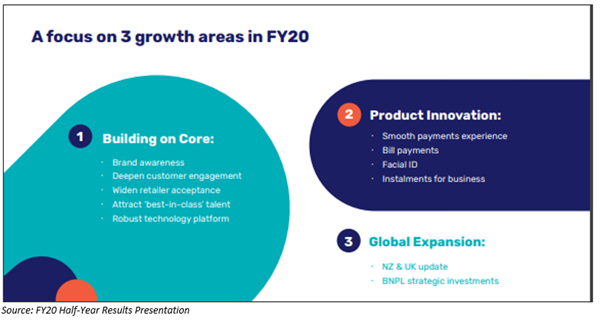 Zip is encouraged by the regulatory and government focus on the Buy Now Pay Later segment, which is growing at a robust pace, and completely supports regulations that are targeted towards delivering minimum standards and appropriate consumer protection levels.
Stock Performance: With a market cap of $ 624.62 million and ~ 390.39 million shares outstanding, the Z1P stock closed the session on 3 April 2020 at $ 1.705, edged up 6.56%. The stock has delivered a return of 15.99% in the last five days.
FlexiGroup Limited (ASX: FXL)
FlexiGroup offers a variety of finance solutions such as Buy Now Pay Later products, credit cards and consumer and business leasing, to consumers and businesses via its network of retail and business partners. The Company currently serves a customer base of nearly 1.8 million across Australia, New Zealand and Ireland.
In the light of current market developments, FlexiGroup provided a business update informing the market that the Company is confident that its warehouse facilities and corporate facilities with banks are sufficient to fund its operations on an ongoing basis in the event that securitisation markets were unavailable to non-bank lenders.
The Company withdrew its transaction volume growth objective of 10%-15% for the financial year 2020 (FY20), given the current economic climate while also informed that FXL would manage new business volumes closely, maintain credit quality and if required, slow volume growth to further address utilisation of existing headroom under its debt facilities.
FXL has delivered sustainable profits and has maintained a double-digit return on equity since FY14 and delivered more than $ 100 million pre-tax profit in FY19 while profits figure for FY20 are expected to be lower due to market conditions.
Stock Performance: With a market capitalisation of around ~ $ 276.07 million, the FXL stock closed the day's trade on 3 April 2020 at $ 0.670, down 4.28%. The stock has delivered a 16.52% return in the last five days.
---
Disclaimer
This website is a service of Kalkine Media Pty. Ltd. A.C.N. 629 651 672. The website has been prepared for informational purposes only and is not intended to be used as a complete source of information on any particular company. Kalkine Media does not in any way endorse or recommend individuals, products or services that may be discussed on this site. Our publications are NOT a solicitation or recommendation to buy, sell or hold. We are neither licensed nor qualified to provide investment advice.