S&P/ASX 200 Materials (Sector) index has increased significantly from 11,607.6 points as at 9 November 2018 to 13, 378.8 points on 11 November 2019, demonstrating an increase of 1,771.2 points in the last one year.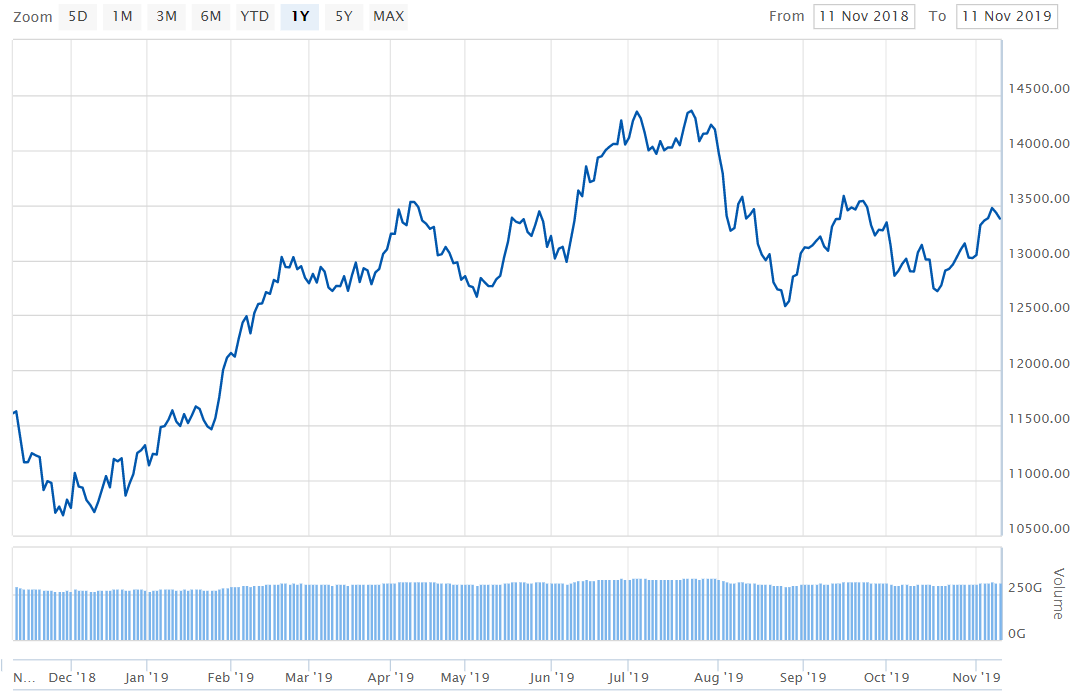 S&P/ASX 200 Materials – One Year Chart (Source: ASX)
Let's take a look at few material sector stock trading on ASX
Incitec Pivot Limited (ASX: IPL)
Manufacturer of fertilizers, industrial explosives and chemicals, Incitec Pivot Limited (ASX: IPL) is a global leader in the resources and agricultural sectors.
Incitec Pivot recently released its FY19 results wherein it reported a NPAT of $152 million compared to $208 million in FY18, mainly impacted by $140m of non-recurring items.
During the year, the company saw an impact from External Events of $131 million which included the impact from the Queensland rail outage of $115 million; and increased operating costs of $16 million driven by elevated gas pricing following a third-party gas supply disruption to the St Helens site. However, the group revenue increased by $62 million or 2% to $3,918 million in FY19, as compared to $3,856 million in FY18.
The Board has declared a final dividend of 3.4 cents per share (30% franked), taking the total dividends for FY19 to 4.7 cents per share, representing a 50 percent payout ratio of NPAT.
As at 30 September 2019, IPL had a net debt of $1.69 billion and Net Debt/EBITDA ratio of 2.8x. IPL's balance sheet remained sound in FY19, reflecting the group's ongoing commitment to financial discipline and effective cash management.
IPL operational highlights:
Step change improvement in Total Recordable Injury Frequency Rate (TRIFR);
Recontracting of Australian explosives volumes;
Manufacturing Excellence strategy being rolled out, with significant earnings benefits opportunity;
Strong growth in technology with accelerating adoption of electronics by mining sector;
Secured Gibson Island gas supply until 2022;
Strategic review of Fertilisers initiated and progressing.
At market close on 12 November 2019, IPL stock was trading at $3.530.
Orica Limited (ASX: ORI)
Global leader in mining and civil blasting, Orica Limited (ASX: ORI) reported strong results in FY19 (year ended 30 September 2019), driven by improved business performance. The company's sales revenue increased by 9% to $5,878 million in FY19, as compared to last year. Further, the company's underlying EBIT increased by 8% $665 million, supported by:
Strong performance across all regions, particularly EMEA;
Significant contribution from technology products, GroundProbeTM and Minova;
Improved manufacturing performance;
Cyanide contribution;
FY19 Results Summary (Source: Company Reports)
The company has declared a final dividend of 33.0 cents per share, franked at 5.0 cents per share, taking the total dividend per share for the year to 55.0 cents per share, representing a payout ratio of 56%.
Notably, in the last six months, ORI stock increased by 23.17% as on 11 November 2019. At market close on 12 November 2019, ORI stock was trading at a price of $23.850, down by 1.609% intraday, with a market cap of around $9.23 billion.
Boral Limited (ASX: BLD)
Australia's leading construction and building supplier Boral Limited (ASX: BLD) operates three main businesses:
Boral North America - a leading supplier of building products and largest fly ash marketer in the USA;
USG Boral- a gypsum-based, interior linings product leader in Asia, Australasia and the Middle East;
Boral Australia- a leading, vertically integrated construction materials player supplying residential, non-residential and infrastructure construction markets.
The company recently provided a trading update for its first quarter of FY2020 (Q1FY20) in which it announced that the quarter earnings from Boral North America were slightly lower than the prior year.
BLD's Q1 FY20 Highlights:
Boral experienced 8 per cent lower concrete volume as compared to last year, and broadly flat asphalt volumes;
In the Fly Ash business, earnings from site services were lower in the first quarter due to the completion of a major Synmat construction project, ahead of starting potential new work at other utility sites;
In USG Boral, first quarter earnings were slightly lower than last year;
The company signed a memorandum of understanding regarding a significant project which will increase its future fly ash volumes.
BLD FY20 Outlook:
In Boral Australia, the company expect several major projects to ramp up in the second half, including Queens Wharf and Westgate Tunnel projects;
In USG Boral, it anticipates a broadly balanced first half and second half of underlying earning;
In Boral North America both volume growth and price increases are expected to contribute to second half earnings growth.
At market close on 12 November 2019, BLD stock was trading at a price of $4.920.
Fletcher Building Limited (ASX: FBU)
Fletcher Building Limited (ASX: FBU) employs more than 16,000 people in New Zealand, Australia and the South Pacific. Through the FY19 year, Fletcher Building returned to profitability with net earnings attributable to shareholders of $164 million compared to a loss of $190 million in FY18.
The significantly improved earnings and strong cash flows allowed the Board to pay a final dividend for the year ended 30 June 2019 of 15 cents per share.
At the beginning of the year, the company identified three stages to the repositioning of Fletcher Building; firstly, to stabilise the business through FY19, then to drive performance through FY20, and from FY21 onwards drive growth.
Outlook
In Australia the company expect the contraction in residential to continue, and the non-residential and East Coast infrastructure market to be broadly flat.
In New Zealand the company expect residential consents to ease slightly off current peaks, non-residential construction to remain at similar levels, and infrastructure spend to ease in major roading with a move to road safety, water, and rail.
At market close on 12 November 2019, FBU stock was trading at a price of $4.760.
Orora Limited (ASX: ORA)
Orora Limited (ASX: ORA) is committed to being the industry-leading packaging and visual solutions company.
In FY19, the company was able to deliver positive performance despite challenging economic and market conditions.
FY19 Highlights
The Australasian business earned EBIT, of $246.6 million In FY19, a 6.2% increase on FY18;
In the Fibre business, the company saw higher earnings, driven by record production volumes at the Botany Recycled Paper Mill in New South Wales, sales growth in targeted market segments, benefits from organic and innovation investments and savings delivered from the ongoing focus on manufacturing and operating efficiencies;
In Beverage business, the company witnessed earnings growth, driven by higher Can volumes, favourable product mix in Glass and Cans and the ongoing focus on operating efficiencies across all Beverage businesses;
The company recently announced the sale of its Australasian Fibre business for $1,720 million to Nippon Paper Industries Co., Limited, subject to customary conditions for a transaction of this nature, including regulatory approvals.
In the first quarter of FY2020, the company witnessed subdued trading conditions in Australasia and North America. At market close on 12 November 2019, the company's stock was trading at a price of $3.190.
---
Disclaimer
This website is a service of Kalkine Media Pty. Ltd. A.C.N. 629 651 672. The website has been prepared for informational purposes only and is not intended to be used as a complete source of information on any particular company. Kalkine Media does not in any way endorse or recommend individuals, products or services that may be discussed on this site. Our publications are NOT a solicitation or recommendation to buy, sell or hold. We are neither licensed nor qualified to provide investment advice.