Summary

Billions wiped out of travel and tourism industry in the last three months following restrictions on international and domestic travel.
Slight uptick in bookings and economic activity observed for Australia's travel and tourism industry as restrictions on social distancing further ease; however, stakeholders expect significant recovery to kick in towards end of 2020.
Australian Tourism Industry Council's COVID Clean Practising Business Program to support SMEs sail through tough terrain while extension of the government's JobKeeper Scheme for visa and seasonal workers being requested.
Sector Players like Flight Centre Group, Corporate Travel Management, Helloworld Travel and Apollo Tourism & Leisure are all focussed on maintaining a robust liquidity position in face of uncertain operating landscape.
The loosening of lockdowns and declining coronavirus (COVID-19) cases in Australia has encouraged modest increases in economic activity. However, hard-hit industries like tourism are still subdued as people are wary to travel or move around. Market participants expect some time until the travel and tourism industry shows major signs of recovery after the virus led to a shut-down of billions-worth of national income from this industry over the last three months.
Read: 5 Tips for dealing with reopening of the economy during COVID-19
Particularly, businesses dependent on domestic and international tourists could still have a bumpy ride until the restrictions on travel are relieved. On 26 May 2020, the Australian Tourism Industry Council (ATIC) had launched a complimentary online program called the COVID Clean Practising Business, to support small and medium tourism enterprises to provide great experiences to the returning visitor in a safe manner.
According to ATIC Executive Director Simon Westaway, the tourism industry is only expected to revive by end of the year and he has urged the government to extend the JobKeeper Scheme for visa and seasonal workers until end of the first quarter of 2021 when international borders would be all set to reopen, tentatively.
Read: Will Investors Still Shy Away from Travel Stocks - Dip, Recovery and the Bazooka Moment
He also added that following a long period of hibernation and unimaginable challenges since the onset of 2020, ATIC aims to fully support tourism recovery, and help small and medium tourism enterprises, the backbone of this industry, to adopt practical and essential measures to maintain COVID safe workplaces and operations, thereby giving their prospective customers renewed confidence to book.
Several suppliers including airline companies, cruise operators and tour operators have unilaterally altered their cancellation conditions whereby future travel credits are being offered instead of cash refunds. Many customers have agreed to accept credits for future travel, subject to waiver of cancellation fees.
Let us look at the latest updates from the following ASX-listed tourism and hospitality companies.

Flight Centre Travel Group Limited (ASX: FLT)
Retail travel agency, Flight Centre Travel Group has ~1200 outlets throughout Australia and also in New Zealand, Hong Kong, South Africa, Canada and the UK. It operates via three key brands namely- Flight Centre, Travel Associates and Student Flights.
Recently, the Group sold its Melbourne head office property at $ 62.15 million to Shakespeare Property Group, with the transaction expected to be completed in July 2020. On 4 May 2020, the Group informed that significant progress is being made in reducing its global cost base towards the $ 65 million per month target by the end of July 2020 with the expectation that the cost reductions would be implemented with less than the $ 210 million in one-off costs that it originally anticipated.
Currently, the Group is continuing to win and implement new corporate accounts that will help drive TTV growth when conditions recover and normalise as a slight uptick in bookings in countries like China is being observed as travel and trading restrictions ease.
Owing to the operational and cashflow challenges presented by CVOID-19, Flight Centre Travel Group had cancelled its 2020 fiscal year interim dividend of 40 cps in March 2020, which amounts to a total of $ 40.1 million, as company management struggled to preserve cash and protect long-term shareholder value.
Corporate Travel Management Limited (ASX: CTD)
Corporate Travel Management Ltd. provides corporate travel management services based on a fee for service model. Its services include business travel advice and services, bookings, ticketing, and ancillary services, and travel data diagnostics and recommendations.
In a market update released early May 2020, Corporate Travel Management informed of its strong liquidity position amid crisis as the Company executed an agreement with its banking group to waive all financial covenants for the calendar year 2020. Key components of the agreement are:
Deferral of financial covenants for CY20 including removal of COVID-19 from MAE definition.
Covenant testing for June 21 based on 2H21 performance.
Facility reduction from £ 125 million to £ 100 million (circa AUD 200 million).
Facility term maturity remains August 2022.
The Company's net cash balance as of 7 May 2020 was AUD 30 million (net of client cash). Besides, when combined with revised banking facility and low cash burn, the Company is well placed to rebound once travel resumes.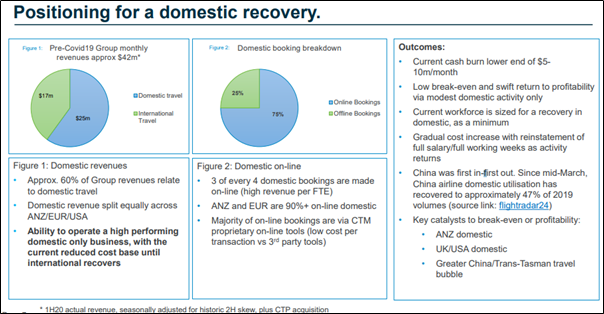 Source: CTM's Macquarie Australia Conference Presentation
Helloworld Travel Limited (ASX: HLO)
Helloworld Travel Limited is a well-known travel distribution company in Australian & New Zealand. It offers retail travel networks, corporate travel management services, destination management services (inbound), air ticket consolidation, wholesale travel services, and online operations.
In its trading update for March Quarter 2020 released on 1 May 2020, Helloworld Travel informed that its TTV fell 17.6% to $ 1.28 billion compared with the same period last year, with majority decline happening in March. 2020 began on a positive note for the company with January and February both being profitable months, followed by a 58% drop in TTV and a 57% drop in revenues in March owing to the dramatic impact of COVID-19.
The Company responded quickly to the evolving COVID-19 crisis, reducing personnel numbers by 75% at the beginning of April 2020 and with the introduction of JobKeeper in Australia, Helloworld Travel has been able to re-engage with its employees, most of whom are working from home and many on reduced hours.
As at 30 April 2020, HLO's total cash stood at $ 150 million including the drawdown of $ 10 million of existing debt facilities, the receipt of prior year tax refunds and recoupment of current year tax instalments. HLO has further undrawn headroom under current debt facilities.
Apollo Tourism & Leisure Ltd (ASX: ATL)
Multinational company, Apollo Tourism & Leisure Ltd manufactures and provides a wide range of rental vehicles (RVs) like campervans, motorhomes and caravans on rent as well as via wholesale and retail mediums. Notwithstanding the significant challenges presented by COVID-19, Apollo continued with its manufacturing operations in Australia, and also operate its retail and rental businesses in locations wherever feasible within the ambit of local government restrictions. At the same time, the Company is practicing appropriate health and safety measures such an ensuring contactless interaction between customers and employees.
Interestingly, Apollo has launched its "On the road again" campaign to target those wanting to embark on a post-lockdown self-drive holiday, as the national parks, caravan parks, and camping grounds have started to reopen.
Currently, Apollo is making preparations as the domestic travel is gradually reopening, and bookings have started to gain momentum for pick up in the coming weeks and months. In fact, the retail orders for RVs are slowly returning to pre-COVID-19 levels since the beginning of May 2020.
Apollo's Board and management are well-maintaining financial liquidity via principal repayment holidays, cost reductions, applying for government support and reducing capital expenditure while actively engaged with stakeholders like landlords, financiers, suppliers and travel agents. The Company's cash balances stand at AUD 12.4 million as at 12 May 2020.
All of these companies are expected to positively contribute to the travel and tourism sector recovery as they continue to work closely with local tourism bodies, peer airlines and other suppliers in the coming months.