Day trading is one of the most popular styles among short-term investors or traders. Day trading can turn out to be a very lucrative money-making option, it could also be really daunting and challenging, especially for retail investors, who are incapacitated with inferior information and strategy as compared to large financial institutions.
Stay at home Opens Day Trading Opportunity?
Recently, ASIC has taken a number of steps to maintain the resilience of the financial market as the regulator reckons spiked retail trading activities amidst COVID-19 outbreak, which has caused large volatility in the market.
The regulator assesses that the average daily securities market turnover by retail brokers almost doubled to stand at $3.3 million during the focus period (24 February 2020 to 3 April 2020) against the pre-crisis level of $1.7 billion during the benchmark period (22 August 2020 to 21 February 2020).
As per ASIC, the retail trading activity as a proportion of total trading increased substantially to stand at 11.88 per cent, when benchmarked against the backdrop of total average daily securities market turnover, which rose by ~ 86.67 per cent to stand at $28 billion, as compared to the previous level of 10.62 per cent, when total average daily securities market turnover stood at $15 billion.
Retail brokers were net buyers during the focus period (or the period of high volatility) with a net buying of $5 billion and a total buying of $53.4 billion.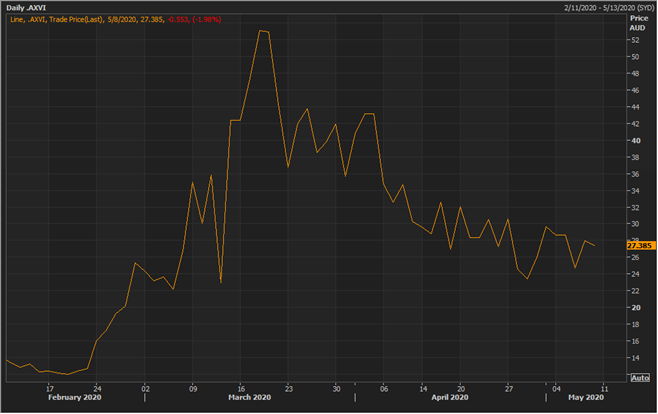 Market Volatility Index (Source: Refinitiv Thomson Reuters)
The number of new unique client identifiers associated with retail brokers has been increased considerably, and as per the data from ASIC, there has been an addition of 4,675 new identifiers on an average per day during the period of high volatility or the focus period, which makes up a total of 140,241 new identifiers.
When compared to the benchmark period, there has been an increase of 3,306 new identifiers on an average per day during this period. The new identifiers stood 1,369 per day and an average of 34,502 new identifiers during the benchmark period.
The market regulator anticipates that the rate of creation of new accounts stood 3.4 times higher during the focus period, which represented 21.36 per cent the total active accounts in the market during the focus period, substantially up against the previous tranche of just 3.65 per cent during the benchmark period.
While there has been a substantial increase in the number of new accounts and high trading activity, the market regulator assesses that retail traders have been trading more frequently and shortening the holding period or most of them are day trading, inferred from a substantial decline in the average time between trades by the same investor in a particular stock.
As per the ASIC estimations, the holding period during the focus period stood at one day against the previous level of 4.5 days during the benchmark period, and the regulator also suggested that the average time between trades by the same investor has decreased from 2.5 days to less than one day in the focus period.
In the wake of large retail activity across the exchange and variety of products, the regulator reckons that poor market timing, trade in complex and high-risk products, has delivered a large blown to day traders.
The market regulator further assesses that on an average a retail investor was not proficient at predicting short-term market movements during the focus period and suggests that over two thirds of the days on which retail investors were net buyers, their share prices declined over the next day, while over half of the days on which retail investors were net sellers, their share prices increased over the next day.
ASIC further anticipates that if all retail investors held the position for only one day or day-traded during the high volatility or the focus period, the total loss stands at $230 million. Thus, the regulator suggested that while markets generally recover over the long run and tend to grow with economic fundamentals, the poor-timing could be a major risk for retail investors in a volatile market.
Net buying and selling activity and next day percentage price change During Focus Period (Source: ASIC)
Also, ASIC suggests that retail investors, who do not have the appetite for high risk, should remain wary of high-risk products such as geared ETPs, which witnessed a significant increase in trading activity during the focus period.
Tips to Minimise Losses and Maximise Profits
As suggested and concluded by the market regulator, retail investors remained incompetent to capitalise on the market volatility. Here are few tips that a retail investor might find useful while navigating the market.
Know Your Strategy
Day trading albeit sometimes could be misinterpreted as a trading strategy itself; however, it is not the case, it is more an investor just does not keep a trade open overnight and should be seen as a trading style rather than a strategy.
Some of the trading strategy, which an investor could use are as mentioned below;
Trend traders usually attempt to make money by trading in the direction of the trend and generally stick to the famous saying- "Trend is a Friend".
If the trend is upwards, i.e., the price is making higher highs and lower lows, traders usually buy, and when the market is trending downwards, i.e., the price makes lower highs and lower lows, they usually short sell.
However, before exploring this strategy an investor should keep in mind that high volatile market generally shows large spikes, which could make an investor believe that the trend is a failure, but these shortcomings could be overcome by keeping a penetration margin in line with the volatility below or above the recent low and recent high, respectively.
Also, a day trader should reduce the timeframe of price action in the market during the day session to gauge overall sentiments. Every asset and every instrument carries its own market sentiments, which could require an investor to dig for an ideal timeframe, which suits the instrument best and to keep it simple look for multiple shorter timeframes such as 5 min, 15 min, 40 min, an hour, four hour, and so on to find the ideal timeframe, which gauges the market sentiments closely.
Swing trading strategy could be considered as a subset of trend trading and could be more suited for day traders as it takes advantage of a simple market phenomenon that a trend never goes in one direction, i.e., it shows both a correction and rally while moving up or down.
Swing trading strategy usually involves buying above the recent high (again decide your timeframe) while maintain the recent low or the rally point as the stop loss and sell below the recent low while keeping recent high or the correction point as the stop loss.
Mean reversion strategy is mainly based on the principle in theory that price or any other measures of value such as P/E ratio, P/CF ratio, tend to move back to its historical mean value. Day traders usually spot assets that are trading below its historical mean measures (which could be anything of your choice) and buy in the belief that the asset would soon retest its historical mean, while keeping the principle same for generating sell signals as well, i.e., sell when something is above mean as it tends to retrace back towards the mean value.
Assess Your Risk and Reward Profile
The market presents a lot of opportunity but is every trade worth entering?
The answer to this is in the basic understanding of the risk and reward profile, and before entering any trade reckon if the profit it has to give exceeds the identified stop loss, if not leave the trade as a general rule or let us say, never try to force-fit your stop loss to bring it in line with your target.
Avoid Speculations and Get Acquainted With the Tools of Technical Analysis
Before entering into any trade always ask why, as you always do while you go about your normal provisional shopping, do you really need it, is the price right, how much profit margin is it in for the store, should I try to strike a bargain. Trading is no different, never trade without framing a proper trading strategy that fit your psychology.
Some points to remember before you pull the day trading trigger
Frame a strategy
Back test your strategy
Follow a strict and disciplined risk reward strategy, never trade without knowing your uncle point
Do not trade during market events- RBA announcements, GDP print announcements, etc.
Mind your brokerage fee, opt for a low brokerage account
Do not use leverage to trade, money management is your friend
Day trading is both an art and science, you will learn over time, so keep long term survival in mind and not only profit
Never bet on a single trade however lucrative it may seem
Luck is your friend so be patient
Trading gets better over time with experience. Be a learning machine
"An astute trader aims to enter the market during quiet times and take profits during wild times."- Alexander Elder