While S&P/ASX 200 Index edged 1% lower to 5497 points on Friday driven by heavy selling seen across big fours and resource players, Australian equity market marked fourth weekly gain of ~2% despite last two red sessions.
Market saw some relief earlier during the week backed by spurring hopes on phased opening of global economies, advancing US tech stocks and global development on race against virus vaccine. However, early week gains were wiped off by US-China virus spat and disappointed Beijing's economic plan abandoning annual GDP target.
Equity Markets Depicting Encouraging Signs
It is interesting to note that global equity markets brushed off some risks emerging from the progression of coronavirus cases, gaining pace after bottoming out on 23rd March 2020. Below table demonstrates the returns delivered by major stock market indices since market crash in March 2020:
Equity markets have gathered some momentum on the back of massive stimulus packages announced by Central Banks and Governments worldwide to bring economies back on track. The largest stimulus package has so far been declared by the US of about USD 2.3 trillion, representing 13 per cent of the GDP.
Australian Government has also committed USD 320 billion as a financial stimulus package to combat adverse economic impact of the pandemic. Moreover, the Reserve Bank of Australia has also been proactive in dedicated monetary policy measures.

Besides, Australia has market considerable success in flattening the virus infection curve backed by strictest lockdown and social distancing measures, effective testing and well-developed healthcare model.
In addition, Morrison Government's three stage plan of opening the economy also sent waves of optimist to market players. States and territories are moving at different times in opening businesses and normal life depending on local conditions.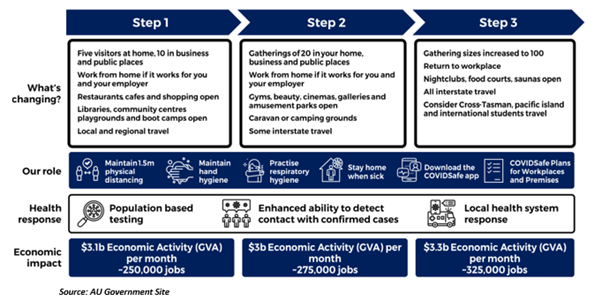 Coronavirus – Tough Nut to Crack
A cluster of pneumonia cases were reported by Wuhan Municipal Health Commission in Wuhan, Hubei Province during December end 2019. That's how the never-seen-before coronavirus pandemic came to the fore! Commencing from China, it spread like a wildfire across 188 countries, infecting over 5.1 million people and claiming more than 333k lives till date.
Although the disease emerged from China, over 90 per cent of coronavirus cases globally are now outside China, with Brazil apparently becoming the new COVID-19 hotbed.
While experts applaud China's aggressive social distancing measures that enabled it to flatten the curve in a relatively short span of time, the re-emergence of the disease in some Chinese provinces is becoming a matter of concern for the nation.
Presently, the US is leading in terms of number of total confirmed coronavirus cases (~1.57 million) and number of deaths from the disease (~94k) as on 22 May 2020. The virus cases grew at an exponential rate in the world's largest economy from ~30 cases on 1st March 2020 to ~1.1 million cases on 1st May 2020.
After the US, Russia and Brazil have the second and third highest number of coronavirus cases worldwide. Besides, with over 250k coronavirus cases at the moment, the UK is at the fourth position; nevertheless, the nation is gearing up to reopen the economy from the lockdown.
However, what's worth noting is that several major economies across the world have either begun to or already flattened the coronavirus transmission curve, backed by stringent lockdown measures and social distancing norms.
The number of fresh coronavirus cases have begun to level off in multiple countries including Germany, Norway, Italy, Thailand, Turkey and Israel. In addition, nations like Australia and New Zealand are emerging as positive role models for successfully curbing the spread of coronavirus pandemic.
Australia experienced a sharp surge in COVID-19 cases between early March (~30 cases) and early April (~6,000 cases), after which the coronavirus transmission curve began to flatten, surpassing its peak level. What keeps Australia at the leading edge is its highest testing (over 1.1 million tests) and lowest mortality rates (~100 deaths).
Besides Australia, the number of COVID-19 deaths against total number of confirmed cases is lower in several other countries, including Germany (~8,212), China (~4,638), Turkey (~4,249) and Russia (~3,249). Furthermore, the number of COVID-19 deaths has begun to slow down in Iran, Spain, Italy and France.
While uncertainty around virus containment, vaccine discovery, GDP growth slowdown and unemployment continues to loom over equity market performance, market analysts are closely eyeing micro and macro developments to gauge the further revival trajectory.